We write our honest reviews but this page may contain affiliate links, with some of the partners mentioned, to support this website. Read more here
Are you feeling down? Are you looking for a therapist to confide in and get support from? Google "TalkSpace", an online therapy service that allows you to speak with a licensed and trained therapist through live sessions, chat space, email, unlimited texts, audio, and video sessions. No matter where you are – whether you choose text therapy, video chat, or audio call. TalkSpace also offers a therapeutic outlet for anyone in need. This Talkspace review will cover everything you need to know before consulting a therapist.
On TalkSpace, you can seek mental health support, you may not feel comfortable seeking mental health professionals or don't know where to turn to.
A crisis can happen anytime and anywhere, which is why TalkSpace offers online services at the comfort of your fingertips.
Getting help and speaking to a consultation therapist can be expensive, but that should not stop you from seeking the support you need. Everyone deserves to be heard, but more importantly, you deserve to have access to the support you need.
Sign Up process of Talkspace
To register for TalkSpace, visit the homepage to create a log-in account for the TalkSpace app. This registration is then going to redirect you to an online assessment where your responses are used to match you with a therapist.
Once the initial assessment is complete, you are going to select the TalkSpace plan that suits your online therapy needs and budget as well. 
TalkSpace is one of the few online therapy services that offer an array of therapists who can help through any mental health therapy. TalkSpace is not meant to replace traditional therapy services. It strives to provide a stepping stone for those who may not necessarily feel comfortable talking to someone or who may feel skeptical about counseling and the benefits of seeking help. 
Screening Process of Talkspace
When registering for TalkSpace, the intake portion is meant to help the therapist understand your specific counseling needs. Based on your responses, TalkSpace then provides multiple options of possible therapists who would be ideal for your situation. 
Matching you with licensed therapists is based on the TalkSpace algorithm. If you feel that you were not paired correctly, or your therapist doesn't suit you, it gives you an option to request a new therapist. 
Types of Therapy Offered by Talkspace
TalkSpace has thousands of licensed therapists who are trained to help address your mental health issues. Some of the topics that TalkSpace therapists can assist with include:
These are just a couple of the topics the therapist can assist with; however, after reviewing Talkspace, we understand that there are plenty more under the spectrum that the therapist can assist with.
Sessions Types Offered by Talkspace
Once you have registered for TalkSpace services, you can participate in live sessions either through text, video messaging, or phone. 
With TalkSpace text sessions, you can expect the therapist to respond instantly. Having a text option for counseling means that they can create a safe space, as they understand it can be daunting talking about your fears and insecurities. 
For those who prefer face-to-face interaction, TalkSpace offers live video sessions. These video and audio sessions are done using a webcam and Skype-like program that is accessed through your TalkSpace account to live video sessions.
TalkSpace provides services to people of all ages. It wants to ensure that those who may not have access to smart devices or computers can still access our services. You can speak with their therapists either via a landline or mobile device.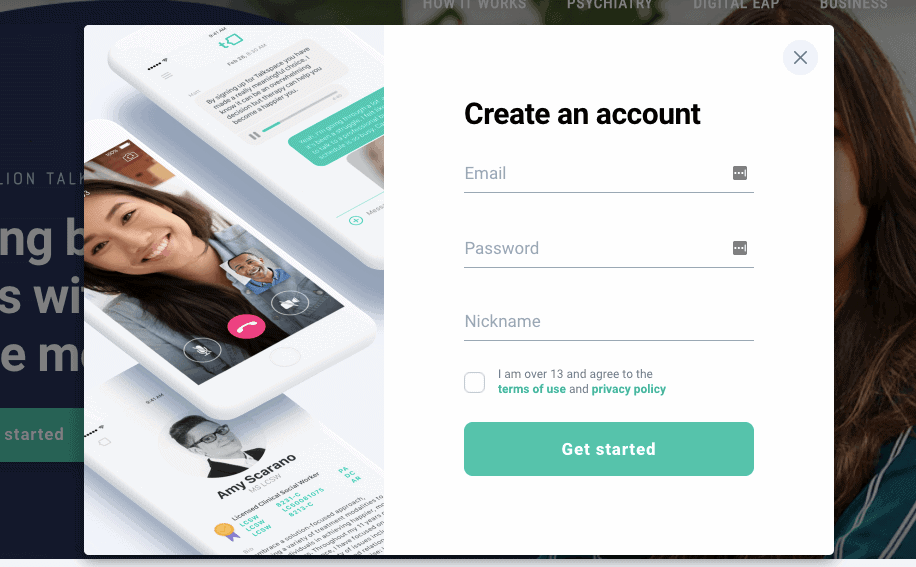 TalkSpace: Pros and Cons
Pros:
Convenience to the therapist– You can text, talk, and send audio, or video messages to your therapist anytime and anywhere. 
Personal connection with the therapist– Once you register for TalkSpace, you are then paired with a therapist based on your option like mental health issues and needs.
24/7– You have access to a therapist and chatroom 24/7.
Budget-friendly therapists– Traditional methods of therapy can be expensive; however, TalkSpace offers affordable therapists.
Confidential– Everything you share with the therapist and TalkSpace remains confidential.
Easy and quick– Finding and accessing a therapist can sometimes require more time, but not with TalkSpace. Sign up for the services, and find yourself paired with a therapist in 24 hours.
Cons: 
Requires a stable internet connection. 
Unable to properly diagnose symptoms due to everything being digital and therapists limited in their medical abilities.
Can amplify a crisis if not quickly addressed by a therapist or medical professional.
How to Schedule an Online Therapy Session on Talkspace?
To schedule a session with your selected therapist, log on to your profile, and pick a time slot that meets your availability to therapists. The therapist you have selected is going to have a calendar of available time slots. 
Once you have chosen your time slot, and how you would like to have your counseling sessions (text, video messages, or phone), the TalkSpace therapist then sends reminder notifications through the application. 
TalkSpace knows that you can't always control what you feel, which is why TalkSpace serves 24/7 chat rooms as well as several live sessions per month. Their chatrooms are safe spaces where TalkSpace registrants' people can talk and reach out to fellow TalkSpace users.
Embed this video here along with the review already written in the article: https://www.youtube.com/watch?v=Dg8yV85hYsI
Talkspace Pricing Plans
About pricing; you are charged monthly. The monthly costs vary based on the packages and services you choose. 
Pricing Plans: 
$196 per month– Unlimited Messaging Therapy Plus (Text, video, and audio messaging services) 
$236 per month– Unlimited Messaging Therapy Premium (Text , video, audio, and one live session in messaging therapy premium)
$316 per month– Live Talk Therapy Ultimate (text, video, audio, and four live sessions)
If you are a business or corporation, contact their customer service representatives to provide information on TalkSpace for Business, which is their version of a group counseling for organizations. The cost of this service of online therapy is going to vary on the number of employees in the organization. 
TalkSpace therapists are required by law to contact law enforcement if there is any potential threat of you harming yourself or someone else. 
Does Talkspace accept Insurance?
The overall goal of Talkspace is not to replace in-office therapy, but to overcome the day-to-day challenges of people in a stigma-free environment. For that reason, they have partnered with health insurance companies to make their service available to more users.
In fact, it is one of the few subscription-based online therapy providers that accept insurance plans. The eligibility criteria can be easily checked on their website.
"This being my first-time doing therapy, I was thoroughly impressed with my therapist! She gave me suggestions that I never would have thought of. She helped me to think deeper about my issues. I give a full 10/10."
TalkSpace Privacy Policy:
Do you have questions about TalkSpace services? Maybe you aren't sure whether or not counseling is for you? 
Send TalkSpace an email or contact its customer support via the request form. 
Other reasons for contacting TalkSpace support include: 
Billing and payments of Talkspace
Troubleshooting issues 
Registering for a TalkSpace account
Log-in errors
Changing therapists 
Becoming a TalkSpace therapist
Privacy and confidentiality 
Insurance
Psychiatric needs and prescriptions
If you feel your question is something that others may have asked each other before, you can visit their FAQ to view the most commonly asked questions.
Conclusion 
Everyone deserves to live a life that is free from stress, anxiety, and being alone or feel like. With TalkSpace, the services are about connecting you with the necessary resources and help. Not sure if you are ready to talk about your feelings? 
Don't worry, TalkSpace offers online resources, and online assessments such as stress, mental health problems, anxiety, and depression. Taking these assessments can be a stepping stone to understanding what you may need in terms of services. 
From students to adults and couple's therapy, TalkSpace strives themselves in being able to help anyone and everyone. 
They also offer student plans, as they know the importance of addressing mental health before it gets out of control.
Right now, 17 million adults are suffering from depression – TalkSpace therapists can help you cope and find ways to live a normal and healthy life with depression. 
Remember, you are not alone, but more importantly, you deserve to feel and live a full and positive life.