We write our honest reviews but this page may contain affiliate links, with some of the partners mentioned, to support this website. Read more here
BetterHelp vs. Regain. These two are recognized providers in the relatively new online counseling space.  Although both offer a similar suite of features and strive to be convenient, accessible means of therapy service, they each have their own scope that shapes the user experience.
BetterHelp brands itself as the largest, most globally recognized online counseling platform, and its licensed therapists are able to meet a wide variety of individual and couples mental health needs. Regain, on the other hand, brands itself as an online relationship counseling platform that is dedicated to helping couples at all stages with relationship and marital issues.
Our rating system assigns brand scores on a scale of up to 5. To arrive at these scores, we use a weighted formula that considers TrustPilot ratings, User Engagement scores, and our staff's experience with the platforms.
Text, Video or voice session
Mobile and user-friendly platform

You can change counselors

You can include your partner for free
BetterHelp vs Regain: Table for Main Differences
Betterhelp
ReGain
With Betterhelp, you gt a therapy weekly once with a dedicated therapist.
ReGain is dedicated to relationship counseling.

Betterhelp counseling offers Unlimited text messages (basic plan).

Live chat, and live video calls (premium plan). Phone call sessions also available.

ReGain offers Unlimited text messages, live chat, live phone sessions, and live video calls.
It usually takes 48 hours to get matched with a counselor on BetterHelp.
The response times when you chat with a counselor on ReGain can be longer than those of other online therapy platforms.
Users can enter directly into the chatroom with their counselors as soon as they sign in.
The online chatroom can be accessed by the client and his or her counselor.
BetterHelp doesn't give its users control over the therapist it selects for them.
ReGain provides a questioner to match the perfect therapist
The average price of Betterhelp is $85/week.
On the other hand, ReGain costs $65/week.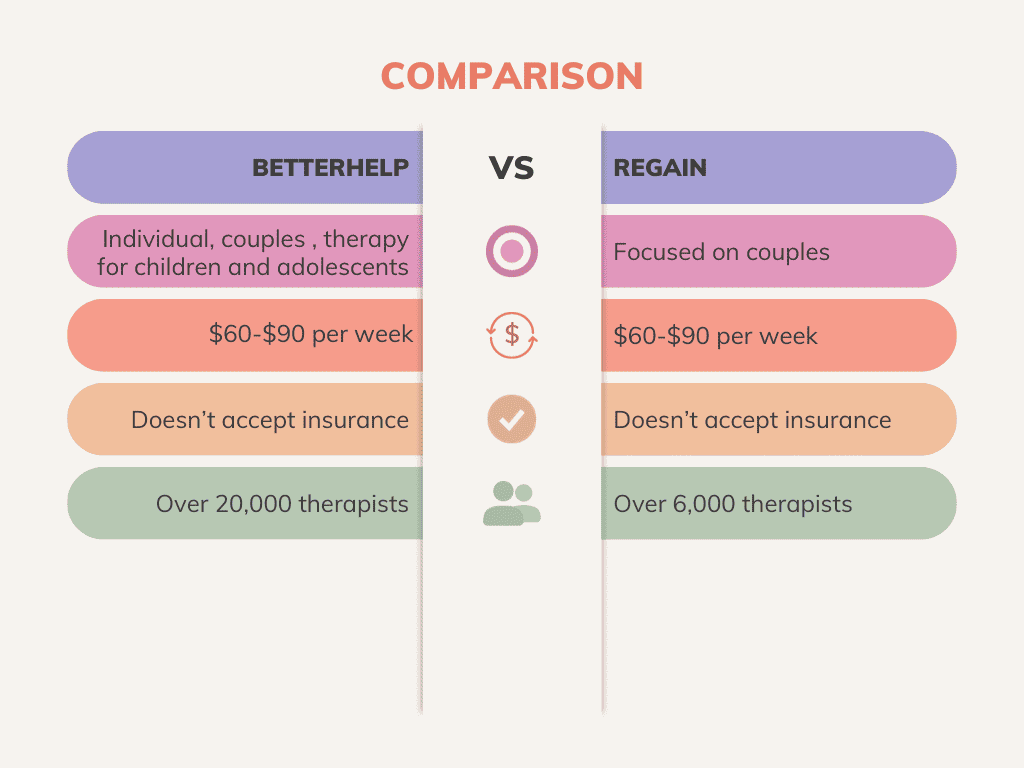 BetterHelp vs. Regain: Sign-Up Process
Both platforms require users to complete a questionnaire to match them with a qualified counselor.  BetterHelp emphasizes greater control over the counselor selection process, allowing users to preference certain demographics, such as age, gender, language preference, and sexual orientation.  Although Regain does allow users to preference the age and gender of their counselor, the platform leads the counselor selection process with the relationship issue identified by the user.
Unique to Regain is that the platform allows a couple to register under a joint account in order to partake in its couples' counseling service.
Screening Process
BetterHelp and Regain alike feature a roster of fully licensed and accredited psychologists, marriage and family therapists, professional counselors, and clinical social workers who have been vetted by each platform's internal clearinghouse.  Both platforms require their counselors to have a minimum of 3 years in their field, 2,000 hours of clinical experience, and a master's or doctoral degree in their specialization.
BetterHelp counseling requires its counselors to undergo a background check, provide proof of identity, and have professional references available.  Their hiring process is rigorous, with an average counselor acceptance rate of about 15%.
In order to best serve its participant base, Regain requires all of its counselors to have interest and experience in specific areas of relationship therapy.
BetterHelp vs. Regain:  Areas of Treatment
The experienced therapists on BetterHelp are able to treat a wide variety of issues using different proven methods.  Areas of treatment include but are not limited to anxiety, depression, trauma and abuse, stress management, and LGBTQ+ issues.  Types of treatment include popular methods such as cognitive-behavioral therapy (CBT). 
A huge benefit to BetterHelp is its partnership with Brightside, another telehealth platform that allows participants in certain states to virtually consult with a doctor to get prescription medication for further treatment of their mental health issues.
Regain Counseling sets the standard for online relationship therapy.  Its skilled cohort of therapists provide therapy for common relationship difficulties faced by couples, including but not limited to conflict resolution, intimacy issues, and marital troubles.
Regain offers individual counseling; however, the service is offered to individuals who are in a troublesome relationship and want to seek counseling for the relationship apart from their partner.  Similarly, while BetterHelp offers relationship counseling, this is simply one of the many areas of treatment covered by their platform.
BetterHelp vs. Regain:  Session Types
BetterHelp and Regain deliver counseling through messaging, live chat, phone calls, and face-to-face video conferencing.  For added benefit, each platform has mobile app capability, with support for iOS and Android.  Participants may use one or all methods in communicating with their counselor, and live sessions can be scheduled by appointment.  All that is required to use both platforms is a stable internet connection.
Both BetterHelp and Regain feature an interface that is user-friendly and intuitive.  Each participant is given a "room" that they can use for their individual counseling; in the case of Regain, a person who wants to engage in couples' counseling simply invites their partner to the "room."  This centralized location is similar in feel to a user's social media home page and contains all documentation related to the therapy regimen, as well as an option to schedule a live session with their counselor via live chat, phone call, or video conference.
A drawback to Regain is the platform's lack of three-way live session capability, which makes it a less ideal option for long-distance couples.
How to Schedule a Session with BetterHelp or Regain?
BetterHelp and Regain make scheduling simple and straightforward. Both platforms strive to match each person to a counselor in 24 hours or less, and once matched to a therapist a person simply accesses their "room" to make initial contact.  Live sessions can be scheduled via mobile or web app.  In the event that a counselor is not a good fit, both platforms support participants who want to be re-matched with another therapist.
Pricing and Privacy Policy
Pricing for BetterHelp and Regain is nearly identical.   BetterHelp and Regain are subscription-based and cost participants an average of $65 per week, with the exact cost ultimately depending on the membership plan chosen.  Unlike other therapy services that charge a higher rate for couples, Regain's rate remains the same for individual and couples therapy.  Both providers bill on a monthly basis and accept credit cards and PayPal for payment.
BetterHelp operates by a try-before-you-buy principle that allows users to try the platform for 7 days before committing.  BetterHelp also offers some financial assistance to qualifying users.  Regain offers no such trial or financial assistance, and the user incurs all program costs.
BetterHelp and Regain also share similar privacy policies.  Users can select an alias in place of their real name when interacting with a therapist to ensure their anonymity at all points of contact.  Both abide by HIPAA confidentiality laws and do not share information with employers or insurance companies under any circumstances.  All correspondence is secured with bank-level encryption and can be permanently deleted at the user's will.
Customer Support 
One of the main shortcomings reported by some users of BetterHelp and Regain is the clinical, impersonal nature of therapy sessions.  These users state that their therapists place heavy emphasis on engaging clients in worksheets, which gives the unwanted impression of therapy as homework, and many desire more personal interaction with their therapists that allow their concerns to be fully expressed.  Those who opt for non-live therapy sessions, such as through messaging, indicate that responses often are generic and response times are unpredictable.
Other users on both platforms, however, report positive experiences and breakthroughs with their selected therapists, suggesting that an element of luck plays into the counselor matching process and user outcomes.
Conclusion
The online formats of BetterHelp counseling and Regain are what make these platforms equally valuable choices for an individual who has an interest in therapy but may not otherwise be able to take advantage of traditional, office-based therapy, whether due to personal anxieties or an inability to meet during standard business hours.  BetterHelp and Regain pride themselves on their 24 hour a day, seven day a week accessibility to counselors, ensuring that help is never out of reach.
The choice of provider ultimately comes down to perceived need.  With an elite network of fully-licensed therapy professionals, BetterHelp casts its net wide when it comes to the areas of treatment served and is a convenient, accessible resource for individuals seeking affordable therapy for mental health needs that are general, highly specific, or anything in between.  While Regain is more of a niche platform, its specialty in relationship therapy is a socially relevant issue with a definite need for expertise.
Latest posts by John S. - Editor in Chief
(see all)