ReGain Counseling Review 2023: Costs, Features, Pros & Cons
We write our honest reviews but this page may contain affiliate links, with some of the partners mentioned, to support this website. Read more here
How We Reviewed Regain
We follow a rigorous reviewing process that includes first-hand testing, thorough research, user reviews, and transparent methodology. Our reviewers are editorially independent, so you can trust their recommendations.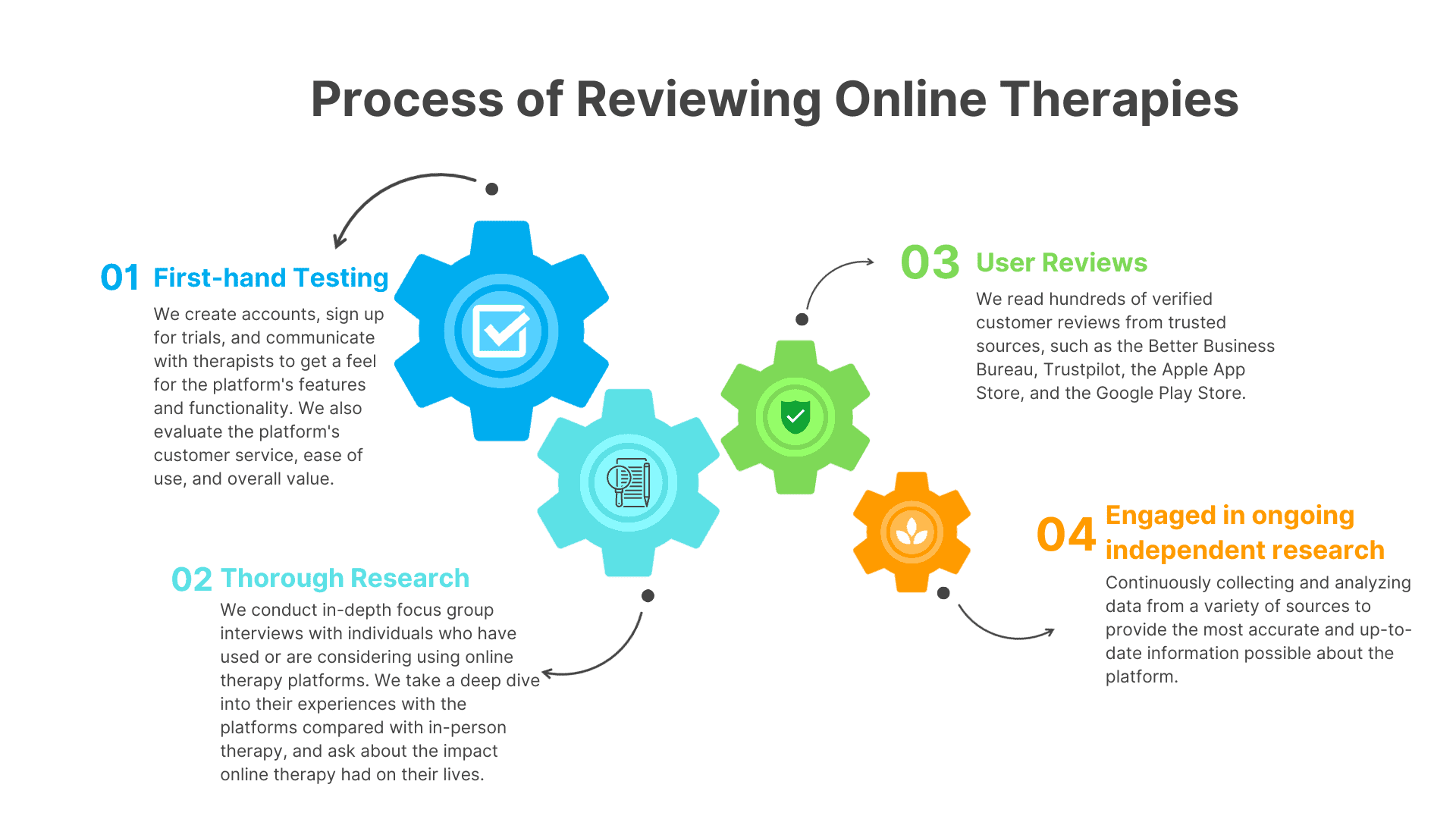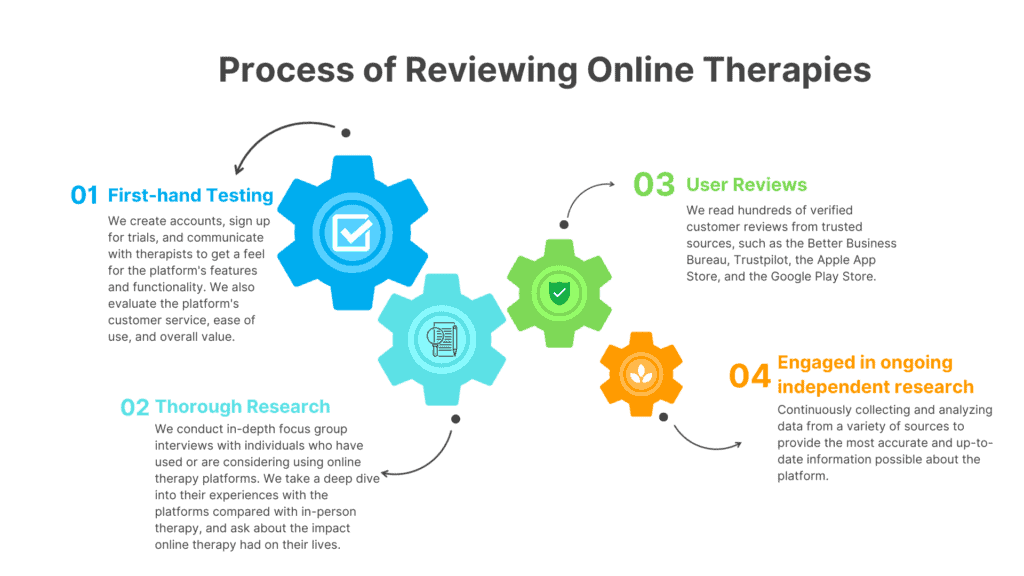 ReGain.us is a relationship therapy & counseling service that bridges online therapy sessions with new-age technology. Its unique platform connects those seeking counseling with a licensed mental health professional, or trained, and accredited family therapists. Unlike other counseling services, ReGain provides live, video, audio, and chat sessions that are meant to suit the needs of the users. It is for this reason that ReGain's counseling is a way to partake in discreet therapy sessions from within the comforts of your own home.
The goal of ReGain therapists is to help individuals and couples going through the problems they face at a comfortable pace but also privately. The counselors at ReGain understand that therapy, whether it be for individuals or couples, can be overwhelming. Making the decision to get the help of a professional is a huge step forward in one's life. It is for this reason that ReGain counselors advertise that they strive to assist clients in a way that best supports the client's journey and healing. Keep reading regain counseling review for full information
Regain Pro's and Con's:
Pros:
You can include your partner for free
Mobile and user-friendly platform
24/7 chat with limitless texting
Highly qualified staff
Affordable
You can change counselors
 Cons:
No deadline for counselors to respond to texts
No free trial
No family counseling
You can't choose your therapist
Lack of therapist biographies
How to Sign Up for ReGain online therapy
It is quite easy to sign up for counseling with ReGain therapists. The first step is to visit the ReGain website and click on the 'Get Started' icon. Once here, you are then going to be asked if you are looking for individual or relationship (couples) counseling. From here, you are then asked to fill out a questionnaire.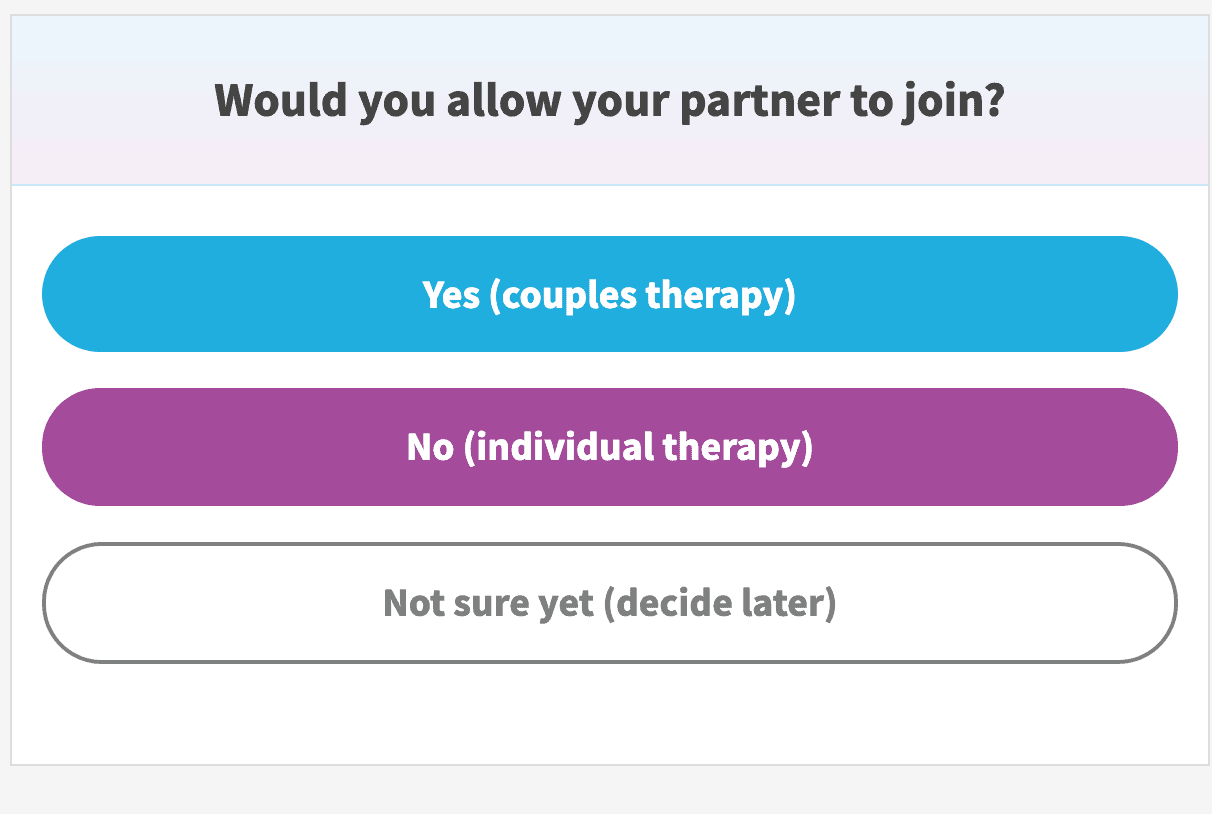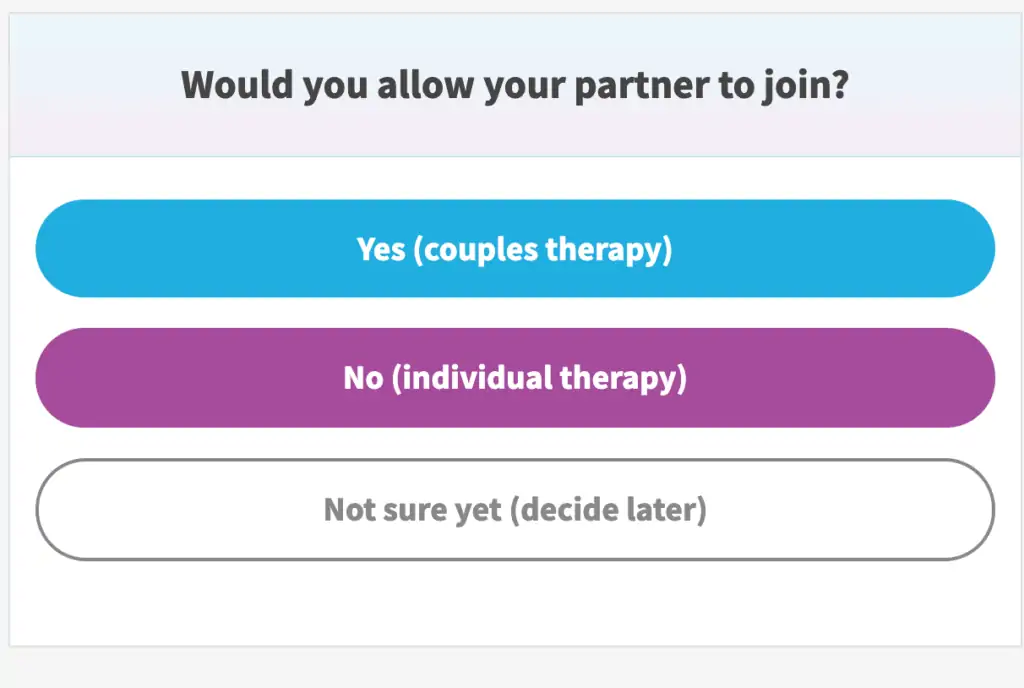 As you go through the questionnaire, if you have selected that you are seeking marriage or couple's counseling, it is going to then ask for your partner to join the ReGain platform. Your partner goes through the same process that you had just completed.
Once all your initial information is entered, you can move on to selecting a therapist and selecting a therapy session slot. After registration, it may take a few hours or days to get connected with a counselor. This is dependent on the availability of your designated counselor.
The entire process is meant to be secure and confidential
Screening Process of ReGain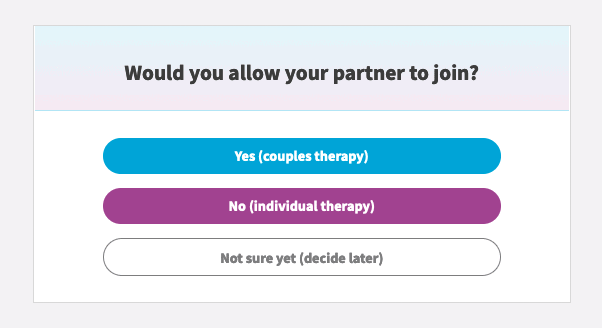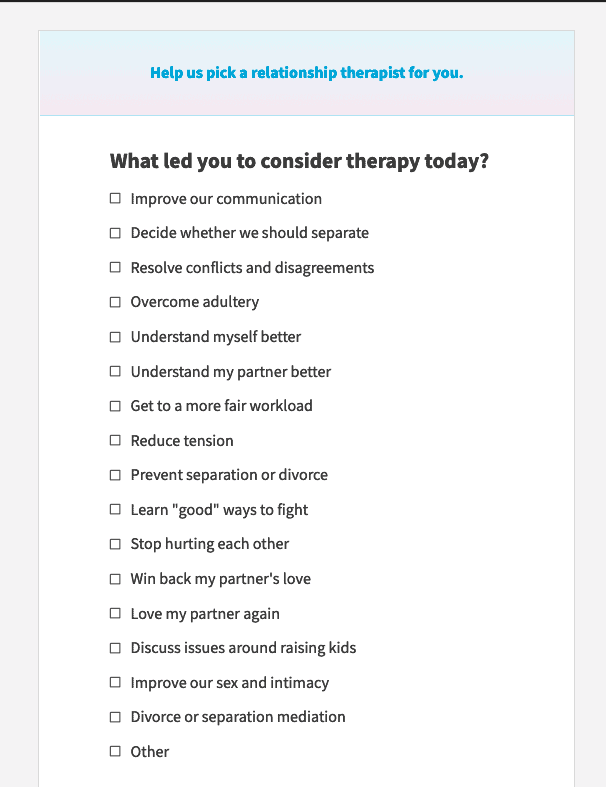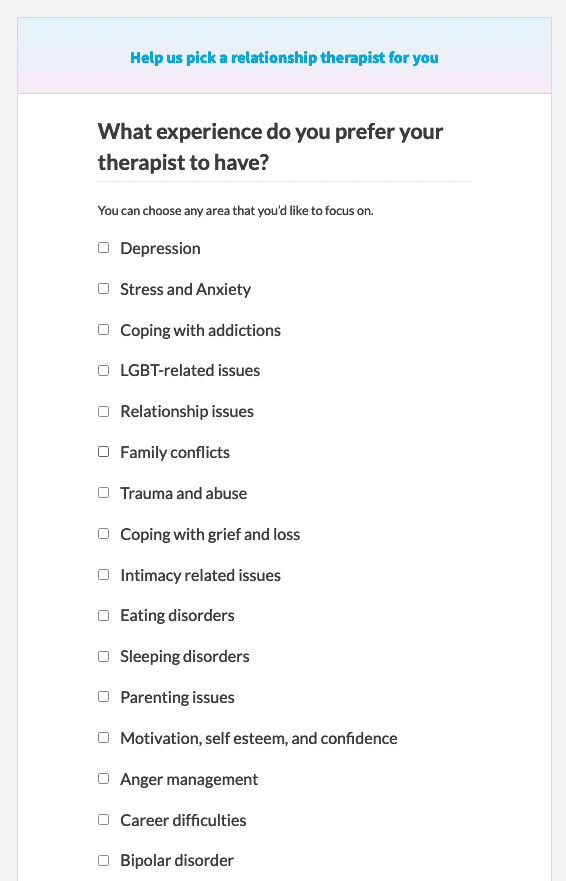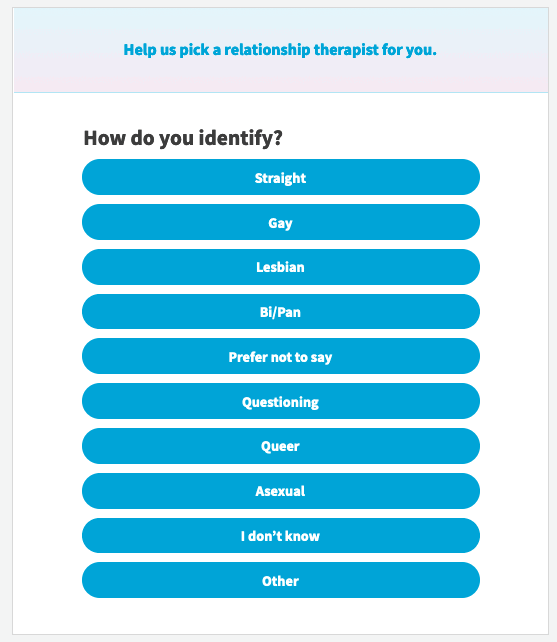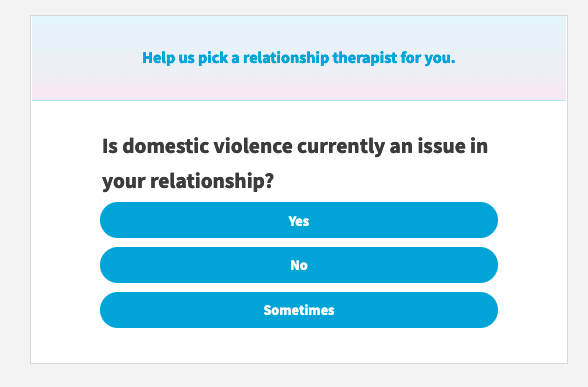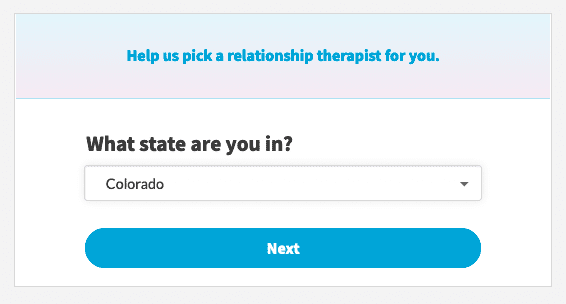 Get started with the initial questionnaire you fill out acts as a screening process. The purpose of the questionnaire is to understand the type of help you are looking for. This is one of the ways ReGain selects the right counselor for you. The questionnaire helps determine what areas you are looking to focus on its can be relationship issues, marriage counseling, couples' therapy, anxiety, depression, divorce and partner issues, etc. For example, if you are dealing with personal anxiety or depression, the screening process can help determine this. If you are looking to embark on relationship counseling, the questionnaire asks questions to help understand what type of issues you and your partner are facing. While the questionnaire may seem very personal at times, the point is to help best understand your needs and team you up with the counselor who can best help you reach your goals.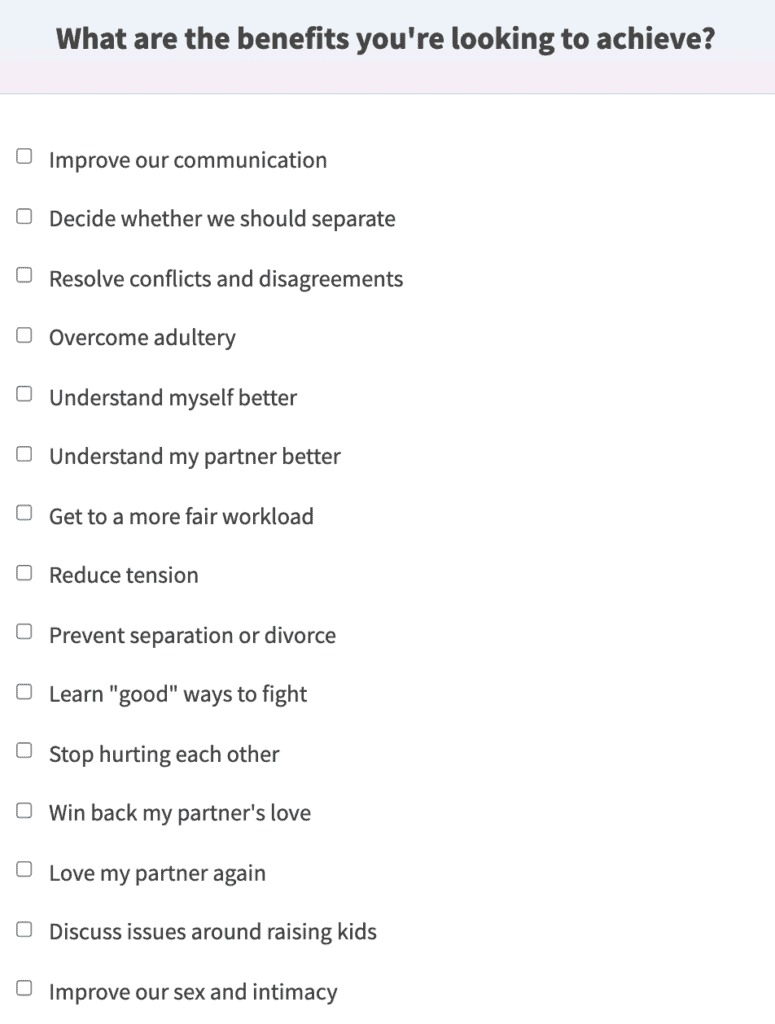 Regain Therapy Areas of Treatment
ReGain has a wide range of treatment plans. If you are facing relationship issues, ReGain can help you work through those issues. ReGain therapists are also able to help individuals deal with the struggles that come with life. It is the goal of the counselors to help improve your quality of life and your relationships and to do so, their therapists will help you with following things:
Improve your conflict resolution skills
Improve your communication skills
Resolve parenting conflicts
Overcoming adultery
Handling dating issues
Preventing separation or divorce
Defining boundaries in relationships
Recovering from a breakup or divorce
It is important to note that ReGain cannot help if you have had thoughts of hurting yourself or others. It is also not a good choice if you have been diagnosed with a severe mental illness, if your sessions are court-mandated, or if you are looking to receive a prescription for some type of medication.
Session Types Offered by ReGain
ReGain specializes in both individual and couple counseling. If you are an individual, your counselor works with you to identify any issues you may be facing. From here, they provide insight to help guide you to a life of happiness.
For couples, your counselor works with you and your partner together to improve your relationship. All typed messages are shared as a group, so you and your partner know what is being said. However, if you would prefer an individual session, this can be arranged with your counselor, and these private messages are not shared with your partner. ReGain interface offer chat, video, and phone call sessions
ReGain Ease of Use
ReGain is extremely simple to use. When you log into your account, you will immediately see a variety of features. One of them is an entirely private and secure portal for users to exchange messages with their therapists, 24/7. 
To book a live counseling session, you need to choose some of the available terms noted on the calendar located in the private portal. The scheduling is very flexible as you can pick a date and time that suits you best.
 The ReGain therapist will contact you on the day of the session; your ReGain therapy sessions will be conveyed through video or phone calls, and they can last from 30 to 45 minutes.
Keep in mind that your therapist or counselor doesn't have a deadline to respond to texts. So, the response rate depends entirely on the individual you are working with. However, not many ReGain subscribers are complaining about response frequency.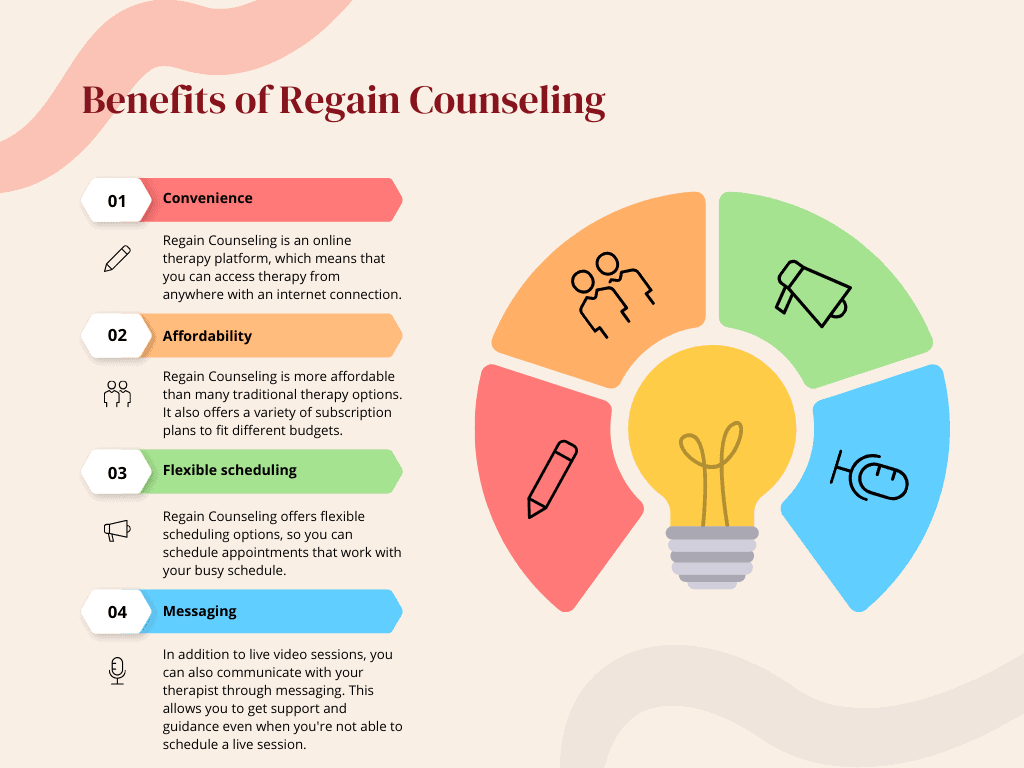 How to Schedule a Session
The beauty of ReGain is that you do not actually need to schedule a session. It is counseling that is available 24/7 from any tablet, smartphone, or computer. Because you and your counselor type back and forth in a chat room, you can log on at the time and describe the issues you are facing. When your counselor is available, they respond to you with guidance and insight.
It is possible to set up a time slot with your counselor so you can chat live using ReGain, but this is something you need to arrange privately. This type of session may also come with an additional cost.
Regain Counseling Review: Pros and Cons
Like anything, the services ReGain Counselling offers come with both pros and cons. As therapy is highly individual, you may find that some practices and principles apply to you, while others do not. It is best when seeking counseling to make a decision about what works best for you.
Pros
Ideal for anyone who is not comfortable meeting in person.
Counselors with a flexible scheduling system.
Crisis-specific counselors to help your individual needs.
Talk to a counselor anytime and anywhere.
ReGain counseling is secure.
The option to do couples counseling together or individually.
Cons
Stable internet connection.
Does not replace nor substitute face-to-face counseling.
Unless selected, sessions are not real-time but take place in a private chatroom.
ReGain's Therapist Qualifications and Types of Therapy
When you start online relationship counseling, you want a therapist with proper qualifications. At ReGain, which is medically reviewed, 86% of users reported their counselors to have either very good or excellent capabilities. 
All ReGain therapists possess either a Master's or a Ph.D. What's more, all ReGain therapists have a minimum of 1,000 hours or 3 years of experience and are specialized in a certain field of relationship therapy. 
Most ReGain therapists are also additionally qualified as psychologists, marriage and family therapists, social workers, and LPCs or LPCCS, i.e., licensed and professional counselors. 
Therapeutic Approaches
ReGain is an online relationship counseling platform. If you subscribe, you will have access to many therapeutic approaches related to relationship counseling. 
The method will depend on the specific therapist's preferences and specializations. However, if you aren't satisfied with the therapeutic method, you can always request to switch to another counselor. 
Some of the most popular therapeutic approaches for couples therapy you can find at ReGain include:
Cognitive-behavioral: it helps recognize and alternate harmful thought patterns;
Emotionally focused: it spotlights relationship attachment and bonding styles;
Gottman method: it's used to solve problems by focusing on the conflict points within a relationship
Whatever method you choose, you will have the opportunity to identify and solve most of your relationship problems. You can resolve age-old conflicts, heal adultery trauma, deal with an affair, learn to set boundaries, and enhance communication abilities.
Unlike other online counseling providers, ReGain offers only one subscription plan, which costs between $240 and $320 per month depending on your location and the therapist you're matched with. The price depends on where you live, your therapist's qualifications, and your preferences.
With ReGain subscription, you can discuss all your relationship issues with your therapist individually or invite your partner, without changing the price. It allows you to have unlimited messaging with your therapist, and schedule a live phone or video sessions weekly.
Sadly, the services provided by ReGain are not covered by most insurance companies.
Regain Counseling Privacy Policy
Betterhelp is ReGain's parent company. All Betterhelp companies have high-standard protection and security. Everything is transparent and neatly explained in their FAQ, but you can also contact their customer support if you have additional concerns.
ReGain is praised for its security measures as it uses Tier-4 AWS data centers and financial-grade 256-bit encryption. The complex encryption ensures no information will be usable, even if stolen. In addition, the chat with your counselor has a "Shred" option. With it, you can delete all messages you have sent.
Another reason ReGain is secure is that it doesn't collaborate with insurers. Nothing besides your emergency contact information can be shared with any facility. However, if you need to obtain records and counseling history, you can ask your therapist or the platform to provide you with the relevant information.
When signing up, you are not required to give out your full name, but you will have to share contact information so that the counselors can take action if they suspect you are in danger or are a danger to yourself or others.
Regain Counseling Customer Support
ReGain is an online counseling service specializing in individual and relationship counseling. One of the things that makes ReGain counseling different is that they offer 24/7 online therapy sessions with experienced and accredited licensed therapists. It is the goal of ReGain to help identify problems in one's life that can interfere with their ability to find and feel happiness, as well as fulfillment. The counselors at ReGain also strive to provide client's the necessary tools and resources to maintain their progress during the counseling sessions.
At affordable prices, ReGain counseling is accessible to and for anyone. The focus is on client-driven services by providing focused sessions anonymously. ReGain's platform is accessible at any time of the day, giving clients the outlet, they need when they need it. If you are looking to make positive changes in your life, ReGain counselors are ready to help get you started.
If you are in a mental health crisis, it is important to seek immediate help. Online therapy can be a great resource for ongoing mental health care, but it is not appropriate for immediate crisis situations.
If you are having suicidal thoughts or plans, or if you are feeling like you might harm yourself or others, please call 911 immediately. You can also reach the National Suicide Prevention Lifeline at 988 for free and confidential support.
Here are some other resources that can help if you are in crisis:
Crisis Text Line: Text HOME to 741741
The Trevor Project: 1-866-488-7386
National Alliance on Mental Illness (NAMI): 1-800-950-NAMI (6264)
SAMSA.gov
Please remember that you are not alone, and there is help available. If you are in crisis, please reach out for support.
The field of telehealth is still relatively new, which means it's continuously developing. As time passes, an increasing number of online mental health platforms are starting to emerge. This not only diversifies telehealth but it provides patients with all kinds of options.
ReGain may be an excellent mental health and counseling platform, but it is far from the only one! Here is an analysis that compares ReGain, its pricing, and its features with 3 different alternatives.ReGain is an online counseling platform primarily aimed at relationships. It allows you to choose between individual and couples counseling and connects you with a therapist based on your survey responses.
The digital platform offers text-based counseling in a secure chat room where you can stay connected to your therapist 24/7. However, just because you can send out messages at your convenience does not mean that the therapist will be available and obligated to respond immediately.
This platform doesn't provide much diversity when it comes down to choosing a subscription. In fact, there's only one choice – a plan which costs anywhere from $240 to $320, depending on your location and your therapist. ReGain does not accept insurance coverage. 
On the other hand, TalkSpace is a platform that has a more broad approach to mental health. Where ReGain focuses on relationships, TalkSpace has options that center around both individual and couples therapy. 
 Just like ReGain, TalkSpace operates on the basis of an online chatroom where you can communicate with your assigned therapist 24/7. The response from the therapist might not be immediate, but it won't take more than a day.
TalkSpace has several different subscription plans, and their prices range from $276 to $516 per month, depending on the services you require. This platform accepts insurance from various companies, but you want to make sure your health plan qualifies before registering.
Both ReGain and BetterHelp are online platforms aimed at improving their users' mental health. However, that's one of the very few similarities between the two. 
ReGain's main objective is to improve relationships, no matter if they're romantic or purely platonic. It operates strictly on a messaging basis and offers only one subscription plan. ReGain also doesn't provide any free trial period for potential clients.
On the other hand, BetterHelp is primarily focused on individual therapy with a licensed therapist. Communication mediums include video or audio calls, text messaging, audio or video messaging, or even live texting in a secure chat. These options are available through one of the 4 membership subscription plans.
The membership plans are on a weekly, monthly, quarterly, and yearly basis. BetterHelp doesn't accept insurance coverage yet, but it does offer you a free trial period of 7 days.
Conclusion
ReGain is an online counseling service specializing in individual and relationship counseling. One of the things that makes ReGain counseling different is that they offer therapy sessions 24/7 with experienced and accredited counselors. It is the goal of ReGain to help identify problems in one's life that can interfere with one's ability to find and feel happiness, as well as fulfillment. The counselors at ReGain also strive to provide client's the necessary tools and resources to maintain their progress during the counseling sessions.
The focus is on client-driven services by providing focused sessions anonymously. ReGain's platform is accessible at any time of the day, giving clients the outlet they need when they need it. If you are looking to make positive changes in your life, ReGain counselors are ready to help get you started. We hope you find our regain counseling review useful and decide to try it out
Latest posts by John S. - Editor in Chief
(see all)