Best OCD Online Therapy Services in 2023
We write our honest reviews but this page may contain affiliate links, with some of the partners mentioned, to support this website. Read more here
Around 2.2 million of the US population identified as having OCD or obsessive-compulsive disorder according to research conducted in September 2021. 
OCD manifests with uncontrollable intrusive thoughts that constantly ring in a person's head that end up as obsession eventually. As the intrusive thoughts become more present each person has a different coping mechanism they use to stop them. However, without proper care, they can become more present than before.
During the pandemic, OCD patients struggled more than usual. To stay safe each person had to wash hands more than often, but these measures had an extra effect on OCD patients.
The coping mechanism to the safety measures was following the compulsions which didn't have positive results on the skin. Thus, remote therapies were necessary, and doctors had to craft different programs with the new given conditions.
Below we go through the best online therapy for OCD you can get.
Best Platforms for OCD Online Therapy
Our rating system assigns brand scores on a scale of up to 5. To arrive at these scores, we use a weighted formula that considers TrustPilot ratings, User Engagement scores, and our staff's experience with the platforms.
Text, Video or voice session
A lot of Insurance Coverage

Online or in-person therapy
Online-therapy.com
Ratings
8 section CBT program, incl. 25 worksheets

Daily worksheet replies Mon-Fri

Change therapists with one click

Secure & confidential platform
Text, Video or voice session
About Online Therapy
The 2018 Research conducted by the US Department of Veterans Affairs proved that both teletherapies and in-person therapies were equally effective for treating PTSD interventions. These findings point out that e-therapies are the future of mental health professionals and workers.
The future came with the pandemic. Due to social distancing, many mental health patients had to cure their illnesses remotely or abandon them. As the second isn't an option, mental health care workers created new programs to help their patients cope with their disorders or issues.
Thankfully, those methods turned out successful as patients were more comfortable speaking about their issues from the comfort of their home, remain anonymous, or other features that suited them best.
After the pandemic, many patients became comfortable with online therapies, and the results of remote therapies proved effective even for people struggling with severe depression, anxiety, and other difficult disorders, we were convinced that it's the best online type of therapy for OCD patients too.
Below we pointed out several compare the best online therapy platforms for OCD patients worth considering. So, without further ado, let's get to them.
Who Is It For?
Online therapy is for anyone looking to manage their OCD and reduce their anxiety. It can also be useful for anyone who is at risk of developing OCD. Most people with OCD display one of the following behaviors. If one of these sounds like you, consider participating in online therapy.
Signs and Symptoms of OCD:
You are bothered by contamination, so you feel a compulsion to clean excessively.

You have a need to check things such as locks, ovens, light switches, alarms, or to ensure you do not have a medical condition.

You must have things lined up in a particular order or in a symmetrical way.

You experience unwanted thoughts and ruminations, sometimes disturbing or violent. 
Is online therapy effective for OCD?
Online therapy can be effective to treat OCD (Obsessive-Compulsive Disorder). Research suggests that cognitive-behavioral therapy (CBT), the most common and evidence-based treatment for OCD, can be adapted successfully for online delivery.
Therapists use video conferencing, chat, or email to engage clients in exposure and response prevention, a core component of CBT for OCD. While in-person therapy may have certain advantages, online therapy offers convenience and accessibility, making it a viable option, especially for individuals with OCD who may struggle with leaving their homes or maintaining consistent attendance.
Nevertheless, the effectiveness of online therapy largely depends on the individual's motivation, therapist competence, and the severity of their OCD symptoms.
Best Online Therapy for OCD – Top 3 Finds
According to research by Forbes Health, more than 21% of the US population used teletherapies during the pandemic, and 65% of them found it useful. It's a sunny forecast for online therapies, and we've picked the top-rated ones to begin your session right now.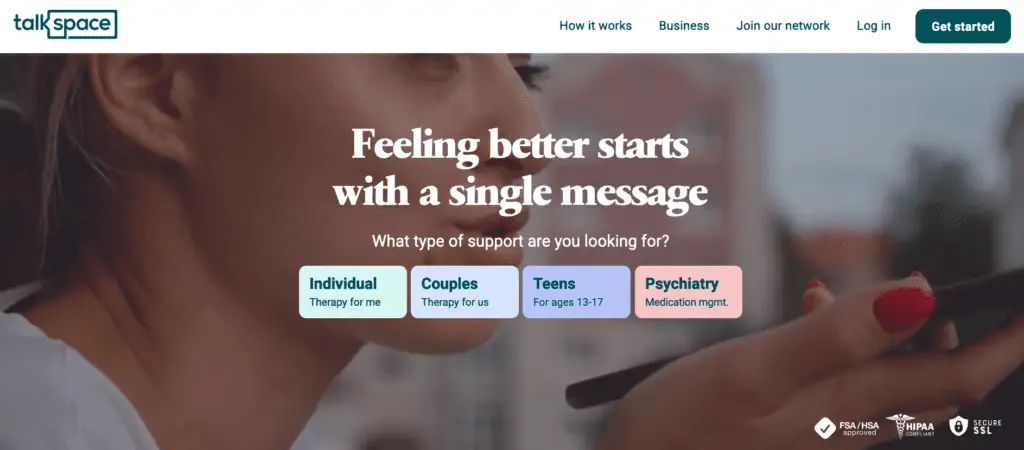 Talkspace is one of the best platforms because your therapist or counselor will be available for you 24/7 on messenger. The platform operates predominantly via text messages, but in cases where it's necessary, or when you feel critical, you can always call them via camera.
Talkspace works with different age groups including teenagers, young adults, and elder people. Also, they work with people with psychiatric needs.
The reason Talkspace stands out from the crowd are the benefits of the pricing plans. It may sound too expensive with a $280 starting price, but Talkspace offers 24/7 service from the comfort of your home, with an easy cancellation process, and a money-back guarantee.

BetterHelp is another in the line of the most common go-to teletherapies during the pandemic. BetterHelp became in high demand is because of the convenient services BetterHelp offers over a phone, video, messaging, and chat. 
BetterHelp also works best with insurance for every age group, and they include specifically designed programs for teens and couples as most affected groups with mental health issues. Moreover, BetterHelp users have access to their online library that counts many blogs on various disorders, stats and facts, and many more.
Regarding BetterHelp's pricing system, this teletherapy operates on a subscription base. However, more importantly for future users to know, as it might be the determining point in choosing a platform, is that BetterHelp doesn't accept insurance.
BetterHelp's online therapy comes at prices as high as $90 per session and also has a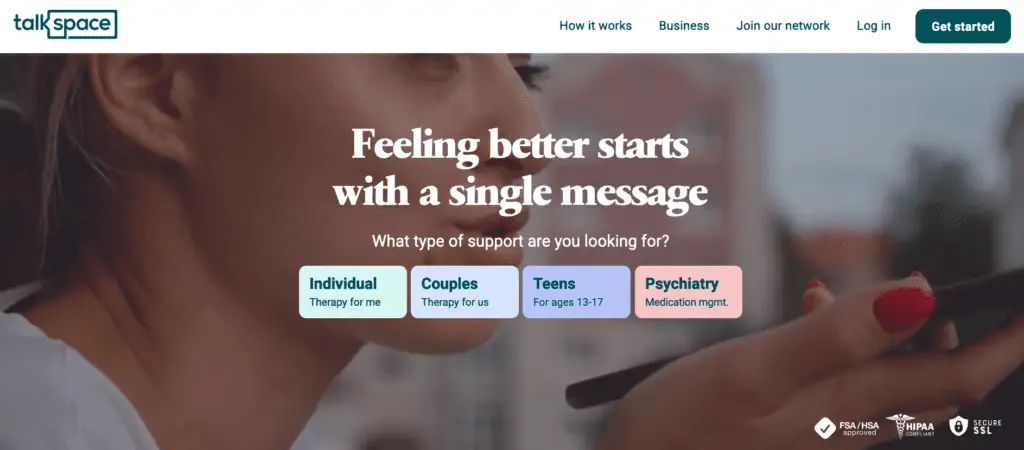 The reason Online-Therapy found its place on our top list is the manner of conducting the therapies. Specifically, Online-Therapy works on the Cognitive Behavioral Therapy method that proved one of the most effective approaches for treating OCD among the types of treatment for the other mental health issues.
Initially, Online-therapy directs you through videos, audio messages, or texting. However, along with the therapy sessions, patients have to complete their activity plans, write journals, complete worksheets, and do yoga as part of the program. That way, each patient gets preoccupied with completing their daily duties and slowly transition out from the compulsions.
The good thing about this platform is that it includes refunds and discounts of 20% by joining the platform. During the live sessions that last 30 minutes, not 50 as in physical therapies, you can remain anonymous if that makes you more comfortable.
Online-Therapy doesn't accept insurance.
Regarding the pricing, Online Therapy offers three plans: 
Basic – in this plan, users get activity schedules, yoga video instructions, and daily feedback from their therapist. This plan costs $124

Standard – includes the basic one but has unlimited therapist messaging and one live session weekly. This plan costs $188

 Premium – includes the standard, only it prioritizes your needs over others. That means premium users get express therapist replies. The plan costs $252.
Calmerry is a highly secure online treatment provider that offers accessible and convenient therapy for everyone. This is an incredibly affordable treatment option for over 15 different mental health issues, including Obsessive-Compulsive Disorder.
Calmerry is highly rated when it comes to OCD thanks to the treatment approach that the therapists take – CBT. Cognitive-Behavioral Therapy is widely accepted as the most effective treatment for numerous other mental health conditions and issues, and Calmerry delivers it to you at your convenience, performed by trained professionals.
Using Calmerry, you can choose when you want to have your live video sessions with the assigned therapist and easily set appointments that fit into your schedule. Additionally, you can message your counselor at any time.
Amwell is a telehealth platform that connects you with the best-suited doctors, therapists, and even treatment plans. You can turn to Amwell for various mental health issues, like Obsessive-Compulsive Disorder.
Amwell connects you to a therapist via live video call for a consultation. During that consultation, the therapist will determine the best treatment plan based on your responses. Once the plan is formed, the therapist will go through it with you and soon get you started.
Treatment methods will vary based on the therapist and the individual involved. It can be different kinds of therapy – including CBT therapy– or a combination of therapy and medication.
What are the 4 R's of OCD?
The "4 R's" are a helpful concept in understanding and managing Obsessive-Compulsive Disorder (OCD). They stand for "Recognize, Reframe, Resist, and Reclaim."
Recognize: This first step involves identifying and acknowledging your obsessive thoughts and compulsive behaviors. Recognizing that you have OCD is crucial in seeking help and understanding the condition.

Reframe: Once you recognize your OCD symptoms, it's essential to reframe your perspective on the obsessions and compulsions. Understanding that these are products of your disorder and not reflective of your true self is crucial.

Resist: This step involves resisting the urge to engage in compulsive behaviors that result from your obsessions. It's challenging but vital for breaking the OCD cycle.

Reclaim: Finally, the goal is to reclaim your life from the grip of OCD. Through therapy and support, individuals with OCD can regain control, reduce the impact of the disorder, and lead more fulfilling lives.
These 4 R's serve as a practical framework for individuals to navigate their journey towards managing and overcoming OCD.
Pros & Cons for Teletherapy
Although the results of e-therapy proved as effective as in-person therapy, it's important to point out the advantages and disadvantages before subscribing to the online therapy platform.
Pros:
Comfort Zone – Many patients struggle with getting proper medical care because they don't feel like leaving their house. And this issue is more common nowadays, especially after the pandemic. Therefore, teletherapy can both treat such patients while they feel comfortable in their safe zone. With proper care from the therapist, the patient will get out of their comfort zone.
Convenient to Housebound People – People with immobility experience mental health issues more than physically strong people. OCD is also a common disorder in this group. However, they are still more limited to getting help in in-person due to their immobility. Teletherapists have special programs for these OCD patients that proved to be successful.
Cons:
Insurance – Most insurance policies do not cover teletherapies, but there are still some insurance policies that do offer coverage. Before subscribing to online therapy companies, make sure to check if the insurance covers the wanted platform so you can save more money.
Lack of Response in Crises – Depending on the compulsive degree, the exposure and response prevention some patients experience severe crises where videoconference won't suffice the response. In such situations, patients must meet with their therapist in person, which is an issue if the therapist isn't near them.
How Do You Know If You Need Professional Help for OCD?
You should consider seeking professional help for OCD if you experience distressing, time-consuming obsessions and compulsions that interfere with your daily life, relationships, and well-being. 
If these symptoms cause significant distress and impairment in functioning, it's important to consult a mental health professional, such as a therapist or psychiatrist. They can provide a proper evaluation, diagnosis, and guidance on treatment options, which may include cognitive-behavioral therapy (CBT) and medication. 
Early intervention can significantly improve the quality of life for individuals with OCD.
The Final Verdict
As said, teletherapies proved to be effective long before the pandemic. During the COVID-19 crises, like any other occupation, therapists too had to work remotely. As results proved successful again, it's high time to put the accent on teletherapies.
However, given the advantages and disadvantages, the final verdict is individual. Each patient can evaluate the best online OCD therapy depending on their conditions. That will be the most accurate verdict. As for us, we point to some of the most successful e-therapies, like BetterHelp, TalkSpace, and Online-Therapy.
These online therapy platforms are the most developed types of therapy, that can help you solve your issues from the comfort of your home for a convenient and affordable price. Check them out carefully, and choose the one most suitable for you.
Latest posts by Jaiyant Cavale, Clinical Psychologist
(see all)