Calmerry vs. BetterHelp: A Comprehensive Overview
We write our honest reviews but this page may contain affiliate links, with some of the partners mentioned, to support this website. Read more here
Short on time? Straight answer!
BetterHelp stands out as a superior choice compared to Calmerry
With a longer establishment in the field since 2013, BetterHelp offers a wide range of live sessions including chat, phone calls, and video calls, providing users with immediate and personalized support. Additionally, BetterHelp's weekly pricing structure simplifies the selection process, encompassing all available features.
Moreover, BetterHelp's emphasis on offering a variety of options for interaction and counseling, along with its financial aid opportunities, solidifies its position as a leading online therapy platform.
Lately, a lot of attention has been drawn to the importance of mental health. 
As a result, more and more people are becoming interested in seeking therapy to improve their well-being, which is especially true for online therapy services since there are several advantages overriding traditional in-person sessions.
But what are the best online therapy platforms?
One of the newer entries into the market is Calmerry.
Released in the wake of the COVID pandemic in 2021 by Alex Vitchenki, it has quickly become a trending mental health platform.
It offers unlimited messaging and live video sessions through a subscription-based model.
On the other hand, BetterHelp has been a much more established operation since 2013. Because of this, it has had a lot more time to grow and improve.
Developed by Alon Matas – a depression survivor, BetterHelp was the result of the founder's personal interest in bettering mental health. 
Although we're lucky such platforms exist, we can't help but wonder which one is better?
Stay with us to learn the features, pricing, and unique selling points of mental health-enhancing online platforms. 
Online Therapy Types Offered by Calmerry and Betterhelp
Both Calmerry and BetterHelp aid with many common mental health issues.
However, users do not have the opportunity to choose a therapist themselves.
Instead, the platforms use the answers to a survey provided during the onboarding process to assign the most suitable therapist. 
The two online therapy platforms use a variety of common treatments, like Cognitive Behavioral Therapy, mindfulness, emotionally focused therapy, and others.
The therapist will use their best judgment and experience to determine the best course of action on a per-client basis.
What Does Calmerry Offer?
Calmerry delivers the options to choose from 3 different monthly plans and one promotional plan.
All of these include unlimited messaging with your assigned therapist – this is where the bulk of the work will be done. 
Users can message their therapist whenever they want or need it, but they might not get a response immediately – it will depend on when have the users sent the message.
However, the response they do get is usually very detailed and comforting. 
Aside from the messaging option, some plans also include a number of weekly live video sessions – these last for 30 minutes and are entirely optional.
The user can schedule a video session whenever they need one, and after the therapist has confirmed the time and date, the session can take place.
And to ensure attendance, the patient should be logged in at least 15 minutes prior to the session. 

What Does BetterHelp Propose?
Like Calmerry, BetterHelp also offers a messaging service called a chat room. This is not done in real-time, and it could take a few hours to get a response.
However, this service is available all the time, and your therapist will usually provide feedback, further inquiries, exercises, or some other form of guidance. 
In addition to the chat room, users can schedule a live session with their therapist.
But unlike Calmerry, BetterHelp offers the option of live chat, live phone call, or live video session. This is up to the patient's discretion and what they are most comfortable with.
The Trademarks of Calmerry and Betterhelp
Although both mental health platforms offer more or less the same therapy options, there are particular trademarks that separate one from the other.
Calmerry Features
One of Calmerry's most prominent qualities is the way the platform assigns each patient a therapist.
Unlike most other online therapy providers, this one doesn't use an algorithm.
Instead, a member of Calmerry's team examines the answers given in the survey to match you up with the most suitable professional, which adds a personal touch to the whole experience. 
Another special feature of Calmerry is Coa, a bot that helps users practice self-reflection.
Launched in the summer of 2021, this bot can be used even without an active therapy subscription. However, it is more useful if you use it in conjunction with therapy.
Thanks to Coa, users can record their moods and write daily journal entries throughout the day.
Users can even set reminders to prompt them to write something down. Afterward, these records and histories can be used in therapy to get better insights.
BetterHelp Characteristics
BetterHelp lets you schedule live sessions with your therapist, and you are not limited to only a video call – you can also choose to engage in a live chat session or use the phone to talk to your therapist.
During live chat sessions, you will get a response nearly immediately and won't have to wait for up to several hours; this approach is meant to mimic texting a close friend that just gets you.
On the other hand, you could have a phone call with your therapist.
Note that this is done through the app, so your phone number is kept private, ideal for those seeking some discretion.
And just like Calmerry, you can also video call your therapist to have a personal one-on-one conversation. 
Finally, BetterHelp also hosts what they call "groupinars," which are live interactive group seminars.
There are 20 of these on a weekly schedule, and they cover topics like self-care, anxiety, depression, sleep, and other subjects.
And if you can't make it to a groupinar you're interested in, you can always get a link to a recording of the seminar.
What Is the Main Difference Between Calmerry and Betterhelp?
One of the significant differences between these two platforms is the focus of live sessions vs. messaging. 
Calmerry includes unlimited messaging with the therapist, even with the most affordable plan.
Additionally, Coa can be used to keep track of your daily mood and uses the activity tracker right from the platform.
The live sessions seem to be an excellent addition but aren't the main focus.
Betterhelp, on the other hand, seems to rely heavily on talking with your therapist directly.
It does this through the different types of live sessions, like live chat, phone call, and video call. Additionally, there are seminars for group discussions. 
Another big difference that separates one from the other is the fact that Calmerry requires its therapists to have at least 2,500 hours of clinical experience, in contrast to BetterHelp, which only asks for 1,000 hours.
This can be important for people looking for more experienced therapists.
Our rating system assigns brand scores on a scale of up to 5. To arrive at these scores, we use a weighted formula that considers TrustPilot ratings, User Engagement scores, and our staff's experience with the platforms.
Text, Video or voice session
Text, Video or voice session
Betterhelp vs Calmerry: What is the Sign-Up Process Like?
Signing up for therapy at Calmerry is a relatively straightforward process.
First, users have to create an account by using a valid email, and the website will then send a code to that email to verify the account.
Next, users are presented with a survey to complete, requesting information on their name (an alias can be used if preferred), gender, occupation, age, etc. 
The questionnaire also goes into past struggles and history of mental health treatments.
Users are also asked if they prefer a therapist specializing in specific issues, which enables them to get a more comprehensive picture of the user's state of mind and match the patient with the most suitable professional.
Lastly, you have to select a plan and fill in your payment details to pay for the first month. This will complete the onboarding process, and you'll get matched with a therapist.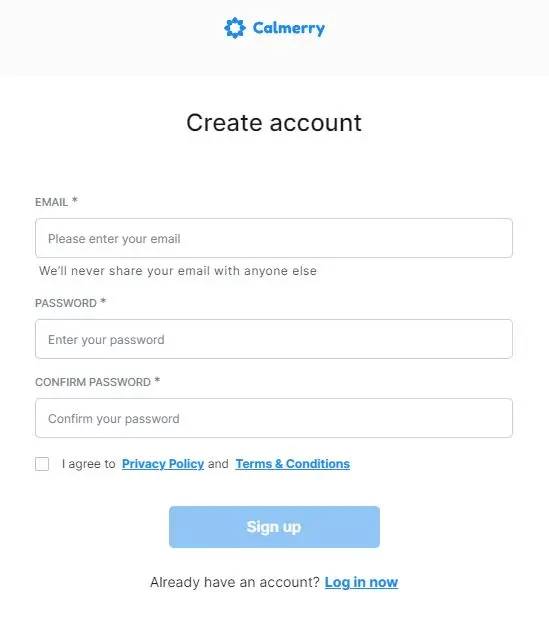 BetterHelp has a very similar signing-up process. You start with verifying an email and creating an account.
Then you are presented with the survey, just like with Calmerry. There are similar questions that revolve around the same topic.
After completing the survey, you must make your first payment to start the matching process.
However, with BetterHelp, you do not have to choose a plan. Other than that, most things are pretty similar.
Calmerry vs. BetterHelp: Pricing Plans
For both Calmerry and BetterHelp, the online therapy prices are usually displayed on a per-week cost.
However, users have to pay for at least a month to use the service, as there aren't any plans shorter than a month. 
Calmerry Pricing Plan
After completing the initial survey, the customer is presented with a list of available plans, which are simple to understand. 
Here are the available plans available for a subscription to Calmerry:
Messaging only – the base plan is $41.99/week the first month and $56.99/week after that;
Messages and 1 live video – $51.99/week for the first month and $74.99/week after that;
Messages and 4 live videos – the most expensive plan at $67.49/week for the first month and $89.99/week after that;
Introductory 1-week messages and 1 live video – $64.99/week
BetterHelp Pricing Plans
In contrast to Camlerry, BetterHelp came up with a lot simpler pricing strategy.
All of the plans include the same features, namely, messaging, live chat, live phone sessions, and live video sessions.
Customers do not have to pick and choose which one to get.
The services can be accessed with an affordable weekly price of $60-90, charged on a 4-week schedule.
In other words, the service ends up costing $240-360 per month. However, new customers get a 10% discount on their first month. 
Additionally, BetterHelp offers some financial aid for people who cannot afford their services.
This highly depends on your circumstance, and you'll need to fill out a form during registration to check if you're eligible. 
Calmerry and Betterhelp's Privacy Policies
Both Calmerry and BetterHelp contend that their users' privacy and confidentiality are major priorities.
With this being an important topic, it is reassuring that the companies take it seriously.
According to online therapy reviews, both Calmerry and Betterhelp do well with keeping their users' privacy.
Both platforms follow HIPAA guidelines and regulations when it comes to privacy and security.
In other words, everything shared with your therapist is strictly confidential, and the only exception is in cases where there could be immediate harm to the patient and/or someone else.
Additionally, Calmerry and BetterHelp use SSL end-to-end encryption for communication and payments.
This means that no third party can see the information without your consent, so it remains secure. 
However, Calmerry and BetterHelp use tracking cookies to collect information they cannot trace back to the user.
These are used while using the main site and not when logged in or during the sessions.
The two platforms collect data mainly related to the use of the website and portal.
This includes how often the website is opened, how long users remain, which pages are visited etc. These cookies are used to improve the usability and user experience. 
Are Calmerry and Betterhelp Covered by Insurance?
Many people with health insurance use it to cover their mental health needs.
While several providers often cover some costs, this depends significantly on the specific insurance provider and mental health provider.
Unfortunately, neither Calmerry nor BetterHelp are currently covered by insurance. 
Even though Calmerry and BetterHelp don't bill your insurance directly, there are other ways to get affordable online therapy.
Customers can request a receipt from Calmerry for the sessions they pay for. Then, they can submit that receipt to their insurance company to at least get partial reimbursement. 
Similarly, BetterHelp can send you a copy of the receipt. Insurance providers should accept this, but the user might still have to pay something out-of-pocket. 
Either way, it is worth contacting your provider to see what they can do. Also, make sure to review your plan carefully to find out what exactly it covers.
While it is unlikely that the company will cover the entire expenses, you might get yourself sizable reimbursement. 
Calmerry Vs Betterhelp: The Verdict
We've looked at how Calmerry and BetterHelp compare in terms of their sign-up processes, privacy policies, and price plans, among other things.
Overall, even though the two platforms offer many similar features, there are some noticeable differences:
BetterHelp lets you schedule different types of live sessions, depending on what the patient is more comfortable with, while Calmerry can be more affordable, especially with the messaging-only plan.
In the end, which one you should choose depends on your specific needs.
But no matter which one you go with, both Calmerry and BetterHelp are among the best online therapy sites that will help with any mental health issues you may be experiencing.

If you are still on the fence, you can also consider looking at Cerebral – We have compared it with BetterHelp here.

Latest posts by John S. - Editor in Chief
(see all)