Calmerry vs. Talkspace: Which is Better?
We write our honest reviews but this page may contain affiliate links, with some of the partners mentioned, to support this website. Read more here
Over the past decades, public awareness about the importance of mental health has been steadily increasing.
So more people are starting to understand the benefits of going to therapy, especially online therapy, which offers unique possibilities. 
However, many look for cheap online therapy but don't want to compromise quality, and that's totally fine because there are online therapy services that won't break the bank.
Calmerry is one of the latest entries on the market, being released in 2020, and developed by Alex Vitchenko.
The platform set out to tackle the adverse effects of the covid pandemic on many people's mental health, among other issues.
On the other hand, Talkspace is one of the older platforms available, operating since 2012.
In many ways, it is the pioneer on the market and has branched out to offer more than just traditional in-person therapy. 
Which are the best online therapy sites? How do they compare against each other?
This article will discuss the similarities and differences between the two when it comes to features, pricing, and privacy, among other things.
What Kinds of Therapy Do Calmerry and Talkspace Offer?
Calmerry and Talkspace therapists will use a variety of treatment plans when dealing with various mental health struggles.
There is no definitive list on the websites, and instead, the therapists will use their experience and awareness to determine the most beneficial approach.
Some of the treatments include CBT, DBT, psychoanalysis, and more.
Additionally, the patient cannot choose what issue to address during sessions; instead, the therapist determines this during treatment.
The answers given during the signing-up process through the surveys are of great help. 
That being said, Calmerry and Talkspace often help with:
Depression
Stress and stress management
LGBTQIA+ issues
Loss and grief
Calmerry
With Calmerry, therapy and treatment are done through two primary forms of communication: unlimited messaging and live video sessions.
While all of the plans include unlimited messaging, different payment plans deliver a different number of live video sessions according to users' needs.
Unlimited messaging is the key feature of Calmerry – it is the main form of communication between you and your therapist to start the treatment.
You can message your therapist whenever you want, often getting a detailed response. Depending on your therapist's schedule, you might not get a response right away.
Live sessions are 30-minute-long video calls that you can schedule during the week.
Depending on your plan, you get 1 or 4 per week; it is an excellent opportunity to talk directly with your therapist and elaborate further on the issue. 
Talkspace
On the other hand, Talkspace is geared up on more features than Calmerry.
In addition to sending messages, you can also send an audio recording or video clip to your therapist.
However, you get 1-4 live sessions per month, which is a lot less than Calmerry.
With Talkspace, users also get a more extensive selection of the types of available therapy.
Aside from the standard individual therapy sessions, you can also opt for teen sessions for ages from 13 to 17 or even go for couples therapy should you and your partner need one.
However, group and family sessions are not available.
Finally, for US residents, there is an option for psychiatry services. This comes with medication management, so your therapist could prescribe medications.
However, this will depend on the type of medication, as some cannot be legally prescribed over the internet.
Our rating system assigns brand scores on a scale of up to 5. To arrive at these scores, we use a weighted formula that considers TrustPilot ratings, User Engagement scores, and our staff's experience with the platforms.
Text, Video or voice session
Text, Video or voice session
Key Features of Calmerry and Talkspace
One of Calmerry's best features is Coa, the company's reflection bot, which is even available to users without an active therapy subscription.
Still, it's best to use Coa alongside therapy to make the most out of it. 
With Coa, users can reflect on their moods and activities or keep a journal and reflect on their daily entries.
The special feature offered by Calmerry is available through the app. It provides valuable information on the mental history of the user, as well as insights into their moods and emotions.
These findings can be used to broaden the meaning of the sessions with the therapist; plus, the bot can remind you to keep up with the daily diary entries.
Talkspace is one of the rare online therapy platforms that provides couples and teen therapy.
Additionally, the availability of medication management is an important deciding factor since online therapy sites usually do not offer such services. 
Another compelling feature of Talkspace is that it accepts certain insurance plans, unlike most other online counseling services.
Because of this, many potential users with financial troubles can get access to affordable online therapy.
How Are Calmerry and Talkspace Different?
There are a few commonalities between Calmerry and Talkspace. However, both online mental health platforms differ in a few key aspects. 
Choosing a Therapist
One of the most significant differences between Calmerry and Talkspace is the way you are matched with potential therapists.
With Calmerry, once you finish the survey and make a payment, the assignment process begins.
A member of the team looks at the answers you provided and matches you with a suitable therapist, instead of an algorithm doing the calculations.
On the other hand, Talkspace takes a different approach; instead of getting a therapist assigned to you by an algorithm or person, you get to choose one from a list of suggestions.
This gives users a degree of autonomy and independence.
Approach to Therapy 
Another key difference is the approach to therapy. Calmerry has made it simple for the user since all they need to do is message or attend a live session with a therapist.
What's especially appealing to Calmerry is the weekly live session option, so if the user feels like talking to a therapist directly, they can do so once or four times a week.
Talkspace opted for more user-to-therapist options, such as messages, sending an audio recording, or even sharing a video clip.
Lesser importance is put on live sessions since you only get 1-4 per month instead of per week.
Additionally, since Talkspace has been operating for longer, it has expanded its services to attract a wider audience.
This is why the platform has been able to offer couples therapy, teen therapy, and psychiatric services in addition to traditional therapy. 
How To Sign-Up for Therapy at Calmerry and Talkspace?
The sign-up process for Calmerry is fairly straightforward – the first thing you need to do is to provide a valid email to confirm your subscription.
Once you confirm, you are presented with a questionnaire. 
The questionnaire should be filled in with your personal details, and you can also use an alias or a nickname if you want to keep some privacy to yourself.
Then, you'll be asked about what kinds of issues you are dealing with, and your history of mental health treatment. These answers will be used to match you with a suitable therapist.
After completing the survey, simply select the plan you want and you're good to go.
Once you are matched with a therapist you will be notified and contacted to start the treatment.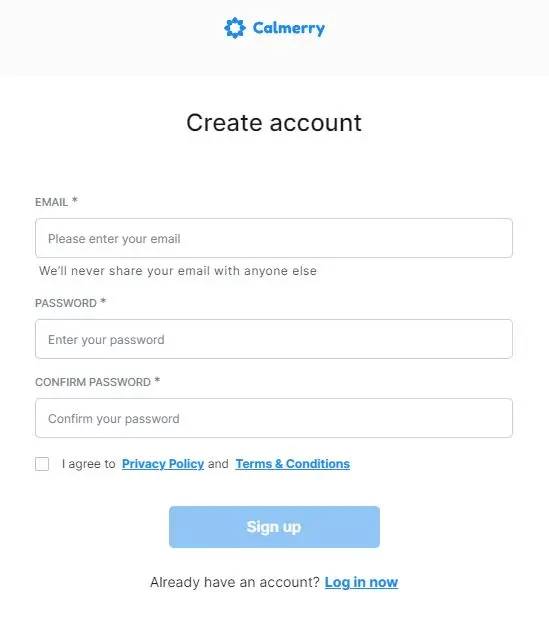 The sign-up process at Talkspace is not that different from the one at Calmerry.
It starts off the same, with you verifying your information before getting to the survey.
However, Talkspace uses a noticeably shorter questionnaire, which doesn't go into as much detail. 
After you have completed the survey, you are offered a list of available therapists.
Now, what separates Talkspace from Calmerry is the option for you to choose your own therapist.
After you have made up your mind on which therapist to invite to your journey to better mental health, you can start the therapy.
Calmerry vs. Talkspace: Pricing Plans
When it comes to pricing, Calmerry and Talkspace have both adopted subscription-based models.
They both charge the user on a monthly basis, however, most of the online therapy prices are displayed on a per-week cost. 
Calmerry Pricing
Calmerry includes a simple pricing strategy with 3 regular plans and a promotional plan. First-time users get a discount on the first month of sign-up.
All of the plans include unlimited messaging to your therapist, and differ by how many live video sessions you can schedule in a week. 
Calmerry offers the following pricing plans:
Messaging only – $56.99/week regularly, $41.99/week for the first month;
Messaging and 1 live session – $74.99/week regularly, $51.99/week for the first month;
Messaging and 4 live sessions – $89.99/week regularly, $67.49/week for the first month;
Promotional 1-week messaging and 1 live session – $44.99/week 
Aside from the promotional week, there aren't any recurring discounts.
But during May, which is mental health awareness month, Calmerry often provides free trials. 
Talkspace Pricing
With Talkspace, the pricing is a bit more complicated.
Since there are different types of therapies, like individual, couple, and therapy for 13-17-year-olds, the price depends on which one you choose. 
Also, your current location will determine the cost of your therapy sessions. However, the price range is between $260 to $400 per month. 
Talkspace delivers the following pricing plans to its users:
Unlimited Messaging Therapy – most affordable, but no live sessions included;
Unlimited Messaging Therapy Premium – includes one 30-minute live video session a month;
Unlimited Messaging Therapy Ultimate – includes four 30-minute live video sessions a month;
Psychiatric services are also available with the therapy plans but incur additional fees.
The initial psychiatric evaluation costs $199, while every subsequent visit will cost you $125.
While there aren't any free trials for Talkspace, there are often discount offers for newcomers, which range from $80-200.
Additionally, you can get a free consultation with an onboarding coordinator if you have any questions about the service.
Calmerry and Talkspace's Privacy Policy
Both Calmerry and Talkspace take their user's privacy seriously.
The two platforms are fully HIPAA compliant and follow their guidelines and regulations, which means that anything shared with your therapist is strictly confidential.
The only exception is if there is immediate danger to you or somebody else. 
Calmerry and Talkspace allow you to use a nickname or alias if you prefer.
However, both of them collect your personal information when creating an account, in case of emergency.
Additionally, Talkspace requests a name and phone number for emergency contact. 
In its privacy policy, Calmerry does state that it enables tracking cookies on its website.
These are only collected on the main website, and not when you are logged into your account or during sessions. 
The cookies collected relate to how the site is used, for example, which pages are opened and for how long, which browser is used, how often the website is accessed, etc. 
Are Calmerry and Talkspace Covered by Insurance?
A lot of people with medical insurance want to use it to cover their mental health treatment.
Considering that therapy can be rather expensive for people tight on cash, this option could be a deal-breaker for many.
Unfortunately, Calmerry does not bill the insurance provider directly.
However, the company can send a copy of the receipt for your treatment via email.
This receipt can then be used to get a full or partial reimbursement, but this depends on the specific provider you have.
On the other hand, Talkspace does accept certain insurance plans.
Again, this will depend on the specific provider you have, and you can check your eligibility on the website.
In addition to this, Talkspace also accepts EAPs, or Employee Assistance programs, from certain companies. 
If you are still confused, you can check out this – Calmerry VS Betterhelp and Talkspace VS Betterhelp. 
Calmerry vs. Talkspace: The Verdict
This brings us to the end of this head-to-head overview of two of the trendiest online platforms for mental health therapy.  
Aside from the unlimited messaging with your therapist, Calmerry and Talkspace differ in nearly every other aspect.
Calmerry, being somewhat of a rookie in the digital world of mental health therapy, offers its users 3 simple plans.
Therapies at Calmerry are mainly done through messaging, with live video sessions and a daily tracker bot as nice additions. 
According to online therapy reviews, Talkspace however, is a more established platform with a more developed offering of different features and types of therapy.
Nevertheless, both services do what they do well, and can help enormously with your mental health struggles.
So if you or someone you know is dealing with an issue, do not hesitate and reach out for help. 
Latest posts by John S. - Editor in Chief
(see all)