We write our honest reviews but we may receive compensation from the below providers if you purchase products or services through the links provided. Read more here
Introduction to Teen Consulting
The teenage years are often full of a lot of transition, uncertainty, and pressure. Many teens can benefit from counseling services, and these exist in different forms.
Teen Counseling is a website that connects teens to licensed therapists for counseling via text, video, or phone. In this Teen Counseling review, you can find out more about this unique platform and how it works. You can also learn more about the ease of using the site. 
Pros and Cons of Teen Counseling
There are many pros and cons to the Teen Counseling platform. The service might be more suited for some situations than others. Many teens have used the service and found help, but it is up to parents and teens to decide if online counseling is the right channel to use.
Here are the pros:
The service is easy to access for teens everywhere. No special transport arrangements are necessary. As long as the teen can connect to their sessions online, counseling can happen remotely very smoothly using the dedicated app. It is easy to download and use. 
All the counselors on the platform are licensed professional counselors (LPC). This means that they know their field well and can work with teens facing various issues of life.
There is a wealth of counseling expertise and experience on the platform, with over 8,000 counselors registered. Some of them have experience as family therapists or licensed clinical social workers (LCSW). Many have master's degrees and doctoral degrees. When a counselor has experience as a family therapist, they understand family dynamics and how these can affect teens. Marriage and family therapists can work with teens to deal with underlying issues and improve their lives.
Many of the counselors are mental health professionals, and this is important because of the rise in mental health conditions in younger individuals.
The screening and questionnaire stage of the signup process is quite thorough. Once the teen or their parent has answered questions on the challenges and behavioral traits of the teen, Teen Counseling matches the teen with the right professional. 
Here are some of the cons of Teen Counseling:
The weekly cost might make counseling inaccessible to teens in lower-income families. Not everyone can afford the fee, and many insurance companies do not cover telehealth services. 
Technology is not always as reliable as needed. Poor connection and weak Wi-Fi signals can cause the counseling sessions to be interrupted unnecessarily.
When a teen matches with a therapist in a different city or state, the professional cannot always give relevant local suggestions. One example of this is when the counselor must make referrals for other local health services, but they are not familiar with the area where the teen stays. We suggest to try connecting with a local therapist as possible, if you can.
How to Sign Up 
Signing up for Teen Counseling happens entirely online. When you visit the website's homepage, you have to select whether you are a teen or a parent. For teens, there are a series of questions to answer about who they are, what brought them to the site, and what their struggles are. The questionnaire takes only a couple of minutes to complete, and once it is complete, the page redirects to the signup page. Teens can either create a brand new private account using their email address or sign up with an existing Google or Facebook account. 
The questionnaire for parents asks slightly different questions, and they must decide whether they are looking for parental advice or want to sign their children up for teen counseling. The questions asked are more about the habits and behavior of the teens. 
Once the parent or teen has completed the questionnaire and the signup process, the teen is matched with a licensed, trained, and experienced counselor. After that, the counseling can begin remotely.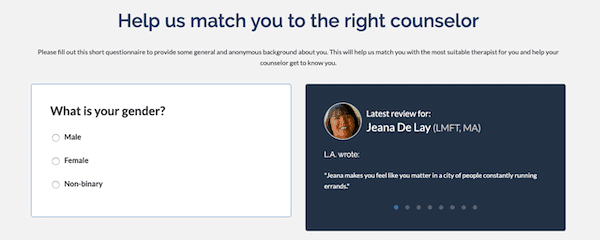 Screening Process 
Most of the screening takes place during the questionnaire phase. The questions are specifically geared to find out some basic information about the teen, such as age, gender, parents, home life, and personal struggles. Teens must also receive parental consent before using the platform, and this is enforced by sending a unique verification code to the parent or legal guardian before counseling sessions can begin.
Areas of Treatment 
Online counseling through Teen Counseling covers many different treatment areas. Many teens struggle to handle the stress and pressure from difficult school and home environments. Talking to a therapist can help in the areas of anxiety, stress, coping skills, self-esteem, bullying, depression, and anger. Eating disorders and a range of mental challenges are also some of the areas of treatment available. Talking to a counselor can help a teen experience higher levels of happiness, deal with stressful situations better, and improve their relationships and performance in school.
There are cases when online therapy at Teen Counseling is not suitable. According to the site, online therapy with Teen Counseling is not ideal for teens facing serious or urgent issues. If a teen is contemplating self-harm, alternative services and assistance must be looked for urgently. For teens who are in emergencies of any kind, the counseling platform is also not the right place to find help. Teens requiring counseling as part of a court order cannot use Teen Counseling to fulfill this requirement.
The video sessions and phone call counseling on Teen Counseling make it necessary for anyone using the platform to have access to a phone, computer, or tablet and a reliable internet connection.
These are just a couple of the topics the counselors can assist with; however, after reviewing talksapce, we understand that there are plenty more under the spectrum that the trained counselors can assist with.
Teen Counseling is part of BetterHelp, which is a professional counseling service. Over 990,000 individuals have been assisted through Teen Counseling, and the platform continues to grow and expand. 
Session Types
Sessions with the counseling service take place live. A teen can either do a live chat session, a live phone session, or a live video session, depending on their preference. All of these require a reliable internet connection. Many teens enjoy using the chat option. The live sessions are also great and can be scheduled from the app. Each counseling session takes place in the user's individual room, and this is only open to themselves and the counselor. 
How to Schedule a Session
To schedule a session, a teen must have completed the initial questionnaire and be signed up on the platform and have received parental consent to get counseling. The next step is to subscribe to the service.
"Teen Counseling is fabulous! Andrina is very in tune with my son and I appreciate her and all she does."
Pricing and Privacy Policy
Counseling services are available as a recurring subscription service. Depending on what the teen's parents agree to and are willing to pay, the range of prices for weekly counseling sessions falls between $40 and $70. The subscription plan has an unlimited access option. It is possible to cancel the subscription at any time.
Teen Counseling makes it clear that the company values and respects the privacy of its clients. Parents do not have access to the counseling sessions between the teen and the counselor. Email addresses submitted on the site are not shared.
Customer Support
The Teen Counseling customer support service is reachable via email or webform. To log a request or give feedback on the website, you have space to write a message and select the nature of your issue. You can also read more about what people have to say about using the service through the website or other review websites. 
Conclusion
There are many Teen Counseling Reviews online. Like other therapy services, the platform must be scrutinized to ensure that it is helpful and not harmful to the teenager who is going through personal changes, which could be social, emotional, psychological, or mental.
Teen Counseling FAQ