Teen Counseling Review 2023: Pros & Cons, Features and Cost
We write our honest reviews but this page may contain affiliate links, with some of the partners mentioned, to support this website. Read more here
How We Reviewed TeenCounseling.com
We follow a rigorous reviewing process that includes first-hand testing, thorough research, user reviews, and transparent methodology. Our reviewers are editorially independent, so you can trust their recommendations.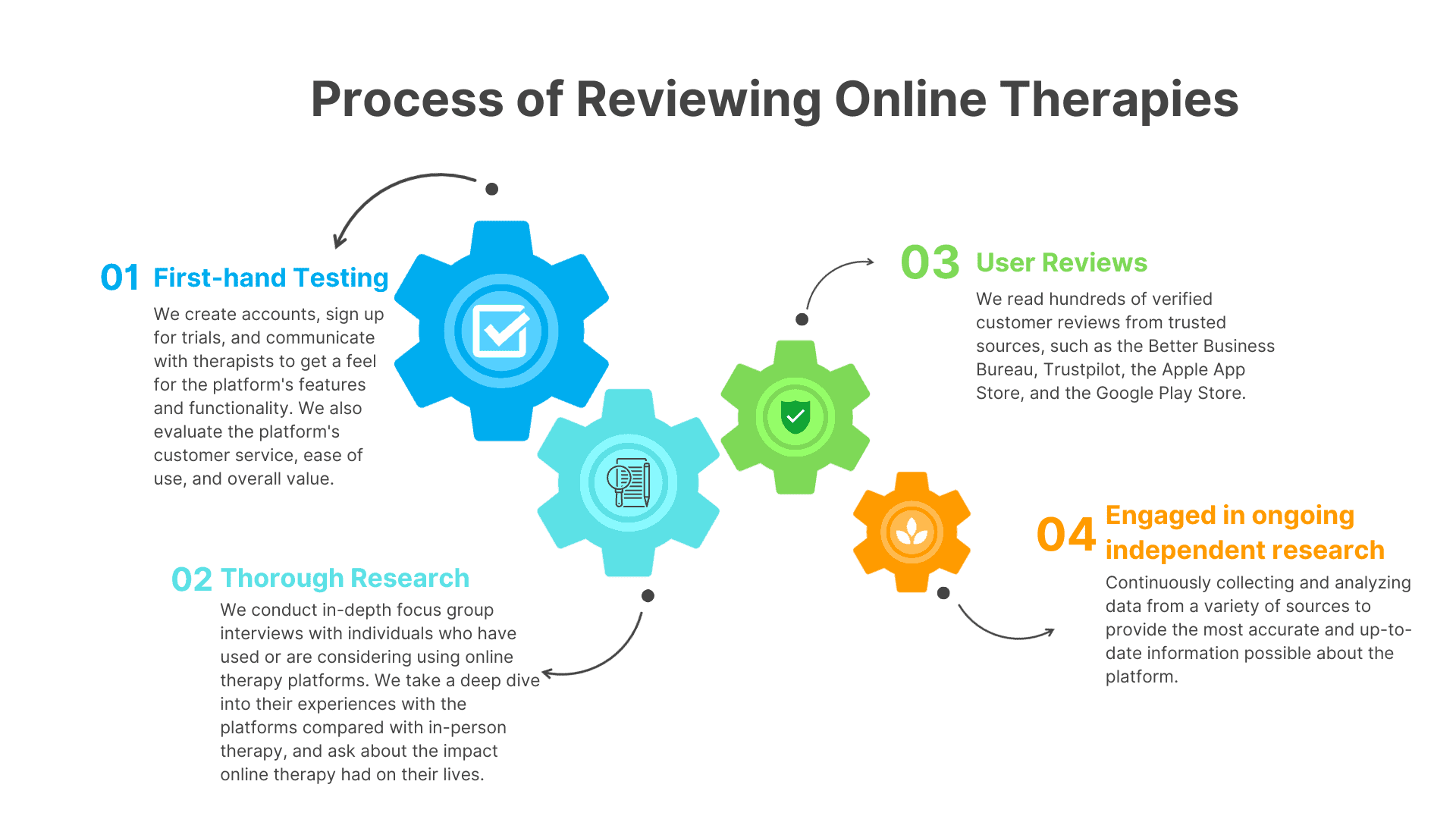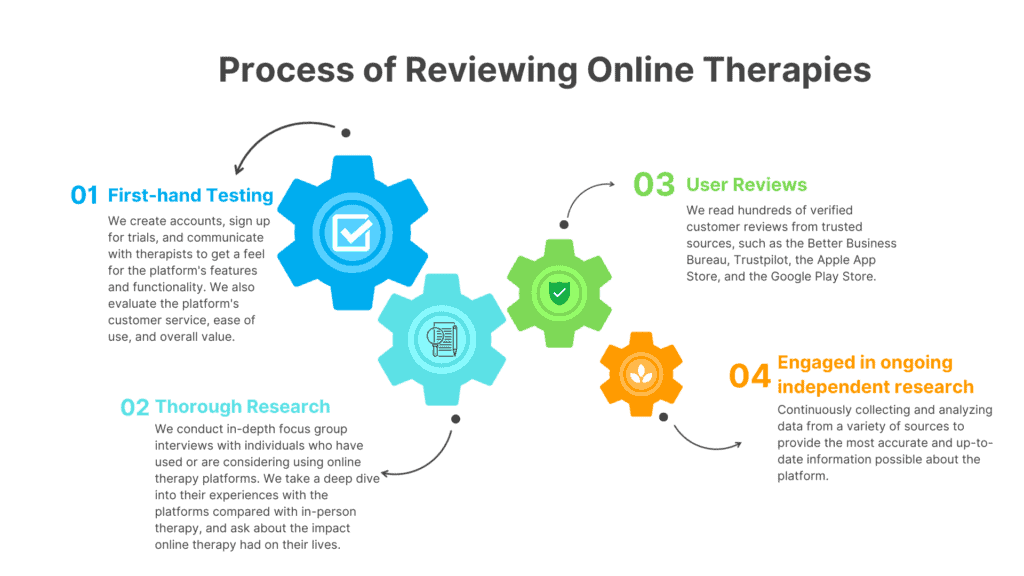 The mental well-being of teenagers and young adults is currently facing significant challenges. This age group is particularly exposed to the rapidly changing and often stressful circumstances of the modern world.
This demographic is experiencing unique mental and emotional pressures, and considering that teenage brains are still developing, they may be more prone to withdrawing, engaging in problematic behaviors, or even having thoughts about death.
The life of teenagers is marked by transitions, uncertainty, and different kinds of pressures. To cope with these difficulties, teenagers can avail themselves of counseling services, which come in different forms.


What is Teen Counseling?
Teen Counseling is a platform that connects teens with licensed therapists for online therapy via text, video, or phone. In our Teen Counseling review, you'll learn more about this unique platform, the ease of using the site, and how it works.
Licensed therapists now have the opportunity to provide mental health services through a convenient online platform. This allows individuals in need to access assistance quicker compared to traditional in-person therapy services. 
Although parental engagement is not always essential for the success of therapy for teenagers, the involvement and support of parents can be immensely valuable, particularly for younger teens.


Features

Licensed professional counselors
Over 8K registered counselors
24/7 availability
Confidentiality
Text, audio, or video sessions
Who is Teen Counseling for?
 It is an ideal platform for teenagers who are facing emotional and mental health challenges but may not have access to traditional counseling services due to location, cost, or other barriers.

The platform is also suitable for teenagers who prefer the convenience and privacy of online counseling. With Teen Counseling, teenagers can communicate with licensed therapists from the comfort of their own homes, at a time that suits them. This allows for greater flexibility and convenience, particularly for teenagers who have busy schedules or prefer to avoid face-to-face interactions.

Teen Counseling is also a great option for guardians who are looking for support and guidance in improving their relationship with their teenagers. The platform offers a safe and confidential space where guardians can seek advice and support from licensed therapists.

Pros and Cons of Teen Counseling
There are many pros and cons to this platform. Their service might be more suited for certain situations than others. Many teenagers have opted for it, but it is up to parents and teens to decide if online counseling is the right channel for them or not.
Pros:
Teen counseling is accessible for teens

wherever they are

. No special transport facilities are necessary. As long as the teens can connect to their counseling session online, counseling can take place remotely through the dedicated app. One can easily download and start using it. 

Every online therapist on the platform is a licensed professional counselor (LPC). This means that they know their area of expertise well and can work with teens facing various issues in life.
The platform has several experienced professional counselors who can help solve your teen's issues. With over 8,000 counselors registered, the site has a large database. Some of them are skilled marriage and family therapists or licensed clinical social workers (LCSW). Most have masters and doctoral degrees. Family therapists understand family dynamics and how they can affect teens. Marriage and family therapists can work with teens to deal with underlying issues and improve their lives.
Many of the counselors are mental health professionals who are trained to address the prevalence of mental health conditions in youngsters.
The screening process during signup is quite thorough. Once the teen or their parents have answered questions on the challenges and behavioral traits of the teen, Teen Counseling matches the teen with the right professional. 
Cons:
The weekly cost might make counseling inaccessible to teens in lower-income families. Not everyone can afford their fee, and many insurance companies do not cover telehealth services. 
Technology is not always reliable. Poor connection and weak Wi-Fi signals can result in interrupted counseling sessions.
When a teen matches with a therapist in a different city or state, so he/she can't always give relevant local suggestions. For example, when the counselor must make referrals to other local health services, but are not familiar with the area where the teen stays. We suggest connecting with a local therapist as much as possible if you can.
How to Sign Up for Teen Counseling
The signup process for Teen Counseling is entirely online. When you visit the website's homepage, you have to select whether you are a teen or a parent. For teens, there are a series of questions to answer.
These questions relate to who they are, what brought them to the site, and what their struggles are. The questionnaire takes only a couple of minutes to complete, and once it is completed, the page redirects to the signup page.
Teens can either create a brand-new private account using their email address or sign up with an existing Google or Facebook account. 
The questionnaire for parents asks slightly different questions, and they must decide whether they are looking for parental advice or want to enroll their children in teen counseling. The questions concern the habits and behavior of the teens. 
Once the parent or the teen has completed the questionnaire and the signup process, the teen is matched with a licensed, trained, and professional counselor. After that, Teen counseling takes place remotely.
Screening Process 
Much of the screening takes place during the questionnaire phase. The questions try to gather information such as the teen's age, gender, parents' information, home life, and personal struggles. 
Teens must also receive parental consent before using the platform, and this is enforced by sending a unique verification code to the parent or legal guardian before beginning counseling sessions.

Areas of Treatment 
Online therapy through Teen Counseling covers many different treatment areas. Many teens struggle to handle stress and pressure arising from difficult school and home environments. 
Talking to a therapist can help address anxiety and stress, improve coping skills and self-esteem, and tackle bullying, depression, and anger. Eating disorders and a range of other mental health challenges can be addressed too. 
Counselors can help a teen to experience elevated levels of happiness, deal with stressful situations better, and improve their relationships and performance in school.
There are instances when online therapy at Teen Counseling is not suitable. According to the site, online therapy at Teen Counseling is not ideal for teens facing serious or urgent issues. If a teen is contemplating self-harm, alternative services and assistance must be considered urgently.
The counseling platform is not the right place to find help for teens who are in any kind of emergency. Teens requiring counseling as part of a court order cannot use Teen Counseling to fulfill this requirement.
Video sessions and phone call counseling on Teen Counseling necessitate one to have access to a phone, computer, or tablet, in addition to a reliable internet connection.
Teen Counseling is part of BetterHelp, which is a professional counseling service. Over 990,000 individuals have received assistance through Teen Counseling, and the platform continues to grow and expand.

A Star among Teen Counseling Review
If your son or daughter is experiencing emotional difficulties, you might have considered speaking to a counselor. If you are looking for Tele counseling or a teen counseling app, there are many options available today.
Teencounseling.com is a website that features an online counseling room and Tele counseling.
Teen Counseling also features LGBT pride counseling which is important for dispelling stigma and bias. Most importantly, this online platform features counselors who are either a licensed therapist or a psychologist, and they are available through an online counseling room. Companies such as Teen Counseling take their clients very seriously. 
Teens have sensitive issues that require counselors to be trauma aware so that they can build on teens' coping skills.
Sessions can be scheduled per week or at your teen's convenience. Per-week sessions are usually the norm though. Therapists are available via text and phone calls, and compensation can be made via online payment. They all have master's or any relevant degrees, and thanks to a number of payment options, your online therapist gets more accessible.
Session Types
Sessions usually take place live via live chat session, a live phone session, or a live video session, depending on the client's preference. All these sessions require a reliable internet connection. 
While many teens enjoy using the chat option, the live sessions are also great and can be scheduled from the app. Each counseling session takes place in the user's individual room, and this is only open to themselves and the counselor.

How to Schedule a Session
To schedule a session, a teen must complete the initial questionnaire and sign up on the platform. They must also receive parental consent to receive counseling. The next step is to subscribe to the service by paying the membership fee.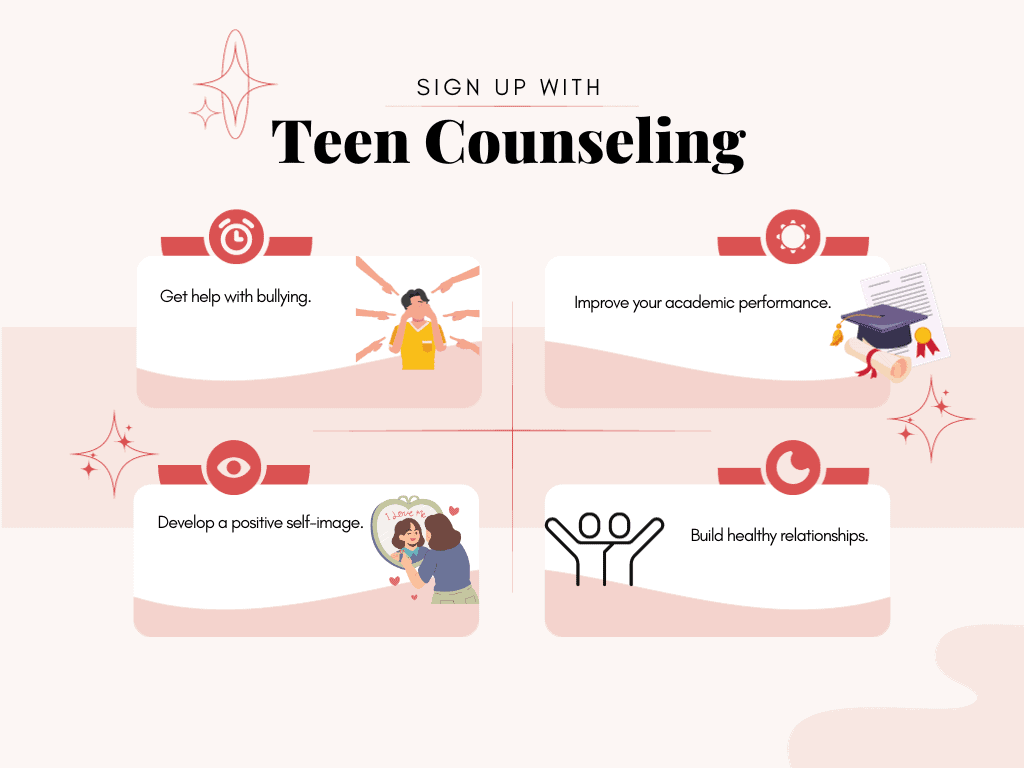 "Teen Counseling is fabulous! Andrina is very in tune with my son and I appreciate her and all she does."
If you are in a mental health crisis, it is important to seek immediate help. Online therapy can be a great resource for ongoing mental health care, but it is not appropriate for immediate crisis situations.
If you are having suicidal thoughts or plans, or if you are feeling like you might harm yourself or others, please call 911 immediately. You can also reach the National Suicide Prevention Lifeline at 988 for free and confidential support.
Here are some other resources that can help if you are in crisis:
Crisis Text Line: Text HOME to 741741
The Trevor Project: 1-866-488-7386
National Alliance on Mental Illness (NAMI): 1-800-950-NAMI (6264)
SAMSA.gov
Please remember that you are not alone, and there is help available. If you are in crisis, please reach out for support.
Pricing and Privacy Policy
Counseling services are available as a recurring subscription service. Depending on what the teen's parents agree to and are willing to pay, the range of prices for weekly counseling sessions ranges between $40 and $70. 
The subscription plans have unlimited access options. It is possible to cancel the subscription at any time.
Teen Counseling makes it clear that the company values and respects the privacy of its clients. Parents do not have access to the counseling sessions between the teen and the counselor. Email addresses submitted on the site are not shared, although cookies are collected. However, every website collects cookies and you can disable this at any time.

Customer Support
Teen Counseling's customer support service is reachable via email and webform. To log a request or provide feedback on the website, you have to write a message using text and select the nature of your issue. 
You can also read what other people are saying about using the service through the website or other review websites. 

Conclusion
There are many online counseling platforms available. But Teen Counseling is more helpful and not harmful to the teenager who is going through personal changes, which could be social, emotional, psychological, or mental. 
Teenagers with family issues, anxiety, stress, depression, bullying, and other issues can get help through therapists licensed with a professional board.
Helping teens is not an easy job, and requires a lot of experience and tact on the part of the therapists. Teen Counseling collects name, phone, and email addresses, but it keeps all information confidential. 
Using Teen Counseling is easy, and you can make sure that you or your teen will receive the best mental health care possible.
Latest posts by John S. - Editor in Chief
(see all)