Online-therapy.com Review 2023 | Is it Worth it?
We write our honest reviews but this page may contain affiliate links, with some of the partners mentioned, to support this website. Read more here
How We Reviewed Online-Therapy.com
We follow a rigorous reviewing process that includes first-hand testing, thorough research, user reviews, and transparent methodology. Our reviewers are editorially independent, so you can trust their recommendations.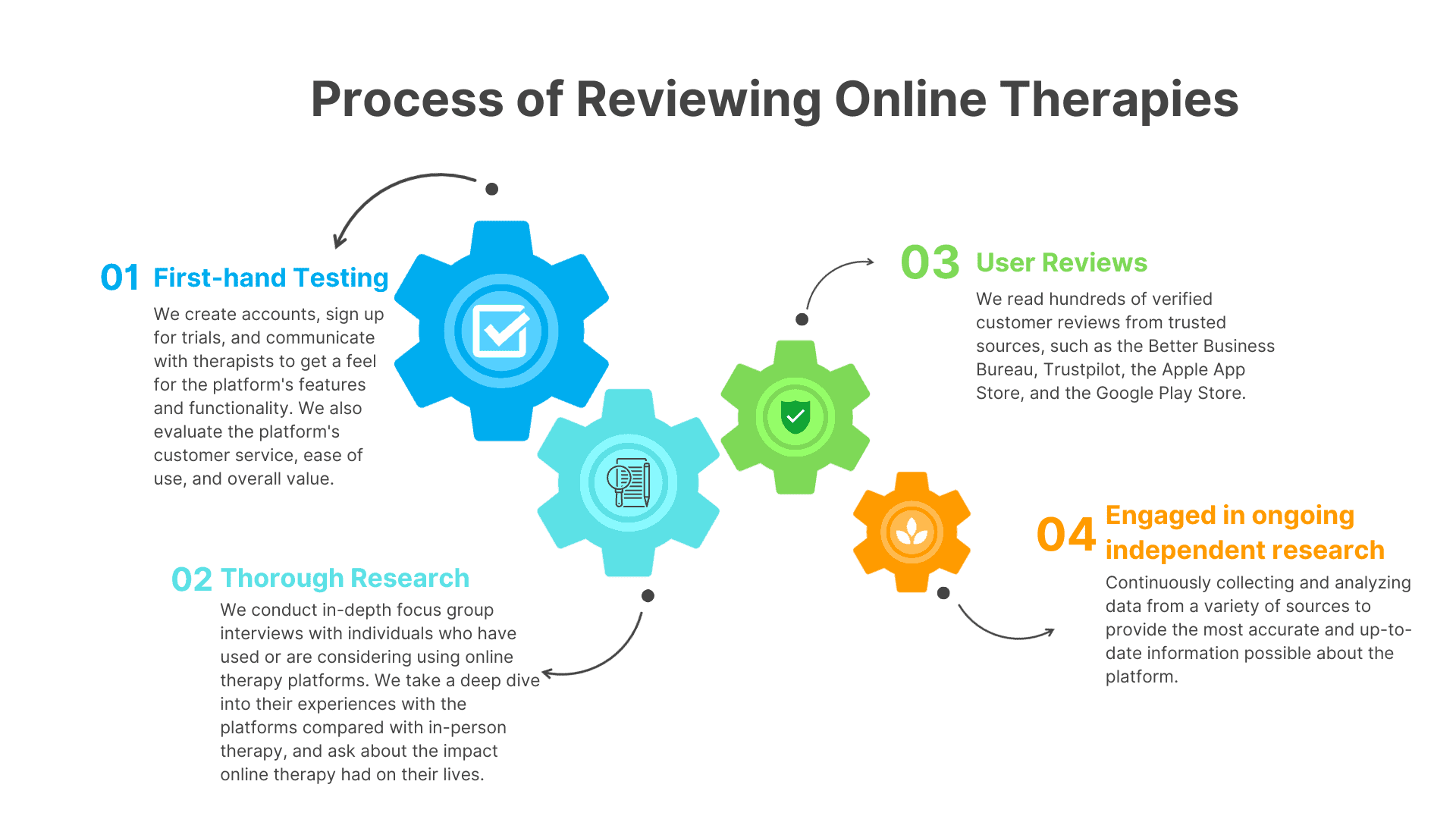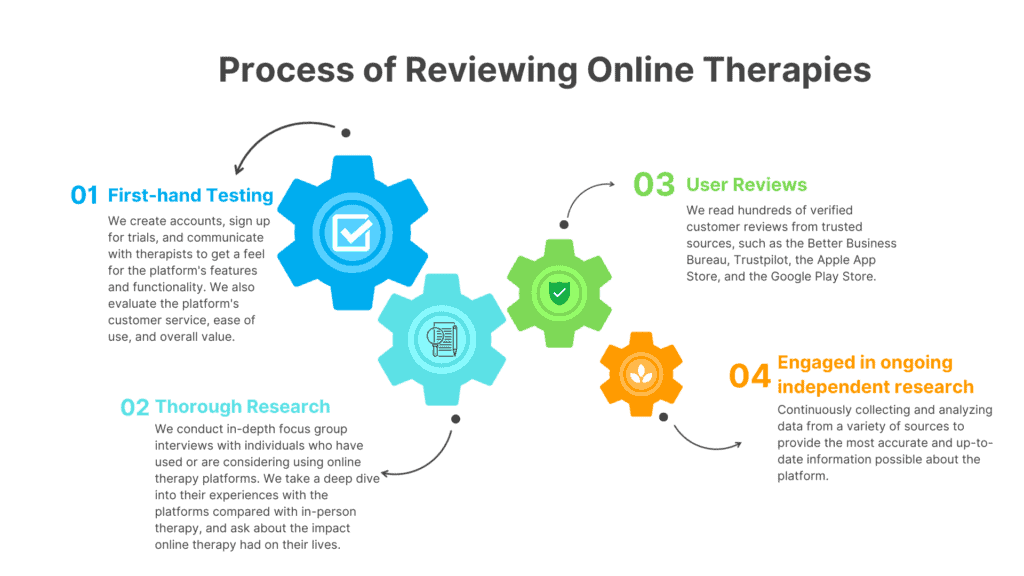 Introduction
The idea behind online-therapy.com is to provide people with a platform that can be a tremendous asset on the road to mental well-being. Therapy sessions tend to take place in physical proximity, which adds to the effectiveness of the sessions.
However, online-therapy.com uses a system that is entirely remote for its members. Thanks to the Cognitive Behavioral Theory approach that the service employs in their counseling plans, clients have been able to get the kind of help they need when they need it. The therapists that can be accessed are not just random people who are employed.
Instead, a person can have direct access to find a professional who is certified/licensed therapists to provide the kind of professional help needed. The idea is to create more than a system of just sessions. Instead, online-therapy.com has an entire system that it plugs its users into, which provides both information and a support system.
What does this mean? Well, access to a personal therapist is complemented by various features such as worksheets, plans, journals, messages, phone calls, and live chats. A holistic approach to mental health issues is taken, which treats persons as valuable community members, instead of looking at them as one of many customers who need nothing more than simple therapy sessions. 
Pros of Using Online-therapy.com
Pricing – The first advantage to note is that of the pricing that is offered. Traditional therapy is not the cheapest thing in the world. The cost associated with it only compounds based on the severity of the treatment that is needed throughout the process. Though online therapy sessions also offer access to well-composed online therapy services, it is made much more affordable than the traditional therapy session alternative. 
Safety, privacy, and confidentiality, which are all critical considerations to any individual, are given special attention with online-therapy.com. First, given the current landscape of cybersecurity in the world, it's essential that steps are put in place to protect each user's information as they use the platform. Secure pages are used to do this. Privacy is next on the list, as those who are receiving treatment should never be exposed or identified in any way. Finally, there is confidentiality, as users can be guaranteed that nothing that they share is exposed to anyone.
This online platform is perfect for persons who have various issues with meeting a therapist in person. Some people are simply not open to face-to-face therapy with someone as they feel exposed. Additionally, those who suffer from social anxiety on different levels are likely to feel much more relaxed when they access this service is from the comfort of a computer screen. 
Licensed professional counselors. To get to that stage, a counselor must have demonstrated an effective technique and knowledge of the field. Therefore, it is highly unlikely that someone who decides to take advantage of the service must deal with an unprofessional counselor who is unable to provide the kind of therapy service that is expected of the platform.
Plenty of licensed therapists to choose from, is yet another advantage. Though they may all have the required knowledge, customers may find that some counselors are more effective than others based on their personalities and preferences. Online-therapy.com allows people to access various counselors for their mental health needs.
Worksheets that are filled out with the therapists, along with other activities, such as yoga and meditation that can help to create the kind of calm disposition that is necessary for effective treatment.
Cons of Using Online-therapy.com
You need good internet connection. While you don't need enterprise-grade connection capabilities, if what you have is below par, you may find that there is high degradation in the service that is provided. 
While it is very convenient for persons to get access to online services, people still have individual preferences and personalities. Therefore, techniques that work and the service delivery method that is used cannot be the same for everyone. To this end, there are persons who simply thrive in a much better manner from in-person delivery. Unfortunately, this is not something that online-therapy.com offers. 
Building report is not as easy as it is with face-to-face therapy. This is a process that works best when someone who is receiving treatment can feel as if a relationship is established with the counselor. Unfortunately, that feeling of bonding can be hard to build and sometimes even nonexistent when the service is delivered in an online manner. 
Health insurance providers may not be too keen on the idea of online therapy. Some people use third parties, such as health insurance companies, to help them make the payments that are synonymous with receiving treatment. Not all these companies are willing to accommodate an internet-based service, such as online-therapy.com. 
How to Sign up with Online-therapy.com
To get started with online-therapy.com is very easy. The process begins with a condition identification. As soon as you hit the signup button, you are presented with a page that aims to ascertain what you need assistance with. Some of the options that are listed include:
PTSD
Sleep or insomnia
Weight loss
Social anxiety
Self-esteem
OCD
Health anxiety
Note that it is possible for a user to select as many of these as are applicable. The next step is to indicate your preferences. The first of these speaks to your gender requirements. You can choose whether you'd prefer a male or a female therapist. If you are unsure or if it does not matter, you can indicate these options as well. 
A big part of the service delivery is live chat sessions, and you can select the service delivery method that is most appealing to you. The options given are text chat sessions, voice-only chat, and video /live sessions. If you are uncertain, you may also indicate this. 
Next is an easy-to-follow, you indicate how you found out about the site, and the options listed here include YouTube, a therapist, social media platforms, or via a search engine. The personal information that is needed to create your account comes next. These include your name or alias, your location, email address, and your desired password. You are also required to check a box that indicates that you are over 18 years old and that you accept the site's privacy policy that you can access and read at your leisure.
After doing this, your free account is then created. Of course, to access all the features available, a paid, premium subscription is needed. 
Screening Process for online therapy
There is a high level of trust that someone who is being treated must be able to have in a therapist. If someone is administering treatment for those who may be struggling with mental health, then that person most confidently is able to elicit the necessary information and make the right decisions in helping treatment recipients to achieve their mental health goals.
Before starting with online-therapy.com, a professional has to register as a counselor on the website, that person must prove that this is something that falls within his/her realm of abilities. To this end, online-therapy.com has a set of requirements that are necessary. 
First, all therapists are required to have either an MA, MS, Psy, MSW or a Ph.D. These qualifications must be in a relevant mental therapy discipline such as clinical psychology or counseling social work. Additionally, the potential candidate must be licensed by the applicable state board and should not have had any disciplinary actions on their record in the last 10 years.  
Areas of Treatment Offered by Online-therapy.com
Online-therapy.com aims to offer a wide range of possible treatments to those who are struggling with various issues. This is the reason that this selection process of potential disorders during signup consists of such an extensive list, from which people can choose multiple conditions. The full list of things that you can get assistance with at online-therapy.com are: 
Chronic pain
Domestic violence
Adoption
Mental health problems/Mental health challenges
Agoraphobia
Alzheimer's
Asperger syndrome
GAD
Health anxiety
Autism
Procrastination
Mental health matters/Mental health care
Phobias
During the signup process, you can also select "other," if the condition that you want assistance with is not present in the list.
Session Types Offered
There are different ways in which a person who is receiving counseling services can communicate with the assigned licensed therapist during the process. The first is the personal worksheet. While it is completed by the customer, the therapist offers the necessary support in ensuring that it is completed successfully and adequately. It then forms a strong basis for the approach that is used in the treatment plan. 
Depending on the subscription plan that you have activated, you could potentially have access to the live session, video, and chat functionality. The subscription that you choose determines whether you get one or two of these sessions per week. They last for 45 minutes, and they capture the interactive element that is needed in the administration of successful therapy online. 
The top-tier standard and premium subscriptions also offer unlimited text messages, which can allow the service user is to feel as if the board-certified counselor cares and is consistently intends to provide the kind of treatment that is necessary. 
While these don't fall under the category of interactive sessions, calming activities such as yoga and meditation can always be used to keep yourself centered. Additionally, you are given a personal therapist that you can use to keep track of whatever you see fit.
In the description of the signup process, you may have noticed that you are given the ability to select a preference for a phone or video therapy. Be that as it may, none of these things are currently offered by online-therapy.com. However, it is something that the site plans to launch, so you can expect that these functionalities should show up in the future.
How to Schedule a Session
The first point to note here is that the counselors on online-therapy.com are available Monday through Friday. This can be an inconvenience to some who prefer weekend sessions for online counseling with their therapists, but at least online-therapy.com is kind enough to let users know what the availability is like upfront. 
While you can get assistance from the customer service team around the clock, a licensed therapist is only available for eight hours per day. Of course, the site caters to multiple locales, which means that scheduling around time zone differences can present a challenge. To this end, online-therapy.com aims to place you with a therapist who is suitable based on your time zone.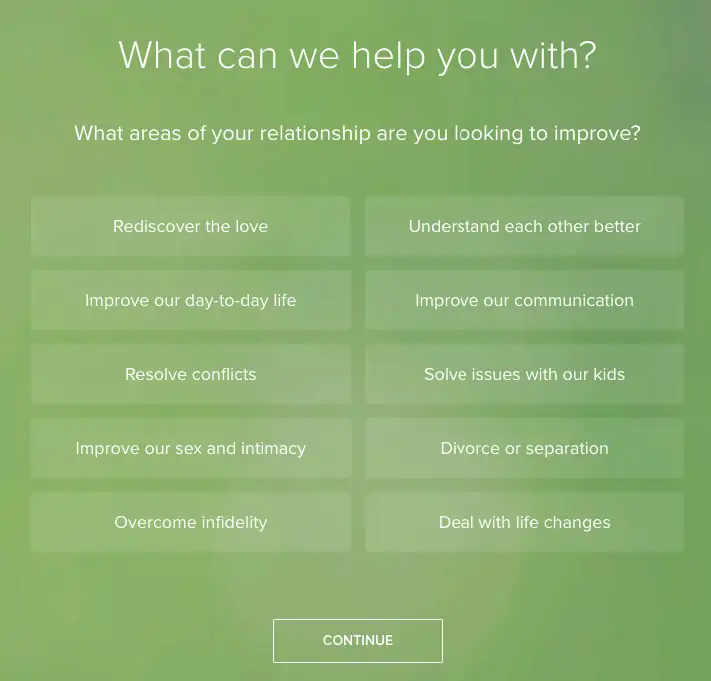 When you create your account and every time you log in, you are taken to the dashboard area where you can see various information and access controls. One of these is a live chat option that you can use to schedule your time.
Online-therapy.com Pricing and Privacy Policy Review
To ensure that customers create an account with a plan that is most appropriate to their financial needs and capabilities, online-therapy.com offers four pricing tiers for people to choose from while purchasing their services.
The first is a free plan platform. This is the default plan that a person is placed on upon the creation of a new account. It has the most limited set of features, which include worksheets, a journal, an activity plan, access to the yoga and meditation videos sessions, and some online therapy. 
The basic plan platform is next, and it is currently $39.95 per week. The plan offers the three areas of functionality highlighted in the free plan of therapy service, but there is also the addition of daily therapist feedback/professional counselors' feedback from Monday to Friday.
The third option is this standard plan platform, and this currently goes for $47.96 weekly. All features of the basic plan are available here, but there is also a single live chat session with a therapist weekly, and support is also offered via text message. 
Finally, there is the premium plan, which offers the maximum amount of support that online-therapy.com can give. All functionality provided in the standard plan is present here. However, there are two sessions with your therapist per week, and express replies to messages are offered. The cost of this plan is currently $63.96 weekly.
Online-therapy.com has a privacy policy that you must accept before started with Online-therapy.com your membership can be created. You can read this at the signup step, or you can scroll to the bottom of any page and select the link to it. At the time of writing, the policy was last updated on January 23, 2020. The information that is included in the policy describes how online-therapy.com operates where the collection, use, and disclosure of your data is concerned.
Additionally, there is information on how the law protects you and the privacy rights that you have.
Customer Support
There is a comprehensive customer support offering available on the site. You can access this in two ways. First, you can use the FAQ section to find answers to the questions that others may have asked before you that can assist you. Thankfully, this is a wholly indexed offering, which means that it is searchable.
There is also the help center, which you can use to reach out to the customer support team 24 hours daily via live chat or email. The email response SLA is currently 24 hours.
If you are in a mental health crisis, it is important to seek immediate help. Online therapy can be a great resource for ongoing mental health care, but it is not appropriate for immediate crisis situations.
If you are having suicidal thoughts or plans, or if you are feeling like you might harm yourself or others, please call 911 immediately. You can also reach the National Suicide Prevention Lifeline at 988 for free and confidential support.
Here are some other resources that can help if you are in crisis:
Crisis Text Line: Text HOME to 741741
The Trevor Project: 1-866-488-7386
National Alliance on Mental Illness (NAMI): 1-800-950-NAMI (6264)
SAMSA.gov
Please remember that you are not alone, and there is help available. If you are in crisis, please reach out for support.
Conclusion
Therapy alternatives are much-needed resources in a world where persons with various conditions require treatment to make them as functional as possible. This can only be achieved by counselors who are professionals in the field.
While service delivery for therapy is traditionally done face-to-face, online-therapy.com offers the therapy package using an online method. 
It is a very comprehensive method that is delivered in several ways. The site employs what is known as Cognitive Behavioral Theory, which aims to use defined objectives to get someone who is receiving treatment to the required state of being. 
Online-therapy.com is super-unique when comparing to leading competition:
1 live session à 45 min/week (video, voice or text)
Unlimited messaging
8 section CBT program, incl. 25 worksheets
Daily worksheet replies Mon-Fri
Yoga & meditation videos, journal, activity plan & tests
Change therapists with a click of a button
Therapy on a secure & confidential platform
Also, premium plan includes 2 live sessions per week + Express replies.
Latest posts by John S. - Editor in Chief
(see all)