We write our honest reviews but we may receive compensation from the below providers if you purchase products or services through the links provided. Read more here
Introduction to Pride Counseling
Do you have questions about your sexuality? Do you find yourselves sexually confused or questioning? Are you looking for someone you can talk to without worrying about being judged? Pride Counseling is an online resource for anyone within the LGBTQ community, as well as the Allies who are looking for resources that are both accessible and accepting. 
 This is an online service that strives to help the LGBTQ community in terms of their sexuality as well as their mental health. Everyone can use support, and Pride Counseling is striving to provide the LGBTQ community the support they may not feel they have.
Pride Counseling Pros and Cons
Pros:
Available online for all your LGBTQ questions. 
Address mental health concerns, as well as providing support for both community members and allies. 
Offer specialized counselors who can provide support for anxiety, stress, relationships, depression, and more. 
No matter your identity, or how you identify, Pride Counseling offers resources and services to every and all identities.
Cons: 
Pride Counseling is not ideal for you if: 
You don't have access to stable internet.
Require immediate help or are in crisis.
Prefer face-to-face counseling. 
Covered by insurance and want your sessions covered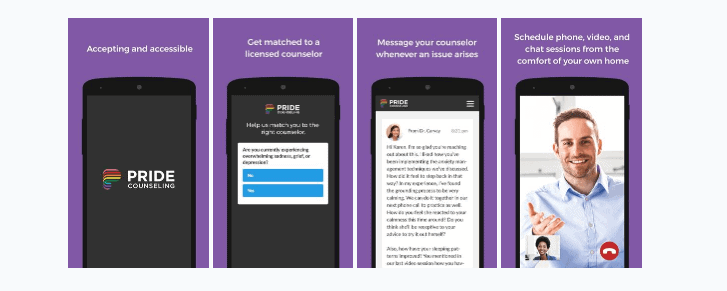 How to Sign Up 
To get started with Pride Counseling, complete the online questionnaire. This helps determine which counselor to pair you with, as well as your overall health and mental state. 
Once you have completed the introductory questionnaire, you are then directed to create a Pride Counseling account.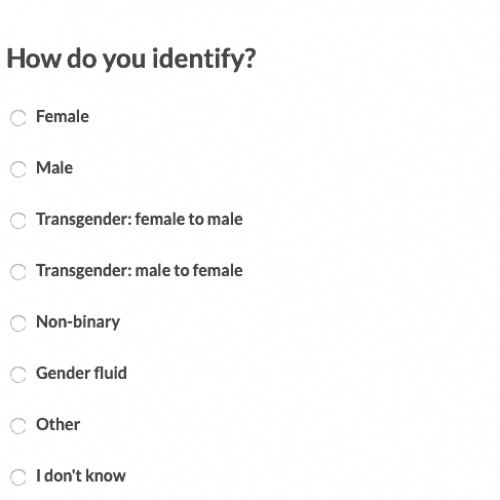 Screening Process
When you begin the process to sign up, potential clients must complete an array of questions. 
The questions included in the screening process are to help the company match you with someone great, and the counselors have a better overall idea of you and your present state. By understanding this, they can ensure you are matched with the best counselor for your situation.
Information such as your email is kept strictly private. You should not worry about it being shared with any third-party group. The Pride Counseling counselors don't have access to your email; therefore, all information and discussions are completely private and anonymous.
Areas of Treatment
Pride Counseling addresses everything to do with members of the LGBTQ community as well as the allies who want to provide the best support for their friends and family. 
Other areas that the counselors address that are not specific to LGBTQ include: 
Relationship
Parenting
Eating disorders
Body dysmorphia
Trauma
Sleep 
Anger 
Grief
Religion
Self-esteem
Complete the online questionnaire and have a specialized counselor dedicated to you and your concerns. 
When it comes to mental health and LGBTQ matters, Pride Counseling understands that there isn't just one problem you can experience; instead, there can be an array of overlapping issues that need to be addressed. 
If you feel overwhelmed or are experiencing more than one of the following, let the counselors know. The more you share, the more they can help.
Session Types
Pride Counseling offers three forms of counseling sessions:
Text 
One of the things that makes Pride Counseling different from other counseling services, and what also sets it apart from other counseling services is that it allows individuals to have a discussion in real-time with a counselor.
The online sessions with a counselor are like having a chat with a friend. This is done to make you feel comfortable and at-ease.
All sessions with counselors are scheduled beforehand. Once it is your time, you log-on to your profile and begin your chat with the counselor.
Video
If you prefer to speak with a counselor face-to-face, there is a video session option. With video sessions, you schedule an appointment with the counselor. Once it is your scheduled time, the counselor would then initiate the video chat. 
Phone 
Not everyone has a computer or a smartphone, which is why Pride Counseling offers phone counseling sessions. To schedule an appointment, log on to your Pride Counseling account. From there, you would provide the best number to have the counselor reach you at. 
Everything on Pride Counseling is private and is not shared; therefore, rest assured that if you share your number with our counselors and us, it won't be shared with anyone else. 
How to Schedule a Session
To schedule a session with a Pride Counselor, visit the Pride Counseling interface, log-on, and select a timeslot that works for you. 
"Erica is an amazing counselor and really takes the time to respond thoughtfully to your needs. I have appreciated her so much!"
Pricing and Privacy Policy
Sessions with Pride Counseling can range from $40 to $70 per week; however, they offer a flat membership fee, which allows access to unlimited counseling. Typically, a counseling session can cost upwards $250 per hour for an in-person session; however, with Pride Counseling, they strive to be accessible for all budgets.
To pay for your sessions or memberships, Pride Counseling accepts credit and PayPal. 
If you have health coverage and are looking to get reimbursed for your sessions, contact your local health insurance provider.
Customer Support
If you are looking for support in terms of how to register, or if you are looking for assistance with creating your Pride Counseling account, you can complete an online form or send the organization an email. 
Customer support can answer any and all questions regarding: 
Creating an account
Pride Counseling services
Certified counselor looking to join Pride Counseling
Business-related inquiry 
Billing and payment 
Conclusion
Sometimes you need someone to talk to, someone who can help make sense of your feelings and experiences. Whether you are coming out, questioning, or confused, Pride Counseling offers knowledgeable and licensed trained counselors and staff who want to ensure your safety and well-being. Many counselors have 2,000 hours of training and experience upwards.
No matter what you may be experiencing or going through, know that you don't have to go through it alone. Pride Counseling is ready and prepared to support you every step of the way. Right from the comforts of your home, you can get the support you need, from video chats and telephone, to know that our accredited psychologists are ready to help.
Pride Counselling FAQ: