Grow Therapy Review 2023 – All Features, Pricing and Pros & Cons
We write our honest reviews but this page may contain affiliate links, with some of the partners mentioned, to support this website. Read more here
Is Grow Therapy Worth it?
If you're dealing with mental health challenges and looking for therapy that's easy to access and won't break the bank, Grow Therapy is definitely worth considering! They have a variety of therapy options available, all provided by licensed professionals who really know their stuff. Plus, they give you the freedom to choose between virtual sessions and meeting in person, whichever works best for you.
One thing that sets Grow Therapy apart from other platforms is that they accept most major insurance plans. This means that whether you're an individual, a couple, or a family seeking therapy services, you won't have to worry about footing the entire bill. It's a fantastic perk that makes Grow Therapy an excellent choice for anyone seeking affordable and high-quality therapy.
Our rating system assigns brand scores on a scale of up to 5. To arrive at these scores, we use a weighted formula that considers TrustPilot ratings, User Engagement scores, and our staff's experience with the platforms.
A lot of Insurance Coverage

Online or in-person therapy
Accepted by most insurances

Virtual or in-person sessions available

Affordable pricing

A lot of therapists to choose from

Great customer support
Not available in every state

No Mobile App

No Free Trial
Grow Therapy is a comprehensive mental health service that provides therapy options for individuals seeking professional support. It offers a wide range of therapeutic services to address various mental health difficulties. Grow Therapy aims to make therapy more accessible and convenient by offering both virtual and in-person therapy sessions.
Mental healthcare can often be inaccessible for individuals living in regions where mental health services are scarce or completely unavailable due to a shortage of providers. These areas face the challenge of not having enough therapists to meet the demand, making it difficult for people to access the care they need.
In light of this issue, Grow Therapy is committed to addressing these concerns and striving for greater accessibility. As a therapy service, Grow Therapy aims to assist therapists in accepting insurance, facilitating smoother scheduling and billing processes. By working towards these goals, Grow Therapy seeks to make mental health care more attainable and convenient for individuals in mental healthcare deserts.
The mission of Grow Therapy extends beyond just providing a therapy service. It aims to be a catalyst for change, advocating for improved access to quality mental health care for everyone, regardless of their geographical location. By choosing Grow Therapy, individuals can join a collective effort to break down barriers and ensure that mental well-being remains a priority for all.
How Grow Therapy Works - Grow Therapy Features
Additionally, Grow Therapy stands out for its acceptance of most major insurance plans. This makes it a great option for individuals, couples, or families seeking therapy services, as it helps to minimize the financial burden associated with mental health care.
Whether you're dealing with anxiety, depression, relationship issues, or any other mental health concern, Grow Therapy provides a supportive environment and tailored treatment plans to help you grow and thrive.
One of the standout features of Grow Therapy is its team of licensed professionals who specialize in 30 specialties covering different areas of mental health. They are highly qualified and experienced in helping individuals navigate their mental health challenges effectively.
Available in the District of Columbia and the following states:
Alabama
Arizona
Arkansas
California
Connecticut
Delaware
Florida
Georgia
Hawaii
Illinois
Indiana
Iowa
Kansas
Kentucky
Louisiana
Maryland
Massachusetts
Michigan
Minnesota
Mississippi
Missouri
Montana
Nevada
New Hampshire
New Jersey
New York
North Carolina
Ohio
Pennsylvania
Tennessee
Texas
Utah
Virginia
Washington
Wisconsin
Grow Therapy has more insurances accepted in certain states than others, but in states with lower insurance coverage they are working to add additional partnerships and cover a higher percentage of plans soon.
Booking an in-person session is just as simple as booking a virtual session. You have the freedom to select a therapist in your local area and are presented with a convenient calendar displaying their availability. The direct access to calendars makes it easy to find a suitable appointment time. In fact, appointments are often available within a mere two days, ensuring prompt access to the care you need.
When it comes to payment, Grow Therapy ensures a seamless experience for both in-person and virtual sessions. If you're utilizing insurance coverage, Grow Therapy takes care of the billing process with your insurer, streamlining your experience. You can check if your insurance is accepted by the provider on the booking page. Alternatively, if you prefer to pay directly using a credit or debit card, you will be charged once your appointment concludes. This straightforward approach allows you to focus on your therapy session without any additional financial stress.
Text therapy is not currently available through Grow Therapy. However, they offer three alternative appointment options: phone sessions, virtual chat sessions, or in-person sessions.
Does Grow Therapy Take Insurance?
Yes, it does! Grow Therapy is specifically crafted to assist individuals in locating therapists who accept insurance, resulting in significant savings on their part. Insurance coverage holds paramount importance for Grow Therapy users, as most of them possess some form of health insurance.
Upon entering your insurance details on the platform, you will find a convenient link that allows you to promptly check your plan for coverage information. Additionally, you can contact your insurance company directly to inquire about the specifics of your plan's coverage.
Insurance Plans That Grow Therapy Accepts

(Note: Insurance coverage varies by state)
| | Insurance Provider | |
| --- | --- | --- |
| Aetna | Evernorth | Optum |
| Cigna | Medicaid | UnitedHealthcare Student Resources |
| Independence Blue Cross | UnitedHealthcare Life Insurance | Bind |
| United Medical Resources | Anthem | Highmark |
| All Savers | Florida Blue | OptumHealth Complex Medical Conditions |
| Medicare | UnitedHealthcare Shared Services | Blue Cross Blue Shield |
| AvMed | Golden Rule | Humana |
| Oscar | Carefirst | Husky Health |
Please note that while Grow works with all of the above insurances, coverage does vary by state. During the signup process on the website, you can verify your eligibility for insurance coverage by first entering your state.
Should your plan encompass mental health services, Grow Therapy will handle the billing process directly with your insurance company.
Nevertheless, it's important to note that mental health insurance coverage can vary significantly based on your specific plan and provider. It is advisable to consult with your insurance company in order to grasp the extent of your coverage and any potential costs you may bear prior to scheduling therapy sessions. By doing so, you can make informed decisions about your therapy journey while minimizing any unexpected financial burdens.
Commitment to Inclusivity and Non-Discrimination
At Grow Therapy, inclusivity and non-discrimination are of utmost importance. They adhere to all applicable Federal and State civil rights laws and ensure that everyone is treated fairly and without bias. Regardless of race, color, national origin, age, disability, or sex, Grow Therapy welcomes and supports individuals equally.
To ensure effective communication with people with disabilities, Grow Therapy offers free interpretation services. This includes qualified sign language interpreters and language interpretation services for those whose primary language is not English. They are dedicated to creating an inclusive and accessible environment for everyone.
Who Can Benefit from Grow Therapy?
Grow Therapy caters to individuals who prefer the convenience of virtual appointments while seeking traditional weekly or monthly sessions with a therapist. If you're looking for the flexibility of online therapy but still want the consistency of regular sessions, Grow Therapy could be an excellent fit for you.
Moreover, if you desire the convenience of browsing through therapist profiles and booking sessions online, while still opting for in-person therapy, Grow Therapy offers a wide variety of therapists to choose from, making it a suitable option.
The topics and issues that Grow Therapy providers can address are diverse and inclusive. They include ADHD, anxiety, depression, OCD, and offer specialized counseling for children, adolescents, couples, and individuals in the LGBTQIA+ community. 
Grow Therapy is a versatile platform that accommodates those seeking virtual sessions with a traditional therapy structure, as well as individuals who prefer in-person therapy with the convenience of online access. Their wide range of therapists and expertise in addressing various topics and issues make Grow Therapy an inclusive and supportive option for diverse individuals seeking mental health support.
How to Get Started With Grow Therapy
To begin your journey with Grow Therapy, visit their website and locate the "Find a Therapist" button in the top right-hand corner or select the "Find a Therapist" button directly below the 4 value props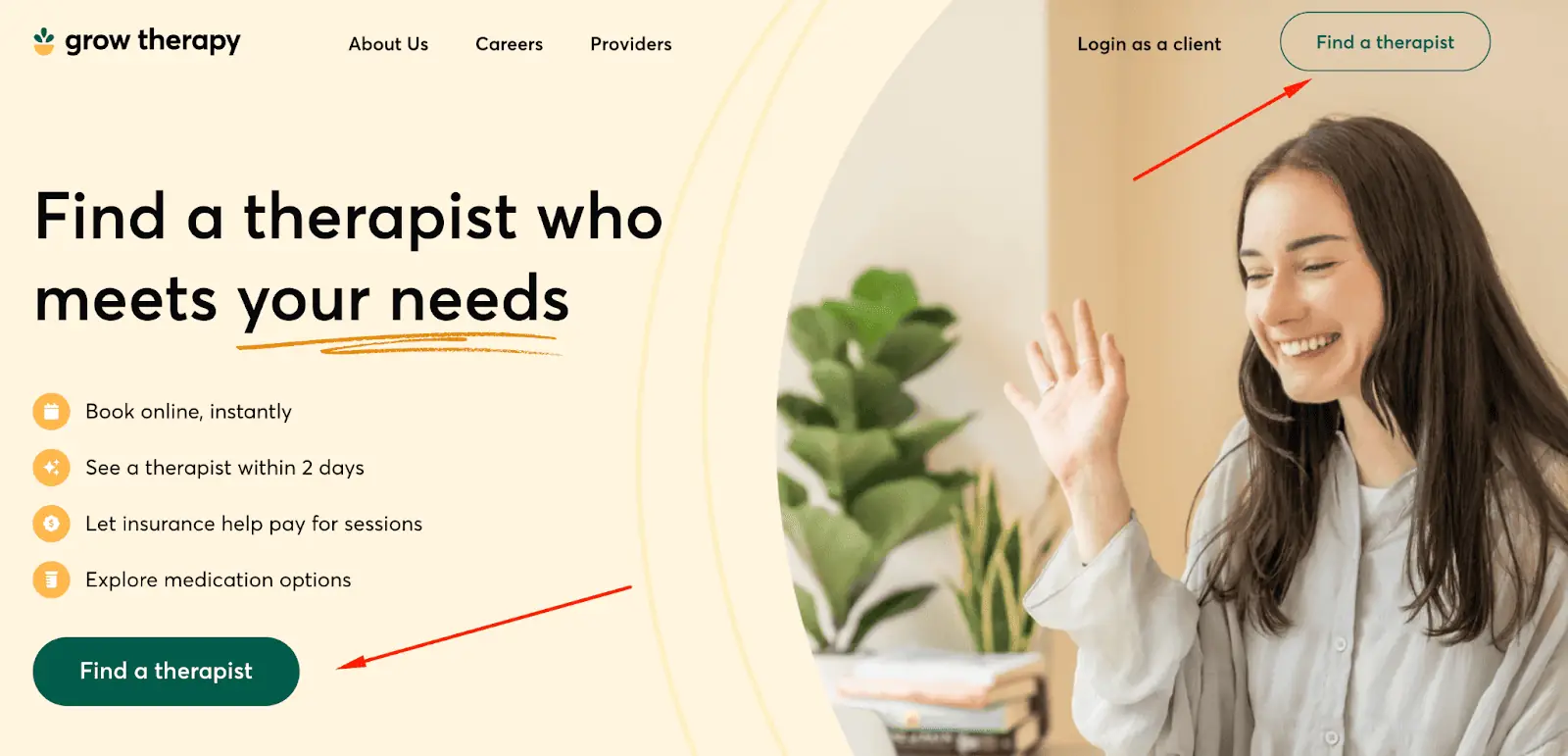 Clicking on it will take you to the next screen, where you'll find a variety of options to refine your search. These options include specifying whether you prefer virtual or in-person care. It's important to note that choosing the latter option may limit the availability of therapists.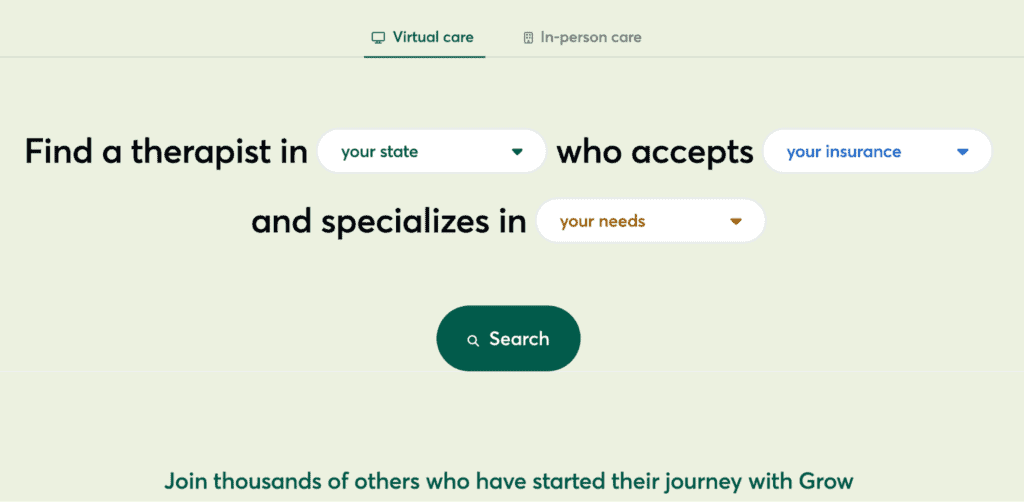 Next, select your state, insurance provider, or payment preference, and indicate the specific mental health concerns you are seeking help for. Once you've made your selections, simply click on the "Search" button. This will generate a list of therapists available in your area, and you can click on their names to access their profiles and detailed information.
By following these steps, you can easily explore and connect with therapists through Grow Therapy's user-friendly website, allowing you to find the right mental health support that suits your preferences and needs.
Grow Therapy Pricing: How Much Does Grow Therapy Cost?
At Grow Therapy, you won't find any monthly therapy plans or subscription services. Since each therapist operates independently, pricing can vary significantly when paying out-of-pocket.
The pricing structure at Grow Therapy varies depending on the therapist you select, as each therapist sets their own hourly rate. On average, therapists charge between $0 and $120 for a 60-minute session, allowing you to find a rate that suits your budget.
Compared to other online platforms that also follow a pay-as-you-go model, Grow Therapy offers slightly more affordable rates on average. It's important to consider that without insurance coverage, counseling through Grow Therapy can become expensive, particularly if you require weekly appointments and choose a therapist who charges $150 per session. Costs can add up quickly in such cases.
How to Switch Therapists at Grow Therapy?
If you're feeling like your current therapist isn't the right fit, rest assured that you have the freedom to change therapists without any additional charges (though you should confirm your new therapist also accepts your insurance). It's always a good idea to have an open and honest discussion with your current therapist about any concerns or issues you may have. They are dedicated to addressing your needs and ensuring a seamless transition to a therapist who better suits you.
To initiate the process of switching therapists, simply access the user-friendly client portal and schedule an appointment with a different provider. At Grow Therapy, they have a diverse team of licensed therapists, each with their own areas of specialization and valuable experiences. With the extensive network, you can be confident in finding a therapist who perfectly aligns with your unique requirements.
Your journey toward improved mental health and overall happiness is of utmost importance to us. We want to ensure that you have the support you deserve. So, if you feel it's time for a change, don't hesitate to take the next step.
How To Cancel or Pause a Grow Therapy Subscription
At Grow Therapy, you have the convenience of canceling or rescheduling appointments up to 24 hours prior to your scheduled session without incurring any charges. In your confirmation email, you'll find helpful links to easily modify your appointment when needed.
However, it's important to note that if changes are made within the 24-hour window or if you miss your appointment without providing a 24-hour notice, a cancellation fee can be billed. This policy aims to ensure that therapists' time is respected while still allowing flexibility for clients when unforeseen circumstances arise.
Grow Therapy strives to make therapy accessible and is dedicated to advocating for improved access to mental health care. It offers prompt scheduling, accepts insurance, and provides a seamless payment experience. Overall, Grow Therapy is a worthwhile option for individuals seeking affordable and high-quality therapy, especially if they have insurance coverage.
Latest posts by Lauren Reynolds - Licensed Marriage and Family Therapist
(see all)