TalkSpace Review: Costs, Features and How to Get Started
We write our honest reviews but this page may contain affiliate links, with some of the partners mentioned, to support this website. Read more here
How We Reviewed Talkspace
We follow a rigorous reviewing process that includes first-hand testing, thorough research, user reviews, and transparent methodology. Our reviewers are editorially independent, so you can trust their recommendations.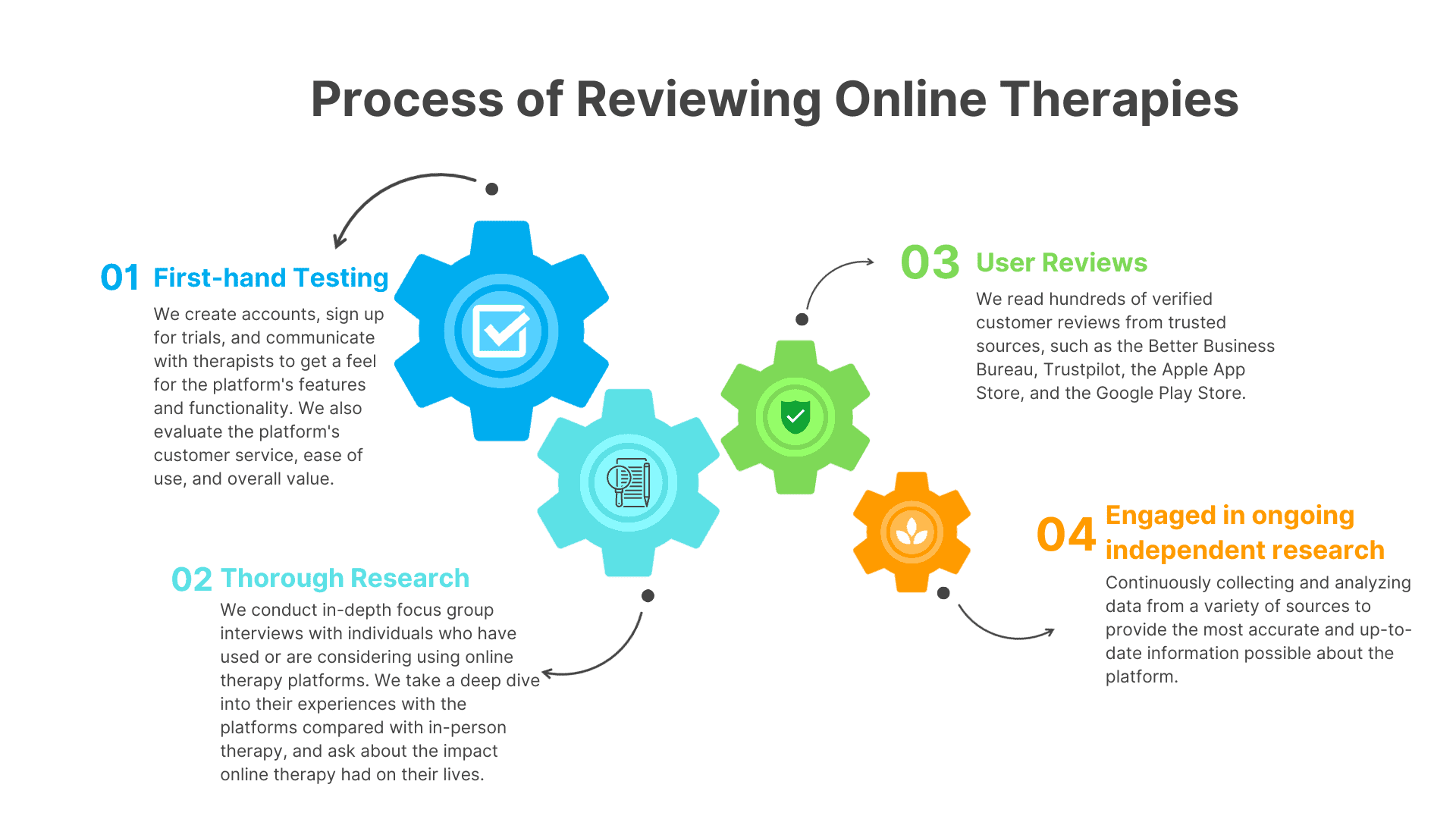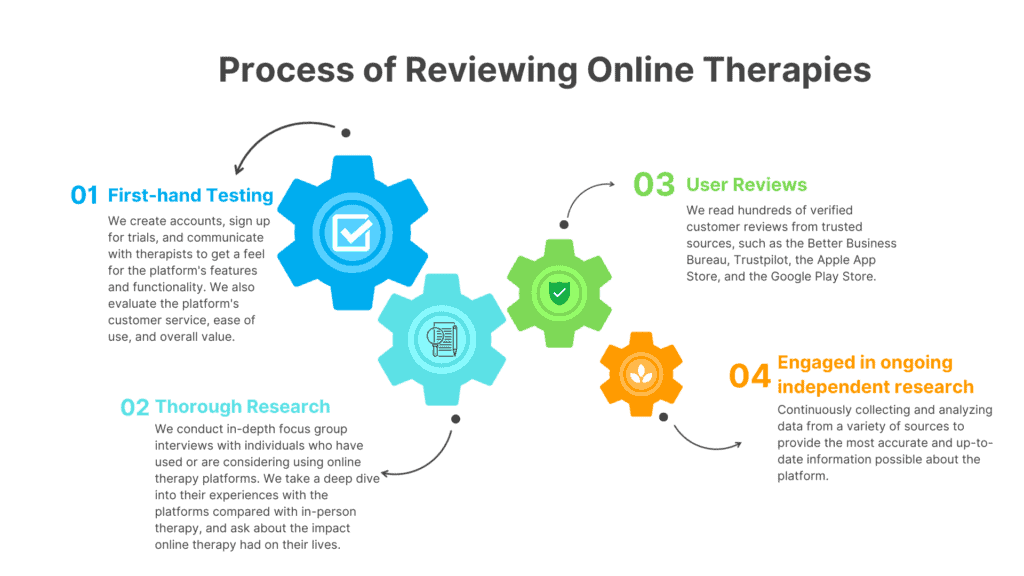 Are you feeling down? Are you looking for a therapist to confide in and get support from? Google "TalkSpace", an online therapy service that allows you to speak with a licensed and trained therapist through live sessions, chat space, email, unlimited texts, audio, and video sessions. No matter where you are – whether you choose text therapy, video chat, or audio call. TalkSpace also offers a therapeutic outlet for anyone in need. This Talkspace review will cover everything you need to know before consulting a therapist.
On TalkSpace, you can seek mental health support, you may not feel comfortable seeking mental health professionals or don't know where to turn to.
A crisis can happen anytime and anywhere, which is why TalkSpace offers online services at the comfort of your fingertips.
Getting help and speaking to a consultation therapist can be expensive, but that should not stop you from seeking the support you need. Everyone deserves to be heard, but more importantly, you deserve to have access to the support you need.
Help Is Available
Keep in mind that help is always available. If you are dealing with suicidal thoughts and are in danger of self-harming, please seek immediate free support from one of the below resources:
Sign Up process of Talkspace
To register for TalkSpace, visit the homepage to create a log-in account for the TalkSpace app. This registration is then going to redirect you to an online assessment where your responses are used to match you with a therapist.
Once the initial assessment is complete, you are going to select the TalkSpace plan that suits your online therapy needs and budget as well. 
TalkSpace is one of the few online therapy services that offer an array of therapists who can help through any mental health therapy. TalkSpace is not meant to replace traditional therapy services. It strives to provide a stepping stone for those who may not necessarily feel comfortable talking to someone or who may feel skeptical about counseling and the benefits of seeking help. 
Screening Process of Talkspace
When registering for TalkSpace, the intake portion is meant to help the therapist understand your specific counseling needs. Based on your responses, TalkSpace then provides multiple options of possible therapists who would be ideal for your situation. 
Matching you with licensed therapists is based on the TalkSpace algorithm. If you feel that you were not paired correctly, or your therapist doesn't suit you, it gives you an option to request a new therapist. 
Types of Therapy Offered by TalkSpace
The idea behind TalkSpace's approach to therapy was to focus on talk therapy with the addition of psychiatry therapy, couples therapy, and teen counseling. The ambition of the TalkSpace team to expand led them to become a company with the most diverse approach to such treatments. 
Licensed clinicians specialize in mental health care and current therapy types as follows:
Cognitive-behavioral therapy (CBT);
Anger management;
Psychodynamic therapy;
Dialectical Behavior therapy (DBT);
Mindfulness;
Relationship therapy;
Teen therapy (age 13-17).
TalkSpace offers psychiatric services and medication management for those that require medication subscriptions and a more in-depth therapy approach. However, there is a downside to covering more complex topics when the sessions last only 45 minutes. We recommend you consider this first before scheduling appointments.
When working with teens, the qualified therapist must obtain parental consent for the counseling sessions. The teen's parent must provide permission for the teen via a text or a video message. It's also worth noting that group and family sessions are not available through TalkSpace, which is odd since it offers couples therapy.
If you are unsure what type of therapy you should seek, visit the TalkSpace platform and take one of the free online mental health tests. 
A TalkSpace qualified therapist specializes in assisting with:
TalkSpace Couples Therapy
Relationship therapy was the idea that initiated the creation and work of TalkSpace. It is one of the earliest offered programs and has only one type of subscription plan. Couples can obtain unlimited messaging and four live video sessions per month for $99 per week or $396 per month. 
Couples therapy includes working through problems on the following topics:
Parenting; 
Intimacy;
Sexual health;
Infidelity;
Addiction;
Fertility issues;
Work and finances;
Sexual orientation;
Communication.
The communication with the therapist carries out through one of the partners, who is at the same time the primary contact point. The couple shares the same therapist. 
However, the partners can choose whether to have a joint session or opt for individual sessions. If they decide on the former, one of the partners will have to add the other to the TalkSpace chatroom. 
TalkSpace Teen Therapy
The teenage years are one of the most turbulent periods of our lives. Dealing with peer pressure while slowly transitioning to adulthood can be too much of a burden for a teenager. 
TalkSpace offers teen therapy for children aged 13 to 17 dealing with the following issues:
Abuse;
Addiction;
Anxiety or depression;
Dating;
Bullying;
School issues;
Relationships and family problems;
LGBTQ+ issues;
Body image;
Gender identity;
Career planning;
Self-esteem;
Social anxiety;
Sexual orientation and reproductive health;
Other.
For teenagers to attend therapy sessions with TalkSpace's licensed therapist, they require parental consent. The parent grants permission through a text or video message on the app.
Because teen years are delicate and require careful handling, TalkSpace therapists abide by standard ethical guidelines. That means that there is complete child-therapist confidentiality, and the parent won't be allowed access to any information exchanged during the sessions. The therapist will reach out to parents only if they feel that the child may harm themselves or present a danger to others.
The process of parents getting any information on the child's progress and updates is very strict. The therapist cannot reveal anything unless the child gives them consent to disclose information. If the counselor believes it would be better to include the parent in the therapy process, there must be an agreement between the child and the therapist. 
Insomnia Treatment
One feature that distinguishes TalkSpace from other online counseling providers is insomnia therapy. An eight-week sleep therapy program is available for those dealing with sleeping difficulties. 
The structure and pricing are more or less similar to that of the Unlimited Messaging Therapy Plus plan. You are matched with a therapist qualified for this type of therapy and communicate with them via unlimited messages. 
Be careful when signing up for insomnia treatment, as the website may not even provide you with the option but redirect you to the abovementioned therapy plan. That is a common occurrence since these plans are almost identical.
Insurance does not cover insomnia therapy, and there is no medication management because the therapist will work with you through the problem via habit-forming. 
These are just a couple of the topics the therapist can assist with; however, after reviewing Talkspace, we understand that there are plenty more under the spectrum that the therapist can assist with.
Session Types Offered by TalkSpace
Once you have registered for TalkSpace services, you can participate in live sessions either through text, video messaging, or phone. With TalkSpace text sessions, you can expect the therapist to respond instantly. Having a text option for counseling means that they can create a safe space, as they understand it can be daunting talking about your fears and insecurities. 
The clients and therapist carry out the messaging communication through a TalkSpace room, compatible with all devices. They will view and respond throughout the day to the unlimited number of messages that you are allowed to send 24/7. 
However, don't expect that you'll receive an instant reply, and keep in mind that therapists reply only five days a week. TalkSpace records all messages sent back and forth between you and the therapist.
For those who prefer face-to-face interaction, TalkSpace offers live video sessions, depending on your chosen subscription plan. These video and audio sessions are done using a webcam and Skype-like program that is accessed through your TalkSpace account to live video sessions.
Video sessions need to be scheduled and confirmed a few days in advance through the TalkSpace Platform. These sessions last only 45 minutes which may not be enough for those with more complex issues. 
TalkSpace provides services to people of all ages. It wants to ensure that those who may not have access to smart devices or computers can still access our services. You can speak with their therapists either via a landline or mobile device. 
It may not be a suitable option for those that need ongoing mental health therapy and medication management because it can get an expensive bundling subscription. However, Talkspace is an excellent option for those with tight schedules and limited availability.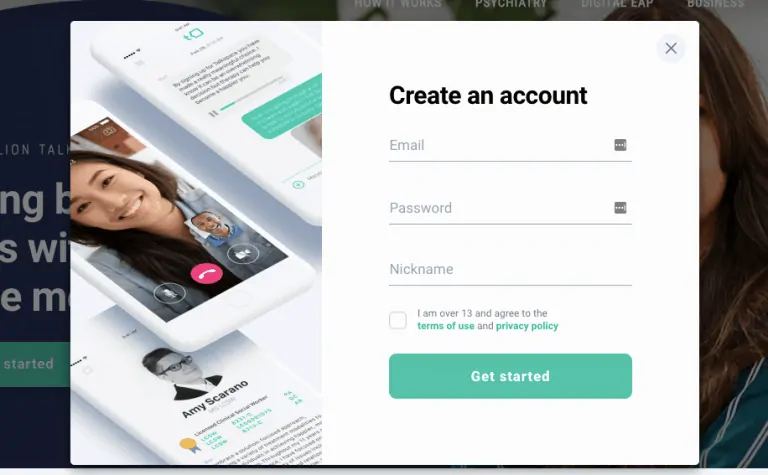 Benefits and Drawbacks of TalkSpace
Benefits of TalkSpace:
Availability of multiple flexible monthly subscription plans. Covered by specific insurance plans, with contract-free service that you may cancel at any time;
The convenience of message-based therapy. Talk to your therapist anytime and anywhere as long as you have access to the internet or mobile;
Matched and paired with a licensed therapist based on your mental health care needs and issues;
Option to switch therapists at no extra cost if you feel that the one the platform matched you with is not the right one for you;
Offer psychiatric services with licensed and credentialed psychiatrists and nurse practitioners who offer and can handle medication management and prescription;
Provides security and confidentiality of your private data through encryption of conversations and a password-protected login system;
TalkSpace allows for 24/7 access to your therapist and the chatroom. It also provides several convenient communication options;
Offers teen therapy, couples therapy, and psychiatric therapy;
The sign-up through the user-friendly platform and mobile app is quick and easy;
Possibility to change subscription plans in mid-month;
Discounts are available for those signing up for the first time. 
Drawbacks of TalkSpace:
Only subscribers to higher-priced plans may use live sessions with a therapist;
Although it offers couples counseling, Talkspace doesn't provide any family or group therapy as a service;
Lack of transparency on prices and relevant services. Pricing information is not available on the website, so the client will receive the exact price only after signing up;
Mental health services may be pricey for those without the health insurance accepted by Talkspace;
TalkSpace may analyze patient-therapist conversations through the use of artificial intelligence;
Seeking additional psychiatric services may get expensive;
There is no clearly described option for financial aid or reduced fee.
TalkSpace Psychiatric Services
What differentiates TalkSpace from other mental health care platforms is that it offers psychiatric services. It's a helpful service led by a qualified therapist team of psychiatrists and nurse practitioners. This program saves you time searching for additional mental health services to provide you with medications.  
Persons under the age of 18 cannot receive TalkSpace psychiatric sessions. It's also worth noting that although patients can get prescriptions for antidepressants virtually, psychiatrists cannot prescribe Xanax, Adderall, Concerta, Ritalin, and other types of controlled substances and sleeping pills.
Lithium is also one of the substances that therapists cannot prescribe. This rule exists because these sleeping aids tend to cause addictions and may be habit-forming.
TalkSpace psychiatry requires filling out a questionnaire based on which the platform will match you with a qualified psychiatrist licensed to work within your state. Unlike the regular therapy sessions, the only option offered for TalkSpace Psychiatry is live video sessions. That is because psychiatry services deal with more complex and challenging topics that one cannot handle through text messages. 
The services are paid per session and not per month because these appointments tend to get pricier. There is no option to bundle therapeutic and psychiatric services, but psychiatrists will be available for medication management, prescription, and follow-up mental health care. 
Therapist Qualifications and Quality of Care
TalkSpace offers a wide selection of qualified therapists, psychiatrists, medical doctors, and couples therapists, having the most advanced education, licenses, and credentials. These professionals offer individual therapy, couples therapy, and in-person therapy. 
TalkSpace performs a complete background check on each staff member before hiring them. They must have an excellent academic background and require over 3,000 hours of clinical experience in the field of expertise. They also must hold the highest level of licensure in the respective area of expertise, which undergoes a detailed credential process to ensure good license standing.
When vetting their therapists, TalkSpace makes sure that its staff is up to industry standards (NCQA) and requires an average of nine years of experience in the expertise field. However, there is no minimum level set for patient contact hours and years of experience. Therefore, it's unclear how many years of counseling experience the therapist you are assigned will have. 
The TalkSpace psychiatry department consists of clinicians who are either nurse practitioners or psychiatrists. There is a wide variety of qualified therapists you can choose from, but a predominant part of them are nurse practitioners. 
These staff members are licensed to prescribe medication as necessary. However, specific states require collaborative agreements with medical doctors to prescribe certain pharmaceuticals. 
How to Schedule an Online Therapy Session on Talkspace?
To schedule a session with your selected therapist, log on to your profile, and pick a time slot that meets your availability to therapists. The therapist you have selected is going to have a calendar of available time slots. 
Once you have chosen your time slot, and how you would like to have your counseling sessions (text, video messages, or phone), the TalkSpace therapist then sends reminder notifications through the application. 
TalkSpace knows that you can't always control what you feel, which is why TalkSpace serves 24/7 chat rooms as well as several live sessions per month. Their chatrooms are safe spaces where TalkSpace registrants' people can talk and reach out to fellow TalkSpace users.
Talkspace Pricing Plans
About pricing; you are charged monthly. The monthly costs vary based on the packages and services you choose. 
Pricing Plans: 
$196 per month– Unlimited Messaging Therapy Plus (Text, video, and audio messaging services) 
$236 per month– Unlimited Messaging Therapy Premium (Text , video, audio, and one live session in messaging therapy premium)
$316 per month– Live Talk Therapy Ultimate (text, video, audio, and four live sessions)
If you are a business or corporation, contact their customer service representatives to provide information on TalkSpace for Business, which is their version of a group counseling for organizations. The cost of this service of online therapy is going to vary on the number of employees in the organization. 
TalkSpace therapists are required by law to contact law enforcement if there is any potential threat of you harming yourself or someone else. 
Does Talkspace accept Insurance?
The overall goal of Talkspace is not to replace in-office therapy, but to overcome the day-to-day challenges of people in a stigma-free environment. For that reason, they have partnered with health insurance companies to make their service available to more users.
In fact, it is one of the few subscription-based online therapy providers that accept insurance plans. The eligibility criteria can be easily checked on their website.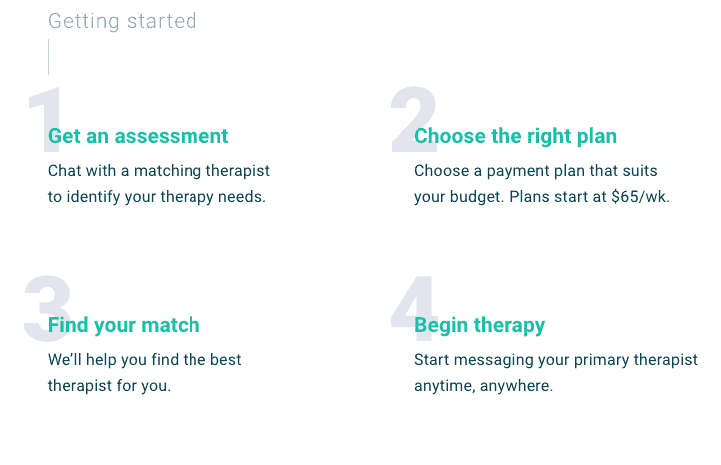 "This being my first-time doing therapy, I was thoroughly impressed with my therapist! She gave me suggestions that I never would have thought of. She helped me to think deeper about my issues. I give a full 10/10."
TalkSpace Privacy and Reputation
Providing mental health care through an online platform requires the highest level of privacy and confidentiality. Like any other platform dealing with confidential information on clients and customers, TalkSpace takes its privacy policy very seriously. 
The TalkSpace platform is compliant with the Health Insurance Portability and Accountability Act (HIPAA), and all employees receive training in implementing the information protection protocols. The website stores the clients' private information and encrypts and anonymizes data to prevent information theft. 
TalkSpace also uses firewalls and digital certifications to ensure the security of personal information and online sessions. The built-in security system protects and encrypts the conversations between the therapist and the client, which stay private. The only people who can read these messages are the two involved parties or when the law requires the platform to share them in emergency cases. 
The software and servers' communication data is encrypted. The Talkspace app requires a password to log into your account, and for added security, you can use Face or Touch ID. 
No one can delete the chat transcript history, as TalkSpace considers it a part of your medical history. Therefore, we recommend you take all precautions to protect access to your account. 
TalkSpace has informed that it uses AI and anonymization to analyze the client's language and provide a better therapy experience. 
TalkSpace Pricing Plans
The TalkSpace platform offers several subscription plans foreseen to fit every client's budget and health needs. Here we can mention the text-based therapy plan, which happens to be the most affordable one, and some more expansive plans offering various types of therapy. 
TalkSpace is said to work with some insurance companies to provide in-network coverage, but Medicare and Medicaid are not accepted. Make sure you check with your insurance provider before signing up for TalkSpace therapy. 
The section on financial aid is not entirely clear. The eligibility questions are not comprehensive and can be ambiguous. 
In addition, you cannot get the option of financial assistance until you decide to cancel the subscription. Based on this, we can only assume that Talkspace doesn't offer financial aid. 
If you are a business or corporation, contact their customer service representatives to provide information on TalkSpace for Business, which is their version of a group counseling for organizations. The cost of this service of online therapy is going to vary depending on the number of employees in the organization.
TalkSpace Monthly Packages
Unlike most other online therapy platforms, TalkSpace has flexible monthly packages. That means that the exact price will highly depend on the location and the available network of therapists in your area. The prices are not available as information on the platform, and you can only receive them upon signing up.
There are three levels of individual subscription plans that TalkSpace offers:
Unlimited Messaging Therapy Plus: $260 a month. It includes unlimited text, video, and audio messages five days a week but doesn't include live therapy sessions.
Unlimited Messaging Therapy Premium: $316 a month. Includes unlimited text, video, and audio messages five days a week and one live 30-minute therapy session a month.
Unlimited Messaging Therapy Ultimate: $396 a month. Includes unlimited text, video, and audio messages five days a week and four live 30-minute therapy sessions a month.
Clients can save money if they decide to pay the subscription every three or six months. TalkSpace offers the possibility of pausing the chosen plan or changing to a new subscription level even in the middle of the month. The changes will be effective immediately and will be reflected in your bill accordingly. 
TalkSpace does offer some discounts that you can find on their website. It provides discounts ranging from $80 to $200 off your first month of service. 
Other TalkSpace Packages
TalkSpace offers couples therapy that includes four 30-minute video sessions each month for $396 a month or $1,068 every three months. The plan also includes unlimited text, video, and audio messaging in a group room with your therapist and partner. 
Teen therapy is available for teens between the ages of 13 through 17. This therapy is the same price as the basic online therapy package and includes unlimited messages. Teen therapy does not include live therapy sessions, and the therapist has to receive video authorization from the parents before starting the teen therapy. 

Psychiatry Pricing
TalkSpace psychiatry packages are offered additionally to your therapy plan. The sessions are live and the payment method is per session, not monthly. 
The TalkSpace psychiatry pricing is as follows:
$199 for an initial psychiatric session;
$125 for every follow-up session.
Clients may book the sessions directly with the psychiatrist. The law requires the TalkSpace therapists to contact law enforcement if there is any potential threat of you harming yourself or someone else. 
TalkSpace doesn't offer a free trial, but it does provide a free consultation with a matching agent. The agent will guide you through the TalkSpace working and matching process.
Are Telehealth Services Like TalkSpace Effective?
TalkSpace is one of the top-ranking Telehealth companies offering a wide range of mental health services. Although it is designed to suit many different mental health care needs, it's not the perfect fit for every person. 
People dealing with cognitive behavioral therapy and post-traumatic stress disorder have found that Telehealth services like TalkSpace have helped reduce anxiety symptoms. They confirmed that this type of therapy approach is as practical, if not more, than going to in-person therapy. 
Is TalkSpace Right for You?
When deciding if TalkSpace is the right option for you, keep in mind that this is a platform for online counseling and doesn't offer in-person therapy. So, it's essential to understand how TalkSpace works before entrusting them with your private info.
If you are comfortable with online communication and message-based therapy, this is the ideal solution. Most TalkSpace clients are people who have a fast-paced lifestyle and have obstacles to attending in-person therapy, such as commuting. 
Some examples of why TalkSpace is for you include:
Have tight schedules;
Have a demanding job;
Have young children;
Live in remote or rural regions without many mental healthcare options;
Have limited mobility;
Have the possibility to choose between therapists;
Need teen therapy for children aged 13 to 17;
Need couples therapy;
If you are considering using your insurance to cover therapy;
Looking for a platform that offers psychiatric services and medication management.
However, TalkSpace is not the option for you if you are looking for in-depth therapy. The platform's sessions last 45 minutes, insufficient for those dealing with PTSD, severe depression, and active addiction issues. 
TalkSpace is not an emergency service and is not suitable for people dealing with crises, suicidal thoughts, psychosis, and psychotic disorder. The platform serves to mediate milder conditions, intrusive anxious thoughts, and similar.
Conclusion 
Everyone deserves to live a life that is free from stress, anxiety, and being alone or feel like. With TalkSpace, the services are about connecting you with the necessary resources and help. Not sure if you are ready to talk about your feelings? 
Don't worry, TalkSpace offers online resources, and online assessments such as stress, mental health problems, anxiety, and depression. Taking these assessments can be a stepping stone to understanding what you may need in terms of services. 
From students to adults and couple's therapy, TalkSpace strives themselves in being able to help anyone and everyone. 
They also offer student plans, as they know the importance of addressing mental health before it gets out of control.
Right now, 17 million adults are suffering from depression – TalkSpace therapists can help you cope and find ways to live a normal and healthy life with depression. 
Remember, you are not alone, but more importantly, you deserve to feel and live a full and positive life. 
If you are in a mental health crisis, it is important to seek immediate help. Online therapy can be a great resource for ongoing mental health care, but it is not appropriate for immediate crisis situations.
If you are having suicidal thoughts or plans, or if you are feeling like you might harm yourself or others, please call 911 immediately. You can also reach the National Suicide Prevention Lifeline at 988 for free and confidential support.
Here are some other resources that can help if you are in crisis:
Crisis Text Line: Text HOME to 741741
The Trevor Project: 1-866-488-7386
National Alliance on Mental Illness (NAMI): 1-800-950-NAMI (6264)
SAMSA.gov
Please remember that you are not alone, and there is help available. If you are in crisis, please reach out for support.
Latest posts by John S. - Editor in Chief
(see all)