Calmerry Review: Costs, Features and How to Get Started
We write our honest reviews but this page may contain affiliate links, with some of the partners mentioned, to support this website. Read more here
How We Reviewed Calmerry
We follow a rigorous reviewing process that includes first-hand testing, thorough research, user reviews, and transparent methodology. Our reviewers are editorially independent, so you can trust their recommendations.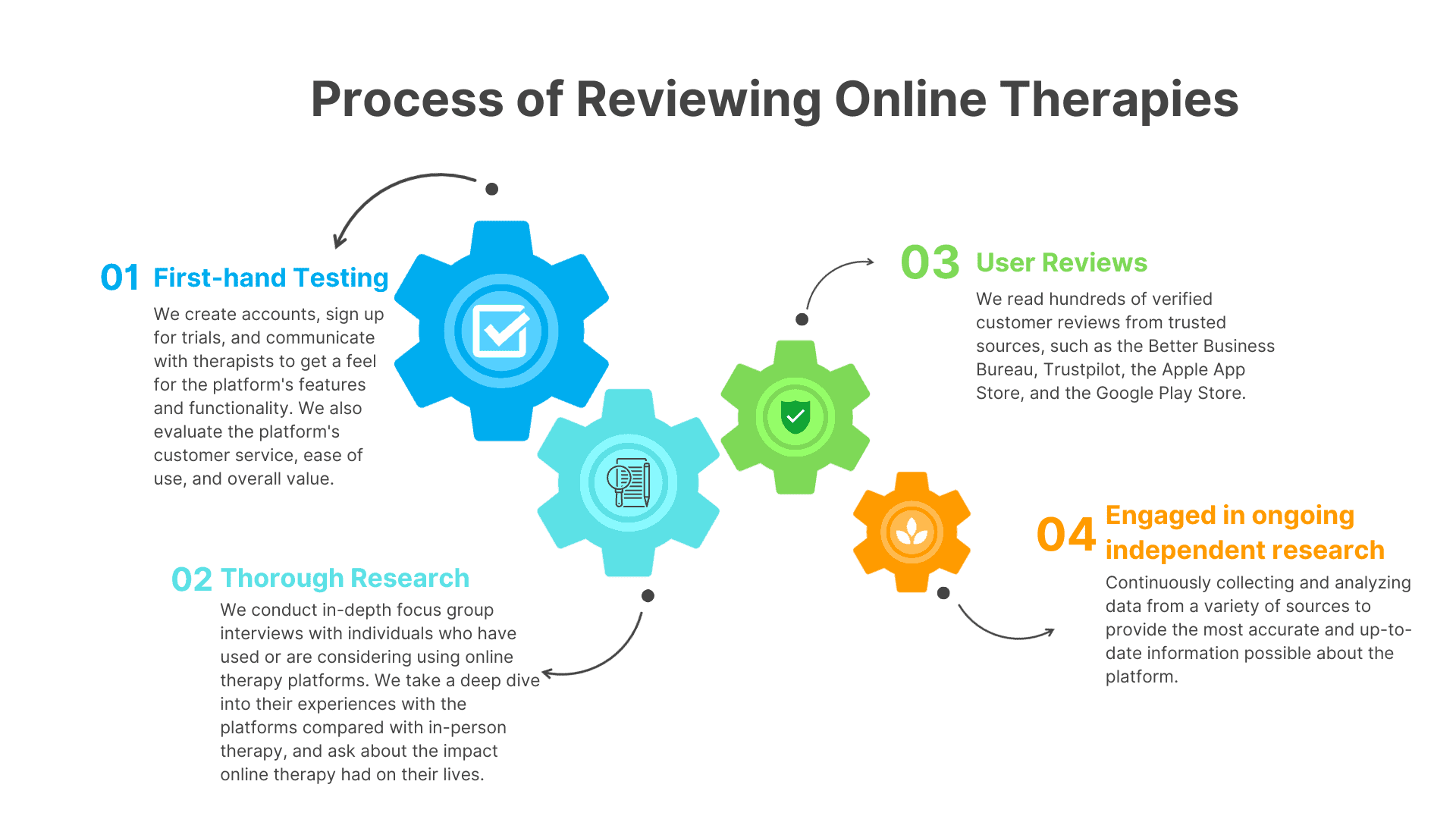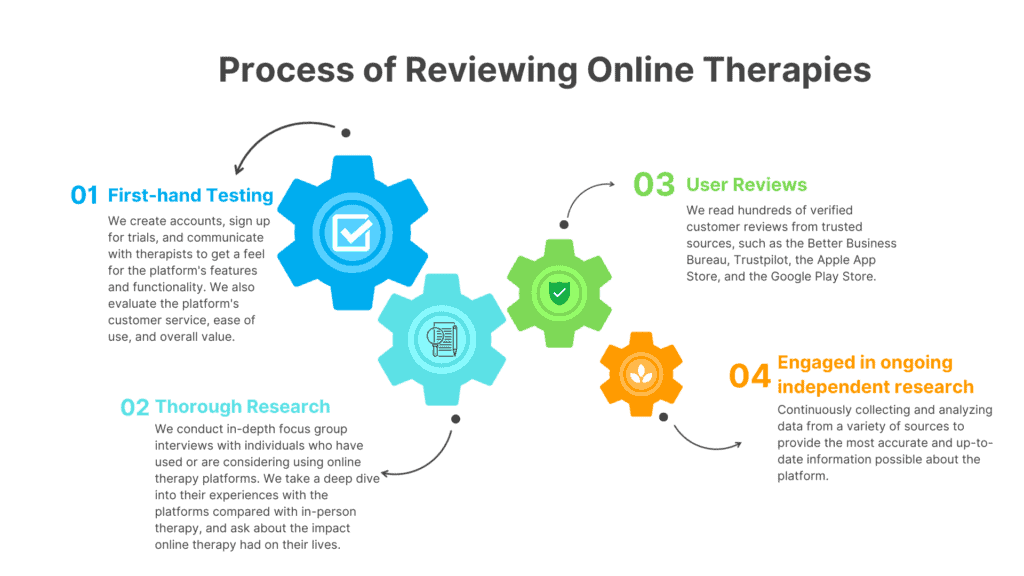 Staying calm can sound like the most out-of-reach thing to do, and it's actually not a surprise a lot of us feel that way given the circumstances we live in.
Thankfully for everyone, therapy is more accessible than ever – the solution to our struggles is within reach.
With the rise of the pandemic, the mental health of many of us took a big hit. 
Calmerry provides flexible and accessible online counseling for everyone through its extensive network of licensed mental health professionals all across the US.
Calmerry is a platform that provides clients with online therapy via messages, audio, and video. 
Via this network of therapists, Calmerry provides online chat-based and live video therapy through a subscription-based model.
Users can opt to message their therapist whenever they need to, and the live sessions offer an opportunity to talk to your therapist face to face.
This review will cover everything you need to know about Calmerry. 
We will go over what it does, how it can help you, how much it costs, and how your privacy is protected while using the service.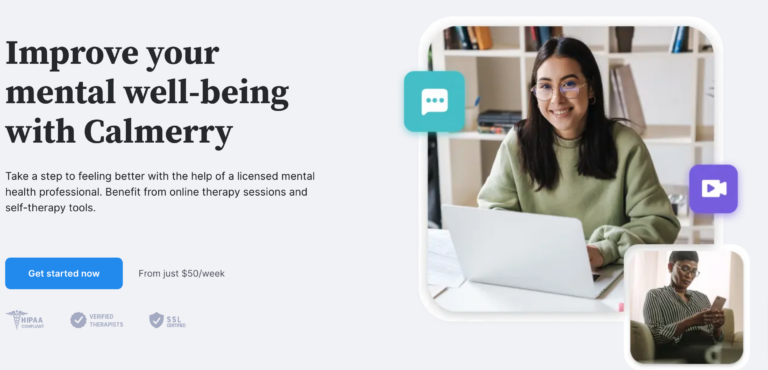 Text, Video or voice session
How Can Calmerry Therapy Help Improve Your Life?
Calmerry asks users to fill out a survey during registration to gather some basic information like name, age, gender, contact info, etc.
Additionally, the survey aims to collect information on what sorts of issues the user is dealing with. 
All of this information is used to match the client with the most appropriate therapist.
After getting matched, the client and the therapist work closely together to address and resolve any mental health issues.
The therapists at Calmerry can help in many different ways; they are all trained in varying therapy approaches and techniques, so this is where the personal questionnaire comes in essential. 
Calmerry advertises that, among other things, it can help with:
Anger management
Childhood abuse
Chronic illnesses
Emotional abuse
Family conflict
PTSD
OCD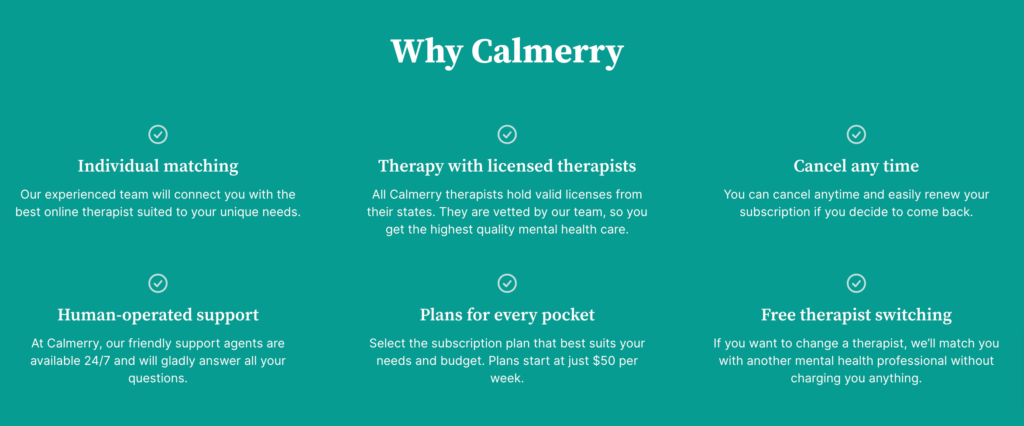 Therapy Requires Patience
Therapy is beneficial in the long run, but it usually doesn't provide immediate results.
Instead, it could take a few months before the patient can start seeing significant improvements.
This is because therapy often confronts unhelpful thought patterns and habits that are difficult and time-consuming to change. 
Calmerry emphasizes honesty. The user is expected to be fully engaged and honest about their symptoms and immediate environment.
This is essential for the therapist to deliver the best treatment. The therapists can sometimes give assignments and tasks to be completed between sessions.
The more open you are to achieving a better well-being, the more options for help will become available.
Calmerry's questionnaire is designed to gather insight into the mental state of the client, and then process that information to link you with the most suitable therapist for your needs.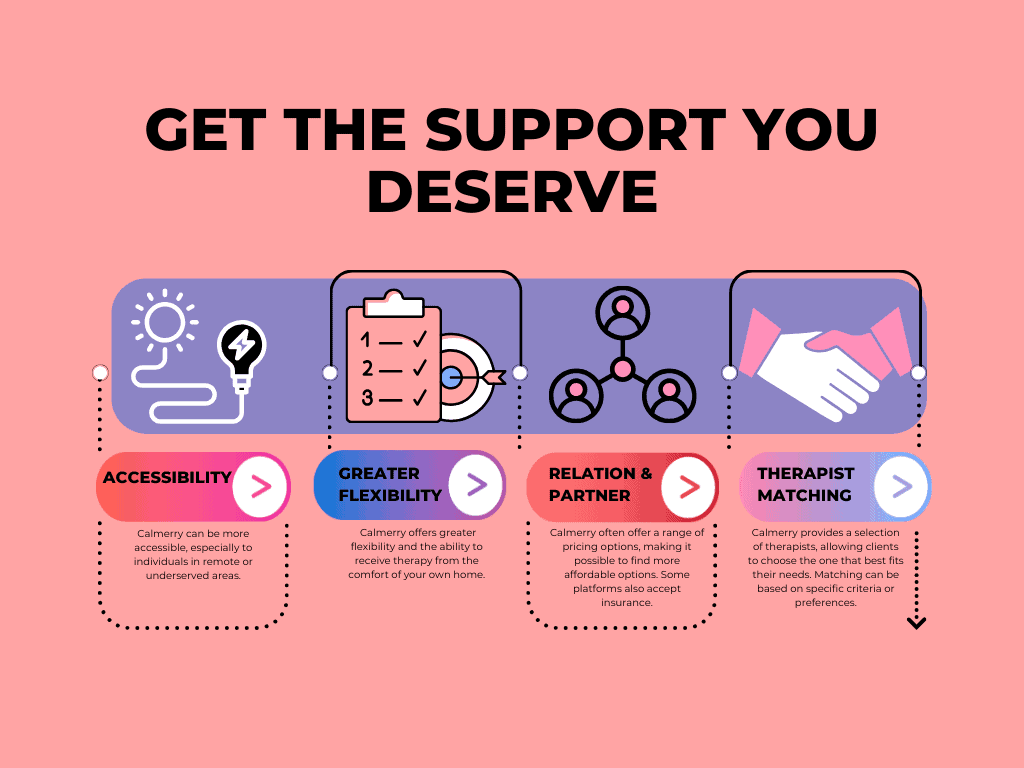 Online Therapy Sessions Offered by Calmerry Therapy
The main feature of Calmerry is unlimited online chat. Once you match a suitable therapist, you can message them whenever you want and need them.
They will get back at least 1-2 times a day within their working hours with a detailed and helpful response.
After you make an account and get matched with a therapist, you can look at their bio and get to know them better.
You can also view your chat history to see what you and your therapist have covered in the past.
1. Weekly Sessions
Depending on your plan, clients can also schedule several weekly live video sessions with their therapists. These are one-on-one and last for 30-45 minutes.
The therapist will develop a personalized therapy plan for their clients during the sessions. These can vary depending on the needs of the person.
However, you can expect common approaches such as CBT, motivational interviewing, DBT, MBCT, schema therapy, and others. 
2. One-on-one Sessions
All of the live sessions on Calmerry are one-on-one, and the therapist will focus on each client's individual needs and struggles. This means there aren't any group sessions or family therapy.
Nevertheless, Calmerry therapists can help with these issues, but all parties involved need to create separate accounts and work individually with the therapist.

Calmerry Pricing Plans
Calmerry is an online therapy platform that services on a subscription-based model.
So, just like most other subscription services, Calmerry has several different plans that offer varying features at different price levels. 
Calmerry Messaging and Live Video
All of the plans are presented at a per-week price.
However, you have to keep in mind that the company charges monthly, and customers cannot choose a shorter plan. But they can cancel anytime.
Here are the different price plans available at Calmerry:
Messaging: $49.50/week for the first month, then $56.99/week for subsequent months;
Message + 1 Live Video: $61.75/week for the first month, then $74.49/week for subsequent months;
Message + 4 Live Video: $73.25/week for the first month, then $89.99/week for subsequent months. 
Also, you can add as many extra video sessions as you want.
Calmerry Therapy Clients Testimonials
I want to say thank you to my counselor and to the Calmerry team! You did an incredible job for me; your career counseling was more than effective.
I found this online tharepy platform several months ago and still have regular sessions with my counselor. It's a safe environment to talk about my feelings and everything that's going on in my life. It's great that I have someone that can always give me professional advice that positively affects my life.
Never thought I would need professional online therapy and counseling. Long story short, I'm so happy I tried individual online counseling because it helped me find solutions to plenty of issues that didn't let me live the life I want.
I couldn't find a qualified LGBT therapist near me, so I appreciate the counseling I have received at Calmerry. My counselor was caring, empathetic, and understanding, and he really helped me through a difficult period.
Calmerry Therapy Subscription and Refunds
Calmerry allows users to pause their subscription and use their sessions at a later time.
Customers can also completely cancel their subscription via customer support, which will refund any unused sessions that have been paid.
Although Calmerry doesn't bill insurance directly, the company can issue a receipt and submit it to insurance for at least a partial reimbursement.
It is essential to mention that customers cannot see the prices anywhere on the website, and you have to start creating an account, and only then can you see the available subscription prices.
In addition to the introductory plan, Calmerry also often runs free trials and other promotions during May.
This is Mental Health Awareness Month, so obviously, it is a crucial period for a platform that focuses on therapy and improving mental health.
Calmerry Privacy Policy
Is online therapy safe? Calmerry insists its customers' privacy and safety are top priorities.
The company uses strong SSL encryption when dealing with health data and financial transactions. All of the company's data is stored in secure servers located in the US.
Additionally, the Calmerry platform is fully compliant with HIPAA (Health Insurance Portability and Accountability Act). So everything is encrypted and protected.
The therapists at Calmerry are fully licensed. Therefore, they have to follow strict ethical codes, just like during in-person therapy.
Because of this, clients can be certain that anything said during sessions and via messages is strictly confidential.
Emphasis is also put on the confidentiality of the users. Because of this, customers are allowed to use nicknames and pseudonyms.
The only exception is when the company charges your card, in which case you have to use your legal name.
Calmerry's privacy policy states that the website uses tracking cookies, which may collect anonymized data for research and analysis and improve future usability.
Calmerry's Pool of Licenced Therapists
All of the therapists working for Calmerry are licensed professionals, holding a relevant Master's or Doctor's degree in their respected field of expertise.
They are usually clinical psychologists, professional counselors, family therapists, or clinical social workers.
In either case, they are verified and background-checked before joining Calmerry.
The therapists have at least 2,500 hours of clinical experience since they must be licensed to work with the company.
The company will do its best to match a client with a professional within their state for American customers. But for international users, Calmerry finds a therapist according to demand.
While Calmerry does its best to match clients to the best therapist to work with them, sometimes the selection of the therapist isn't ideal.
Luckily, the platform allows users to change therapists if their current one isn't the right choice for them.
This is entirely normal, and in fact, most users have met with at least one other therapist before settling with their current one.
How to Sign up for Calmerry Therapy?
Users can sign up for Calmerry through the website or download the app. The first thing to do is provide an email address and password.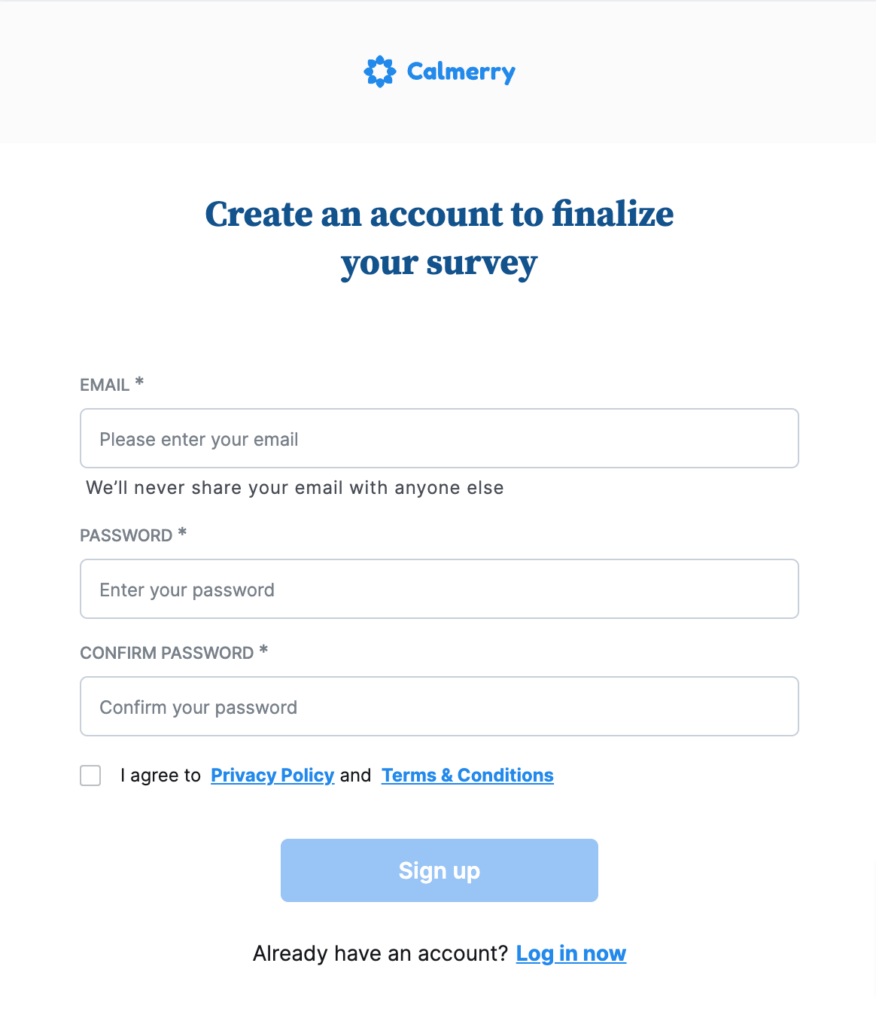 After creating an account, you will begin the onboarding process.
Calmerry will provide you with a short questionnaire to gather basic information and your concerns.
Calmerry will use the answers you have provided to match you with the most suitable therapist.
At the end of the questionnaire, you will get a survey summary.
This tells you your current emotional well-being score and the possible progress you could make with Calmerry in the following months. However, this is only an estimate and not a guarantee.
Next up, you will go to the payment screen.
Here, Calmerry will present you with the available plans. Complete the payment information and pay to start getting matched with therapists.
Finally, all you have to do is wait. Calmerry will look at all the provided information and match you with the best appropriate therapist. The company aims to do this within 24 hours or less.
Calmerry Therapy Alternatives
Calmerry is a solid option for many people, but it is not the only online therapy platform available to customers. There are other options that users might want to consider.
BetterHelp was launched in 2013, and it is one of the platforms that popularized the online therapy service model.
It too has a wide range of issues it addresses, with a similarly robust strict selection process for online therapists.
But unlike Calmerry, all of the BetterHelp plans include live sessions as part of the package. 
BetterHelp is the largest online therapy platform, with over 25,000 professional therapists in its network.
Unlike Calmerry, BetterHelp offers new users a free trial to test out the service. However, BetterHelp is also more expensive. 
Another alternative is Amwell. Unlike Calmerry, Amwell is not a subscription service but a pay-per-session service.
The other major differentiating factor between the two is that Amwell doesn't have any chat-based communication; instead, it solely provides 45-minute video sessions.
Additionally, Amwell provides medical and psychiatric services and works with children aged 10-18 with their parent's consent.
This is in contrast to Calmerry, which currently doesn't offer either. However, neither platform provides group counseling and only has one-on-one sessions with a therapist.
If you are in a mental health crisis, it is important to seek immediate help. Online therapy can be a great resource for ongoing mental health care, but it is not appropriate for immediate crisis situations.
If you are having suicidal thoughts or plans, or if you are feeling like you might harm yourself or others, please call 911 immediately. You can also reach the National Suicide Prevention Lifeline at 988 for free and confidential support.
Here are some other resources that can help if you are in crisis:
Crisis Text Line: Text HOME to 741741
The Trevor Project: 1-866-488-7386
National Alliance on Mental Illness (NAMI): 1-800-950-NAMI (6264)
SAMSA.gov
Please remember that you are not alone, and there is help available. If you are in crisis, please reach out for support.
The Final Say on our Calmerry Review
And that brings us to the end of this review. We've looked at the sign-in process, what payment plans are available, and the privacy policy at hand.
The live video calls at Calmerry are a suitable and affordable alternative to traditional in-person therapy.
And the confidential unlimited messaging is an excellent addition to talking more with your certified therapist.
While there aren't any group sessions available, you could always make multiple accounts and individually work with the same therapist. 
Despite the few limitations, Calmerry is an excellent tool that can help with a number of mental health issues.
It compares pretty well to its competitors and is definitely worth checking out and giving it a try.
So, if you feel like securing yourself a nice dose of calm, check out Calmerry and be on your path toward a calmer, more serene version of yourself. 
Latest posts by John S. - Editor in Chief
(see all)