In the journey towards emotional and spiritual well-being, the quest for a therapist who not only understands your faith but also shares your cultural experiences as a Black Christian can be profoundly empowering. This article serves as your comprehensive guide to finding a Black Christian therapist near you.
The importance of cultural competency in therapy: Black Christian therapists can provide a safe and supportive space for Black Christians to explore their faith and mental health. They can also help to bridge the gap between traditional Christian counseling and more secular approaches.
The unique challenges faced by Black Christians: Black Christians often face unique challenges due to racism, discrimination, and other forms of oppression. A Black Christian therapist can help clients to understand and cope with these challenges in a faith-based way.
The importance of representation in therapy: Seeing a therapist who shares your race and faith can be incredibly validating and empowering. Black Christian therapists can help clients to feel seen and understood, which can be essential for healing and growth.
Finding a Black Christian Therapist: Where to Begin
Consult Your Healthcare Provider: Seeking a referral from your doctor can be an excellent starting point. They may have insights into therapists who specialize in Christian counseling.
Online Directories: Utilize online therapy directories that allow you to filter your search by specialty, location, and insurance coverage. Two prominent directories to explore are:

Psychology Today: A vast directory of therapists covering various specialties, including Christianity.
GoodTherapy: Another comprehensive directory offering search options based on location, specialty, and insurance.
CounselingReviews Therapists Directory: At CounselingReviews, we take pride in being your go-to resource for finding trusted and experienced therapists who can address a wide range of mental health concerns. We understand that finding the right therapist can be a crucial step on your journey toward personal growth and emotional well-being. As part of our commitment to providing you with the best possible therapy options, we are pleased to announce that we now feature therapists from BetterHelp, a leading online therapy platform.

National Association of Christian Counselors (NACC): The NACC is a professional organization dedicated to Christian counseling. Their directory can help you find a therapist in your area who specializes in Christianity.
How to Find a BetterHelp Therapist Through CounselingReviews
Finding a therapist from BetterHelp on CounselingReviews is straightforward: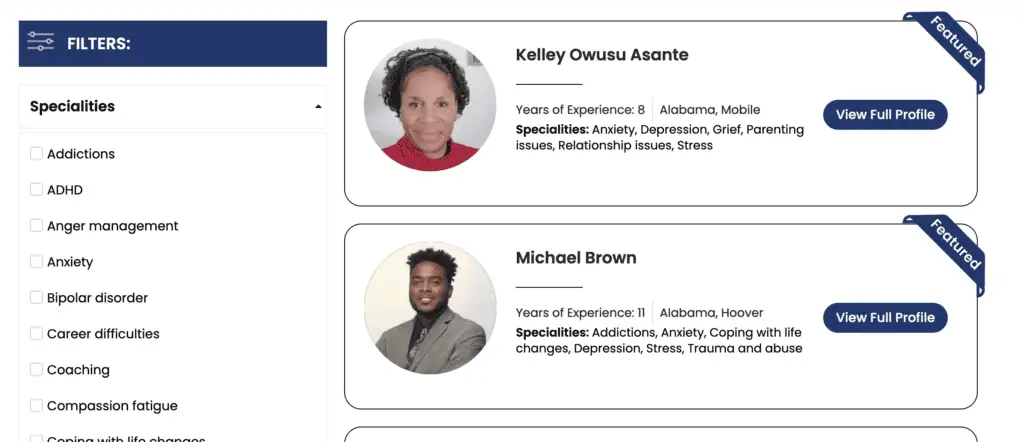 Visit Our Directory: Navigate to our Therapists Directory on the CounselingReviews website.
Search by Specialty: You can browse therapists by specialty, such as depression, anxiety, relationships, and more. Simply select your desired area of focus.
Explore Therapist Profiles: Click on the therapist profiles that match your needs. These profiles provide detailed information about each therapist's qualifications, expertise, and approach to therapy.
Connect Directly: Once you've found a BetterHelp therapist who resonates with you, you can connect with them directly through the provided contact information or website link.
By including therapists from BetterHelp in our directory, we aim to enhance your ability to access the support and guidance you need to overcome life's challenges. We understand that every individual's journey is unique, and having a diverse range of therapy options is essential to ensuring you find the right fit for your specific needs.
At CounselingReviews, our mission is to empower you with information and resources to make informed decisions about your mental health and well-being. We are dedicated to helping you find the therapy solutions that best suit your circumstances, and we are confident that the inclusion of therapists from BetterHelp will further enrich your therapy-seeking experience.
Platforms that Offer Christian Counseling
These reputable online platforms offer a bridge between faith and mental health, providing tailored support for those on a spiritual journey. Let's explore some of the leading online therapy platforms that cater to Christian counseling.
Betterhelp
BetterHelp offers a comprehensive online therapy platform designed to address various mental health concerns, with a specific focus on providing accessible and flexible Christian counseling.
Why Choose for BetterHelp?
Accessibility: BetterHelp's platform ensures accessibility to a wide audience, making Christian counseling services available to individuals from diverse backgrounds.
Personalized Matching: The platform employs a matching process to pair you with a therapist who aligns with your specific needs and Christian beliefs.
Ongoing Support: BetterHelp enables you to connect with your therapist at your convenience, whether through messaging, live chat, phone calls, or video sessions.
Faithful Counseling
Faithful Counseling is a specialized online therapy platform that caters exclusively to individuals seeking Christian counseling. It offers a platform where faith and mental health are seamlessly integrated.
What Makes Faithful Counseling Stand Out?
Christian Expertise: All therapists on Faithful Counseling share a Christian faith perspective and have experience integrating Christian principles into therapy.
In-Depth Assessment: The platform conducts an initial assessment to match you with a therapist who aligns with your specific faith-based needs.
Strong Faith Foundation: Faithful Counseling places a strong emphasis on integrating faith into therapy, providing a faith-affirming space for your mental health journey.
Talkspace
Talkspace is another prominent online therapy platform renowned for offering a wide array of counseling services, including support for those seeking guidance in Christianity and spirituality.
Why Consider Talkspace?
Versatility: Talkspace's diverse roster of therapists includes those with expertise in addressing Christian concerns. This ensures that you have access to a therapist who resonates with your faith-based needs.
Flexible Communication: The platform allows you to connect with your therapist through various modes, such as text, voice, or video messages, making it adaptable to your preferred style of communication.
Convenience: Talkspace provides the convenience of online therapy, enabling you to receive Christian counseling from the comfort and privacy of your chosen location.
Scheduling Consultations: Building a Faith-Centered Therapeutic Relationship
Once you've identified potential Black Christian therapists, scheduling consultations is a pivotal step. These meetings offer an opportunity to:
Understand Therapist Approach: Learn more about the therapist's approach to Christian counseling and their strategies for integrating faith into therapy.
Ask Questions: Inquire about their qualifications, experience, and how they address the unique challenges faced by Black Christians.
Assess Comfort and Compatibility: Gauge your level of comfort with the therapist and assess whether you feel a strong connection and trust, which are crucial for therapy success.
Set Expectations: Establish clear expectations for your therapy journey, including goals, session frequency, and potential duration.
The Vital Role of Cultural Competency in Therapy
The importance of cultural competency in therapy cannot be overstated, especially for Black Christians. Black Christian therapists can provide:
A Safe and Supportive Space: A therapist who shares your faith and understands your cultural experiences can offer a safe and supportive environment to explore your faith and mental health.
Addressing Unique Challenges: Black Christians often encounter distinct challenges rooted in racism, discrimination, and other forms of oppression. A Black Christian therapist can help you navigate these challenges within a faith-based framework.
Representation Matters: Seeing a therapist who shares your race and faith can be incredibly validating and empowering. It can help you feel seen and understood, essential for healing and personal growth.
Tips for Finding a Black Christian Therapist Near You:
Ask your friends, family, or church members for recommendations.
Contact your local Black church or community center.
Check with your insurance company to see if they cover Christian counseling.
Don't be afraid to call different therapists to ask questions and schedule consultations.
Remember, you deserve to have a therapist who understands your unique experiences as a Black Christian. A therapist who shares your faith can be a valuable resource as you work through challenges and achieve your goals.
Latest posts by John S. - Editor in Chief
(see all)