Grow Therapy vs Betterhelp – How Services, Pricing Compare in 2023
We write our honest reviews but this page may contain affiliate links, with some of the partners mentioned, to support this website. Read more here
For those seeking convenient and affordable mental health treatment, online therapy platforms offer consumers many viable options. In this article, we will examine two online therapy providers, Grow Therapy and Betterhelp. Feel confident in seeking online therapists, knowing in-person therapy and online therapy have been found to be equally effective forms of treatment.
Grow Therapy Vs Betterhelp: Our Experience with Both and How They Compare
Grow Therapy and Betterhelp are both highly regarded therapy providers. Each platform maintains high standards for its contracted therapists. They each treat a multitude of mental health issues from depression and anxiety, to Post Traumatic Stress Disorder, and every issue in between. Below, we will take a closer look at each service provider, to help you decide which platform may be the right fit for your needs.
Our rating system assigns brand scores on a scale of up to 5. To arrive at these scores, we use a weighted formula that considers TrustPilot ratings, User Engagement scores, and our staff's experience with the platforms.
A lot of Insurance Coverage

Online or in-person therapy
Text, Video or voice session
Grow Therapy Overview
Grow Therapy accepts most major insurance plans, making online therapy very affordable and accessible to most. They don't require any ongoing contracts or subscription plans, as services are paid for at the time of treatment.
Grow Therapy serves individuals, couples, and teens. One of the more unique aspects of Grow Therapy is the option to see the therapist in person instead of, or in addition to, online therapy.
Betterhelp Overview
While Betterhelp does not accept insurance and requires direct payment from clients, an FSA (Flexible Spending Account) or an HSA (Health Savings Account) may be used for payment. Betterhelp believes in accessible and affordable care and provides plans as low as $60-$90/week (billed monthly), which may compare to the co-pay requirements of insurance companies. One benefit of Betterhelp over Grow Therapy is the option to use messaging to engage with the therapist – which can be a preferred medium for those who may feel more comfortable writing than talking.
Grow Therapy VS Betterhelp: Comparing the Signup Process
Both Grow Therapy and Betterhelp make it easy for potential clients to sign up for services. Each platform typically connects clients with a therapist within two business days. Grow Therapy and Betterhelp require consumers to complete standard questionnaires and intake forms. Introductory forms typically cover issues involving confidentiality, informed consent, limitations, and benefits of treatment.
Signing Up for Grow Therapy
After filling out the necessary client, insurance, and payment information, Grow Therapy will provide you with an extensive list of therapists in your area. Once you choose a therapist, you can reach out to schedule your first treatment session.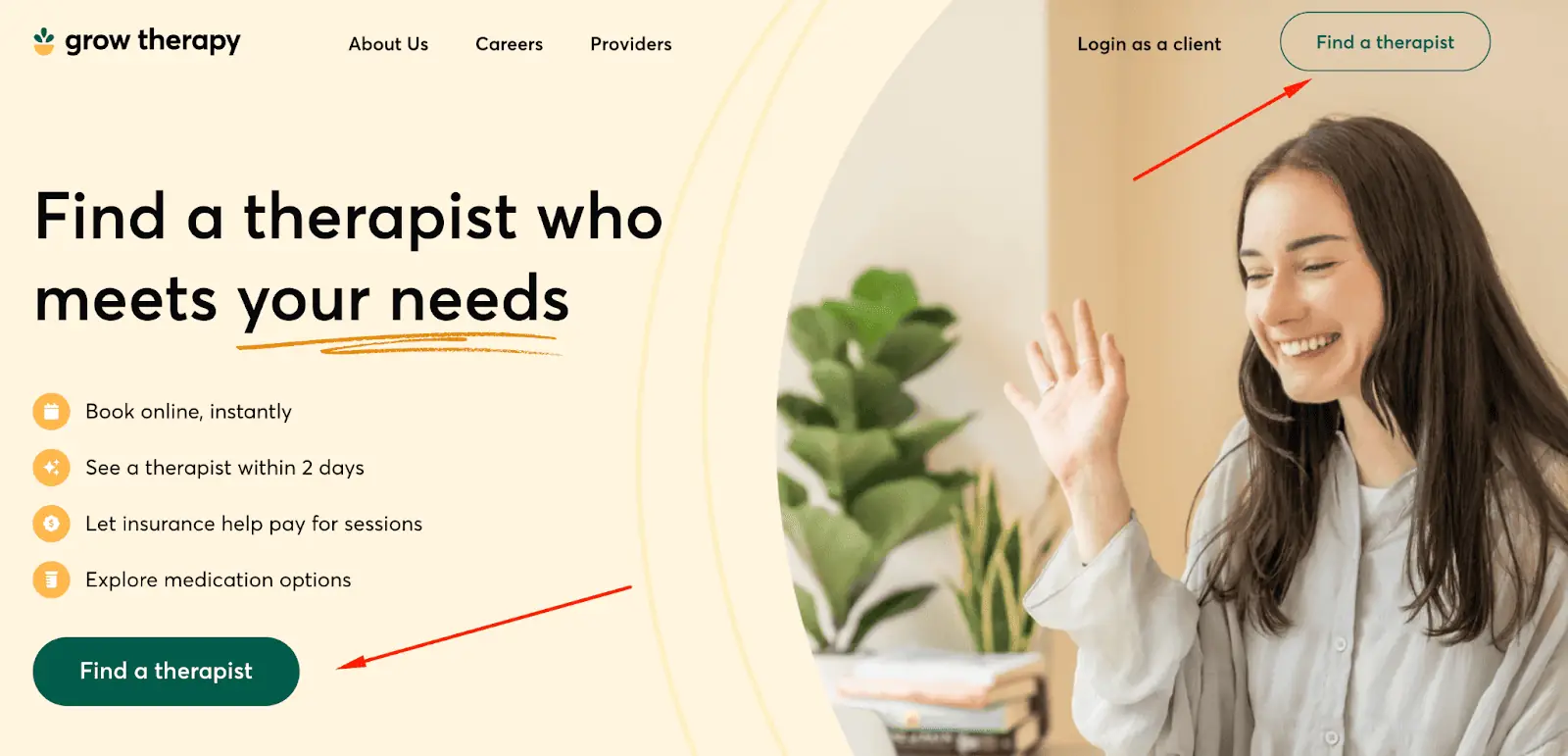 The client portal allows you to manage your therapy experience. Appointments, billing, and messaging your provider, can all be performed through the client portal. Though you can't partake in message chats like you could in Betterhelp, you can contact your therapist in a secure messaging format to ask questions like verifying contact information and such.
Signing Up for Betterhelp
The signup process for Betterhelp begins with a questionnaire. This questionnaire includes questions about your preferences for a therapist, current issues, and preferred method of interaction with your therapist (text chats, video sessions…). Once you complete the questionnaire, you are prompted to set up an account with your email and password.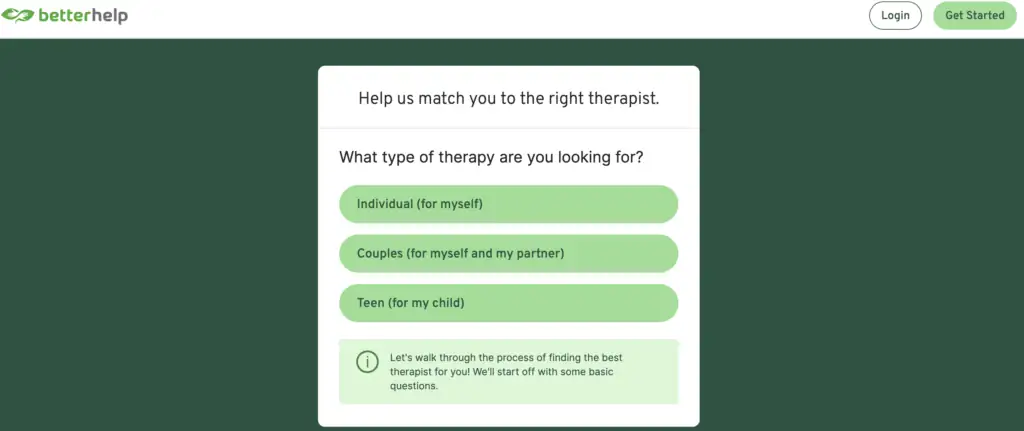 Payment information is required before Betterhelp matches you with a therapist. Once you are matched, you can schedule your first appointment.
Grow Therapy VS Betterhelp: Comparing Their Services
| | | |
| --- | --- | --- |
|   | Grow Therapy | Betterhelp |
| Text Messaging Therapy | No | Yes |
| In-person Therapy Option | Yes | No |
| Live Video or Phone Sessions | Yes | Yes |
| Accepts Insurance | Yes | No |
| Services Entire United States | 46 states | Yes |
| Monthly Subscription Plans | No | Yes |
| Serves Individuals, Teens, and Couples | Yes | Yes |
| Medication Management | Yes | No |
| Matches Clients with Therapists Quickly | Within 48 hours | Within 48 hours |
| Wide Selection of therapists | Limited to the local area | Over 30,000 providers and counting |
Grow Therapy Services
Grow Therapy offers individuals, couples, and teens a variety of ways in which to engage in treatment. Live video sessions, in-person sessions, phone sessions, or a combination of each, are available to clients. Providers treat anxiety, depression, sleep trouble, motivational issues, phobias, and more.

Get matched with a therapist using Grow Therapy
Betterhelp Services
Betterhelp serves individuals, couples, and teens. Providers treat a variety of mental health issues including depression, anxiety, sleep disturbances, and more. All treatment takes place in a secure online format.
Clients can engage with their therapist through text messaging and the provider will respond as soon as possible. There is also an option to live chat with the therapist at a scheduled time – which is a great option for those who prefer to communicate through writing. Phone sessions and video sessions are also available.
Grow Therapy VS Betterhelp:  Connecting with a Therapist
Both online platforms make it easy to pair clients with qualified therapists. All of the therapists must be licensed and have clinical therapy experience. Each platform goes to rigorous lengths to qualify its providers, assuring consumers they are receiving top-tier services.
How Grow Therapy Connects You with a Therapist
Grow Therapy provides its clients with a list of therapists in their local area. The list includes each therapist's biography, allowing the client to choose a therapist based on their preferences. Biographies include information such as the type of licensure the therapist holds, the issues they treat, the methods they use (Cognitive Behavioral Therapy), the insurances they accept, and more. Therapists at Grow Therapy have an average of 12 years of clinical experience.
How Betterhelp Connects You with a Therapist
The matching process begins with a questionnaire. Questions include the preferred gender of your provider, preferred age range, and more. Potential clients are asked about their current mental health struggles and goals for treatment.
The questionnaire is short and multiple-choice. Once you submit your answers, a therapist match should be generated within two business days. You can then contact your therapist to schedule the first session. If for any reason you do not like your therapist, you may request a different therapist at any time.
Cost of Grow Therapy VS Betterhelp
Online therapy platforms are notoriously more affordable than most in-person therapy options. The ability to see your therapist from the comfort of your own home saves money and time commuting. For those with children, online therapy can also help save money by eliminating the need for expensive childcare. If scheduling is an issue, online therapy typically offers a more varied schedule that allows people to seek treatment outside of working hours – saving even more money.
Grow Therapy Pricing
Grow Therapy accepts many major insurance carriers. The cost of the co-pay depends on the insurance as well as the provider. Typically, co-pays are less than $30.
Prices for out-of-pocket expenses vary depending on the service provider and if they offer a sliding scale rate to qualifying clients. A Health Savings Account may be accepted. A "superbill" might also be provided upon request and the client may try to seek reimbursement from their employee program or out-of-network insurance provider.

Get matched with a therapist using Grow Therapy
Betterhelp Pricing
Betterhelp's mission statement is, "making therapy accessible, affordable, and convenient -so anyone who struggles with life's challenges can get help, anytime, anywhere."  Plans start as low as $60-$90/week billed monthly. Considering the average cost of an in-person therapy session is around $200/hour, Betterhelp is extremely affordable.
Though Betterhelp is direct client pay only, clients can use their FSA or HSA for payment. Clients can also request a "superbill" to try and request reimbursement from their insurance provider. Veterans, students, and those receiving government assistance, may qualify for Betterhelp's financial aid program.
Conclusion:  Grow Therapy VS Betterhelp, Which One is Best?
Finding the right therapist and the right treatment means something different for everyone. Whereas one person might prefer to see their therapist in person, others may prefer to engage via texting chat rooms. Both Grow Therapy and Betterhelp offer highly qualified therapists to meet the needs of most clients.
If affordability is of concern and you don't have great insurance, Betterhelp may be the better fit for your needs. With over 30,000 therapists at Betterhelp, you are certain to find a therapist who suits your needs. Whichever platform you choose, know you deserve to find the right support for your needs.
Latest posts by Lauren Reynolds - Licensed Marriage and Family Therapist
(see all)