All of us are becoming overwhelmed by the occurrences in our day-to-day lives. Therapy is becoming the go-to solution for a large percentage of people, both young and older.
Due to the global pandemic, the typical in-person therapy sessions are being replaced with online therapy. Many people struggling with different mental health issues or addictions seek help from therapists. 
Online counseling has made dealing with mental health issues affordable and accessible for those on tight schedules and budgets – overworked dads, exhausted moms, or everyone who needs to take some of the load off. 
The services those therapy platforms provide are accessible through the web, phone, and other smart devices. You can get in touch with your therapist via video calls, phone, or texts. 
There are a variety of FREE online therapy platforms you can choose from, and while all of them offer similar services, there are some differences worth mentioning. 
We're here to help you to choose the best one for you.
Find The Best Free Online Therapy Platforms
Online counseling is a convenient, adaptable, and safe option for tending to your mental health. There are many online counseling services worldwide that provide free and exceptional treatments. You may enroll in the therapy session from anywhere globally, as long as there's an internet connection. 
In recent years, free online therapy has become as equally good as traditional face-to-face therapy, if not better. Many people consider online therapy a safer option with more flexible timing. With the great demand for online therapy platforms, many new platforms are created every year.
With the significant number of available counseling platforms, people have trouble choosing one that's best for them. 
We reviewed numerous counseling platforms and rated them based on key factors such as therapy methods, therapist availability, and communication skills. 
Continue reading to see what we came up with and how we rated the best free online therapy platforms for 2023.
| | | | | | |
| --- | --- | --- | --- | --- | --- |
| Online Therapy Platform | Price | Appointment Types | Therapists Availability | Accepts Insurance | Best For |
| CIMHS Free Online Therapy | Free | Text, Video, Phone call | 24/7 | Yes | Flexibility and modern technology |
| 7 Cups | Free for teenagers under 18, for adults $150 a month | Online chat | 24/7 online chat | No | A wide range of mental health issues help |
| Alcoholics Anonymous | Free, without any additional charges | Video call, text | Scheduled meetings | No | Alcohol and drug abuse |
| Free Online Therapy | Free sessions with volunteers, 7-day free trial for therapy | Text, video call, phone call | 24/7 available chat | Yes | Various alternatives to therapy |
| eTherapy Pro | 3-day free trial, $40 per week | Video call, chat | 24/7 text line | No | Low cost and quick matching with counselors |
| iPrevail | Free coaching, $10 a month for licensed therapist | Chat | Schedules meeting throughout the day | Yes | Price and variety of mental health issues therapy |
| Self-Harm Crisis Text Line | Completely free, with no charges | Text line | 24/7 availability | No | Dealing with a suicidal crisis |
What We Considered for the Rating Process
To find the best available free online therapy services today, we took into consideration some of the most relevant aspects of online therapy. We graded each free online counseling service based on these elements to guarantee that the mental health care provided is secure, dependable, and designed for all patients.
Appointment Types
We appreciated therapy platforms that enabled patients to get in touch with a therapist online through video chat, email, live chat, text messaging, and phone calls. The appeal of online counseling lies in its convenience, that's why the more available appointment types there are, the better the online therapy. On our list, you'll find platforms that have their own smart app and a 24/7 live chat, through which you can communicate with the counselors at all times.
Price
We favored those online therapy services that were completely free of charge and had no hidden costs. There are some providers on our list that come with low monthly fees, which are close to insignificant, however, the majority are 100% for free services. The lower the price, the more appealing the therapy platform is. That's why we mostly searched for free platforms that offered wholesome free sessions with professionally licensed therapists who are credible to provide medical advice.
Available Therapists
When an online therapy platform provides a variety of counselors that you can choose from, it's considered a highly appreciated one. We reviewed free-only counseling services that let you choose from their wide range of online therapists, including the opportunity to pick your own. Some platforms match you with a therapist they believe it's best for you. However, some patients feel more comfortable choosing their own counselor whom they think is a suitable match.
Available Care
Online therapies that help with a variety of mental health issues are always more welcomed than those that provide care for a limited array of mental health conditions. We chose services that support and aid in healing addiction, marital problems, and numerous mental illnesses.  We also took into account how long the waiting process for an appointment with a free online counseling service is. Additionally, the services we assessed provide counseling and emotional support to people worldwide.
The Best Free Online Therapy Platforms
Here's a detailed review of the best free online therapy platforms, along with the most significant features that make these platforms stand out from the rest:
CIMHS Free Online Therapy For Depression: Best for Depression Issues

Bliss by CIHMS is an online therapy consisting of 8 sessions that the patient can attend at a preferred time. The therapists don't schedule your meetings – it's the other way around – the patient schedules the therapies when they think it's appropriate for them. This CBT-based therapy teaches patients how to recognize their mental health problems and avoid negative outcomes.
The therapist assigned to you keeps track of all the information you provide in a worksheet, which you can review at any time. Some tests are prepared for every patient separately, which are meant to assess your knowledge on topics that might help you get better. 
Additionally, Bliss utilizes a cutting-edge mood monitor for the therapist to follow the fluctuations in your mood during the therapy. This therapy is perfect for depression, mood swings problems, and bipolar disorder, among other issues. The monitor reacts to your mood and energy, showing the counselor how you respond to certain things.
CIMHS ensures its users that every provided information will be kept confidential and safe. The online platform is undemanding to use and comes with a detailed guide. You can access your therapy from any location and any device for free. Since the platform is compatible with every device, you can use Android and iOS devices and chat via text, phone, and video call 24/7.
Pros
Cons
Completely free, no additional charges
Has a mood monitoring technology
Has worksheets with the patient's significant data
Flexible session meetings
Compatible with any device
Not many available therapists
7 Cups: Best for Peer-to-Peer Assistance 
This online therapy platform is 100% anonymous, meaning you don't even have to see your therapist via video call. Every session takes place over a 24/7 online chat where a therapist will provide you with the utmost emotional support. There's a variety of therapists at your service, and you get to choose one by yourself. Even if you later decide the counselor doesn't help you entirely, you can start working with another one.

7 Cups allows you to look into their self-help books and growth routes for tried-and-true techniques and guidance on feeling better. These books are free and are intended to help the patient understand the core of their mental issue and how to deal with it. 
The platform is free for kids and adolescents under the age of 18, whereas it costs $150 a month for adults. 
The free version of the counseling platform allows you to connect with volunteering associates trained to help adolescents. You may talk to a volunteer securely anytime you need to, and they will listen carefully and without judgment.
You can overcome many difficulties such as eating disorders, depression and anxiety 524 and even find support for relationship-based and LGBTQ issues. You can ask for assistance or attend a group support session – anything that may help you heal. You may communicate with other patients who share the same difficulties as yours at a group meeting.
Pros
Cons
Offers free support for teenagers
Has a variety of counselors and volunteer listeners
Supports LGBTQ issues
Has free guides and books with techniques
Adults over the age of 18 have to pay $150 per month
Alcoholics Anonymous: Best for Struggling Alcoholics 
Unlike the other online therapy platforms on our list, Alcoholics Anonymous is a support group for alcoholics. However, the platform helps people who suffer from both alcohol and drug abuse and some mental issues linked with addiction. As of 2022, Alcoholics Anonymous has been declared the best therapy platform for alcohol and substance addiction support.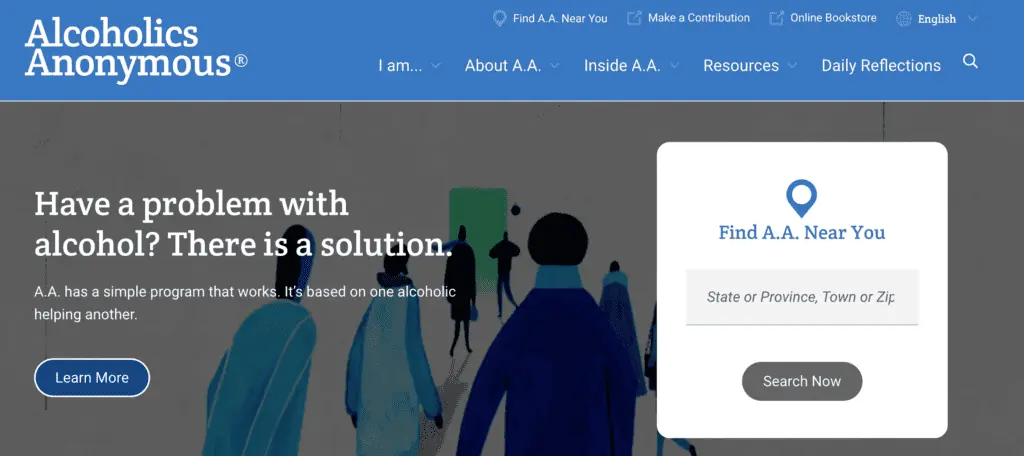 The platform matches you with a suitable counselor based on what addiction you're struggling with. The therapy offers 12 sessions that you can schedule whenever you want. Everybody can enroll in the 12-session therapy since there are no prerequisites besides the willingness to remain sober regularly. 
As its name suggests, the platform can also be 100% anonymous for addicted individuals who don't feel entirely comfortable sharing their identities. 
On the AA website, you can also find a free-of-charge Meeting Guide with handy tips on dealing with the addiction and preventing some triggers that lead to drug consumption and possibly overdose. 
Usually, for the therapy to be over, the counselor must be sure that the patient is no longer labile and won't return to their old ways.
Pros
Cons
Ideal for alcohol and drug addiction
Deals with mental illnesses related to addiction
100% anonymous, meaning patients don't have to share their identity
Free Meeting Guide
Meetings are conducted only at specified times
Free Online Therapy: Best for Always-Available Assistance
To enroll in Free Online Therapy, you'll need to do three simple steps. 
First, you create an account, which is quite an undemanding and free process.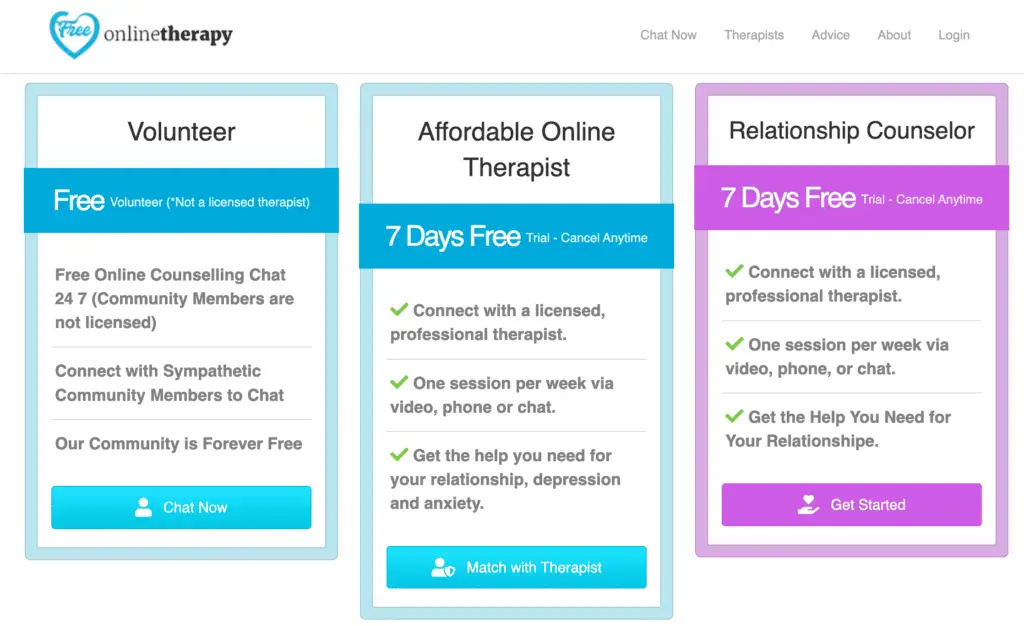 After you register into your account, you must select which kind of therapy you want to undertake. And last, you get to freely chat or speak online to volunteers or licensed therapists that will help you overcome any difficulties.
There's a free online chat for you to choose a "venter" and then the platform itself matches you with a volunteer that will listen to you. The chat is available 24/7, and you get connected to sympathetic young associates who are there for you. This option is ideal for new patients who want to try out online therapy for free. Volunteer members offer support and assistance for mild, mental health crisis, illnesses and substance abuse.
The platform's professional therapy with licensed counselors provides a 7-day free trial. Therapists aid with more severe forms of mental diseases, such as depression, anxiety, bipolar disorder, and even schizophrenia. After you're matched with a counselor, you have unlimited access to the available sessions at all times. 
Last but not least, the Free Online Therapy platform offers relationship therapy, only intended for couples struggling with relationship and marital problems. Couples get a free 7-day trial in which they can see if the counselor they've been matched with is a good fit. The counselor is there to listen and help you overcome any marital problems.
Pros
Cons
Offers help for a wide range of mental illnesses
Features 3 available therapy options
Offers relationship/marriage counseling
Free volunteer chat and free therapy trial
Volunteers can't provide crisis assistance.
eTherapy Pro: Best Overall
We rated eTherapy Pro as the most offering, all-encompassing therapy platform since it offers a variety of efficient services. Every new patient is eligible for a three-day free trial to experience all the platform's advantages. All of the therapists are licensed and professional counselors with whom the mobile-friendly application allows you to connect easily. 

The platform offers 24/7 live customer support, with available therapists at your disposal at all times.
eTherapy Pro focuses on individuals dealing with anxiety, poor self-esteem, and various types of depression. Services are delivered via a mobile app, and you may communicate with your counselor straight from the app.
When you sign up for therapy, you'll find an online questionnaire that you have to fill out to get paired with a therapist. The test-like questionnaire is intended for the patient to express their issues, what they're struggling with, along with their preferences and likes. Based on these factors, a therapist that is most suitable for you will pick you. And, if you don't feel comfortable with your counselor, you can simply change them.
Each counselor collaborates with you to identify attainable objectives and create an action plan for you to follow. The website is not intended for addicts or individuals with suicidal thoughts. 
eTherapy Pro is considered the ultimate option for those new to treatment. All the counselors are trained to listen carefully to the patient and assist them in understanding the core of their problems.
Pros
Cons
Free 3-day trial
Low cost set at $40 per week
Offers live 24/7 support
The app is compatible with any device
Quick matching with a therapist
Doesn't help people with suicidal thoughts and severe drug addiction problems
iPrevail: Best for Live Chat
Before you get started with iPrevail, you need to respond to a few questions that will help the counselors discover what mental health issues you have, along with your therapy preferences. It will be easier for the right therapist to choose you through these questions. You can simply use any of their clinical exams to determine which program might be the most beneficial one for you.
If you'd rather choose a program by yourself, you may do so in a variety of styles and themes since there are numerous options available. Whatever you choose, the platform will match you with a coach for a one-on-one trial session to see if the therapist is the right one for you. They believe that it's efficient if you get to know your therapist before you start working with them. In case you don't feel comfortable with the counselor, you can choose another one.
Your therapist will assist you in expressing your feelings or explaining specific problematic topics. The platform offers valuable techniques to focus on positive and practical characteristics while learning how your mind works.
Additionally, you can connect with other people in the same position. With this, you can better understand what you have to go through and also join group sessions for a shared experience.  
Pros
Cons
Many available therapists at your service
Group meetings are available
Can help with depression, anxiety, and more serious illnesses
Only premium customers get access to licensed therapists.
What Exactly Is Free Online Therapy?
Free online therapy is a service or a platform that mainly offers help in the sphere of mental health. Also known as e-therapy, this service strictly provides mental health treatments and support through the internet. Online counseling can take place in real-time, such as the case with phone calls and texts, or in a time-delayed manner, through email and similar means of communication. 
Despite its limits, this alteration of mental health treatment is gradually becoming a vital resource for a rising number of individuals. People are rapidly replacing traditional in-person therapy with online therapy due to the many benefits it offers. The patients are far more flexible with time and can schedule their own meetings whenever they want or simply join a 24/7 online chat without leaving their homes. 
Online therapy is convenient and affordable for anyone's budget. Free online therapies won't cost you a dime but will provide great help. All transportation and extra costs you would have to pay for a traditional therapy are no longer in the picture when you take your sessions with affordable online therapy.
Are Online Therapy Platforms Safe?
Free online therapy platforms are 100% secure and safe. Introverted patients that don't feel comfortable sharing their concerns personally, don't even have to disclose their identity or communicate with a counselor through video. 
There are strict patient-therapist confidentiality rules that all of the best therapy platforms must follow. Anything that is discussed in the session is forbidden to be revealed.
Online therapy isn't only meant to help people with severe mental health disorders. Anyone who also has relationship or marital problems, personal issues, or mild anxiety or depression can turn to an online counselor for a talk. 
Therapists are trained to listen carefully to their patients on whichever topic and provide advice that they consider is most fitting. 
How Does Free Online Therapy Work?
The concept of free online therapy is quite similar to in-person therapy, except that it takes place online rather than in an office, along with some slight differences. 
Usually, platforms use either web-based platforms or smart apps. Initially, to enroll in online therapy, you need to create an account in your name through the platform's smart app or on the web. Free online therapy platforms don't charge you any fee for the registration process.
After the sign-up, you have to fill in a questionnaire with questions regarding your mental health issue. This way, the platform will know which therapist and what treatment is best for your problem. Sometimes the platform matches the patient with the counselor itself, but sometimes you get to choose your own counselor. For some reason, if you don't consider the therapist matched with you suitable, you can simply start working with someone else.
How Long Does an Online Therapy Session Last?
Sessions are usually from half an hour to an hour long and can be scheduled weekly or daily, whichever frequency you and your therapist agree on. 
Most counseling services provide a 24/7 live chat option for the patients to talk to trained volunteers about their difficulties. The trained volunteers will choose the suitable treatment for you based on your answers to the questionnaire. Since professional medical therapists decide your therapy, you can't change it.
After everything has been set up for you, all you have to do is show up to your meetings regularly. Only patients who are adamant about seeing through the sessions and providing honest feedback will achieve results quickly.
If you hide your feelings and thoughts from your counselor, you shouldn't expect to see any results, and the time and effort both you and your counselor have put in will be in vain.  
How Much Does It Cost?
Therapy can sometimes be quite costly and even unaffordable, especially if your insurance won't cover it, which is why many people in need search for free online therapies. 
There are many free online options and alternatives, such as the ones we presented above.
As its name indicates, free online therapy is – in most cases – free of all charges. However, some particular therapy platforms only offer a free trial. Sometimes that free trial can last for three, seven, or more days, but after that period is over, you have to pay for the therapy.
Other platforms offer a free 24/7 live chat option for the patients to communicate with volunteers. These medical volunteers aren't licensed professional therapists who can give medical advice but serve as devoted listeners. The volunteers, even though not a licensed therapist, are highly trained individuals.
Usually, the professional therapy that the platforms offer is the one that is paid for. The overall monthly price of the treatment varies, and many factors can affect it. Some of the aspects that shape the price include the professionalism of the therapists, the number of available therapists, as well as the number of sessions the therapy comes with. 
More sessions and more available therapists can result in a higher price, whereas unlicensed therapists and fewer available therapy alternatives can be more affordable. 
However, we only chose completely free therapies, or ones with insignificantly low costs, to meet the patients' preferences.
How Can Online Therapy Help You?
Online therapy can be of aid in your mental health support many ways. You don't have to be registered as a mentally disordered individual in order to benefit from online counseling. Speaking with a specialist can assist you in overcoming hurdles in your life, being aware of the core cause of your difficulties, managing symptoms, and healing.
Therapy can be of great help in the case you are going through a rough patch in your life, such as a divorce, trouble at home, or unemployment. Even if you're dealing with common issues like excessive stress, poor self-esteem, or difficulty sleeping, an appropriate therapist may give professional support while directing and assisting you in making substantial changes in your life.
Is there a Best Mental Health Therapy?
The most prominent type of therapy is CBT (Cognitive Behavioral Therapy), which is the most effective. CBT helps people see and accept their problems and avoid every negative thought that may trigger the mental condition.
Additionally, establishing good communication with the therapist can be of great help.
Sometimes, therapists also act as motivational speakers to motivate lethargic individuals to start making some positive changes in their lives. 
A good therapist will guide a patient through a process of dissociation all negative connotations and focus on improving their lives. 
Other than CBT, group therapies have become quite popular in the world of online therapy mainly because struggling individuals feel more comfortable knowing that they are not the only ones feeling a certain way. Meeting patients with similar issues like yours and sharing all your stories can be quite beneficial.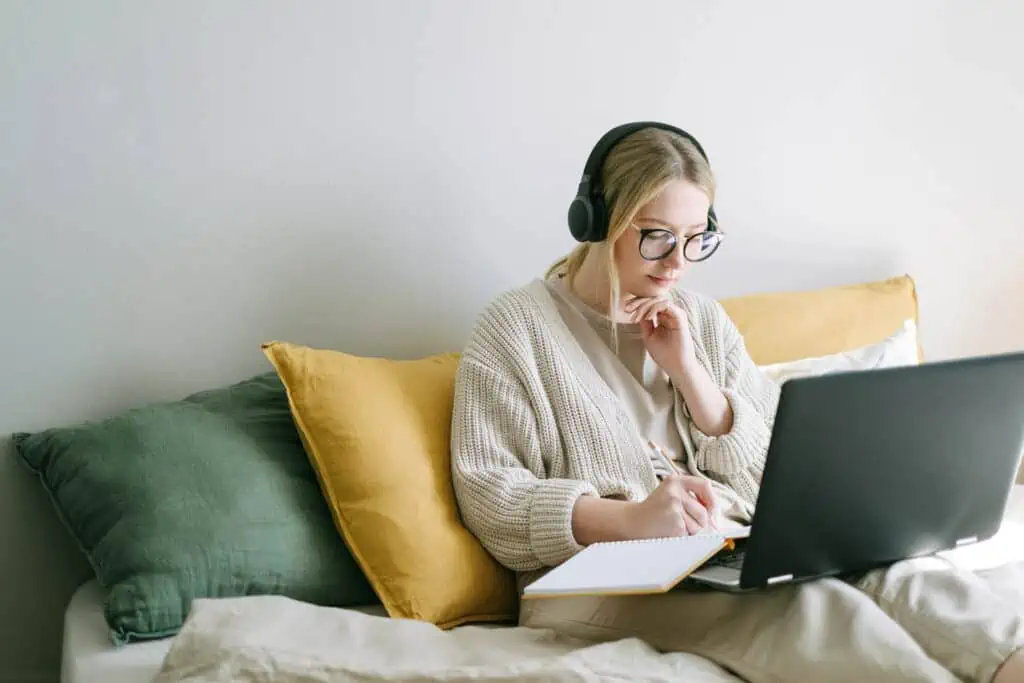 Is Online Therapy Effective?
Everyone who has been to online therapy sessions can vouch that the therapy has been highly effective.
A struggling individual will make it clear that any help is welcomed, so it's really no surprise that many of us have considered attending an online cognitive therapy session.
Sharing your troubles from the comfort of your home while cutting back on daily traveling costs has been proven very helpful. However, the efficiency of online therapy is generally determined by some particular elements. The connection you forge with your online therapist and the communication you have with the group is crucial for the effectiveness of the session.
The more you're willing to open up to your therapist, the more work you're prepared to put into the therapy influences its efficiency.  A skilled therapist may use modern and advanced technology to assist you in gaining new insights and changing your life for the better.
What Does Science Say?
Several research evaluations have concluded that online therapy is just as effective and sought-after within the worldwide population as traditional therapy.
According to research, online cognitive therapy will do the trick as well as being physically present in the sessions
According to research data, a study included two groups of participants – one was a placebo group, and the other had to go to therapy. The participants who were attending therapy concluded that their anxiety and depression symptoms had significantly reduced in a short period of time.
On the other hand, the placebo group displayed visible anxiety and mood swings symptoms. 
Which Conditions Can Be Addressed With Online Therapy?
Therapy treats patients who are struggling with both mild and severe cases of mental illnesses. People who deal with depression, anxiety, suicidal thoughts, and life crises should not think twice before attending an online therapy session.
Most of the free, top-rated online therapy services offer help and support to people suffering from a variety of mental illnesses. People with bipolar disorder, anxiety, PTSD depression, dementia, and schizophrenia are highly recommended to seek treatment.
Who Can Benefit From an Online Therapy Session?
Online therapy is meant for every individual who is battling some kind of mental health problem. 
However, online therapy can also be meant for young and troubled teenagers who simply want to express themselves but have no one to talk to. Adolescents often have trouble expressing their emotions, or can fall under the influence of unwanted substances. In cases like those, a therapist or simply a volunteer listener may come in handy.
Speaking of substance abuse, drug-addicted individuals who are determined to get cured must attend online therapy. For people addicted to alcohol, types of drugs, or other opioids, therapy is highly recommended. Professional therapists are trained to deal even with the most severe of cases.
Moreover, some online therapy platforms offer relationship and marriage counseling; whether the couple goes together in therapy or both spouses attend it separately, this type of counseling is very efficient. People that have major or even minor problems in their relationship or marriage should try online counseling.
The Verdict
All things considered, if you are feeling down and have nowhere to turn to for a talk or advice, the ever-so-popular online therapy platforms are welcoming you to try them out.
Thanks to the many online therapy platforms, having a "shoulder to cry on" nowadays is not short of anything priceless.
Whether you choose to attend a therapy session online without disclosing who you are – you can do so, there is the option to be anonymous and still say what's bugging you. 
For those that like talk therapy and to feel like they belong to a community, online therapy platforms offer group sessions for struggling individuals to share their stories.
Whichever option you choose, you can be sure you have taken a step toward bettering your tomorrow.
Latest posts by Lauren Reynolds - Licensed Marriage and Family Therapist
(see all)