No, Medicaid insurance is not accepted by BetterHelp, both in the United States and Betterhelp Canada. BetterHelp serves as an online therapy platform providing cost-effective therapeutic services, but it does not presently take any insurance schemes.
For those holding Medicaid insurance and seeking online therapy alternatives, there are several other platforms that do accommodate insurance coverage, including:
Talkspace: Talkspace functions as an online therapy platform that welcomes a wide array of major insurance plans, including Medicaid.
Regain: Regain stands as another online therapy platform that acknowledges Medicaid insurance.
Amwell: Amwell operates as a telehealth platform extending both therapeutic and medical services. They do approve Medicaid insurance for their therapy offerings.
Although BetterHelp was founded back in 2013, its popularity skyrocketed in 2020, when the global pandemic struck, and people had to stay in their homes – left unable to visit their mental health therapists in person.
As an online mental health counseling platform, BetterHelp became one of the best and biggest platforms in the world. Offering its clients great advantages, it is an affordable and reliable platform with licensed and exceptionally educated counselors who will help you with any kind of mental health problem you might have.
The monthly fee of BetterHelp ranges from $240 and $320, depending on what kind of therapy you are receiving. Yes, if your insurance covers part of the costs, it will greatly lessen your BetterHelp costs – especially if you can't afford the somewhat costly monthly fee. However, while some insurance companies will cover a part of the costs, others won't.
The platform currently has more than 1.8 million users, and 98% of them have reported that they've made significant progress, while 70% of users have reported reduced depression symptoms. But, along with all these advantages, comes the question: Does BetterHelp take Medicaid as an insurance option – the largest insurance carrier in the US?
What's BetterHelp?
Betterhelp is the largest online counseling platform that provides mental health therapy sessions by the best professional counselors. It may help you with a range of problems through web-delivered communications via phone or text messages.
Based on recent studies by the Berkeley Institute, a great percentage of the patients have made significant progress and see visible results over short periods. Also, many of them favor BetterHelp online counseling over regular face-to-face counseling sessions. Patients feel more relaxed and laid back when they know the counselor can't see them if they communicate through messages or phone calls.
All the counselors are trained professionals who can diagnose and treat different kinds of mental health problems, especially depression. This is only one of many reasons why people take BetterHelp as their choice.
What is Medicaid?
Medicaid is the US national health coverage program, which has spread all around the USA. It offers health insurance for many vulnerable groups, including adults with low incomes, children, the elderly, pregnant women, mentally disabled persons, etc. According to their official website, there are a total of 75.4M people insured, which makes it one of the most sought – after insurance coverage companies.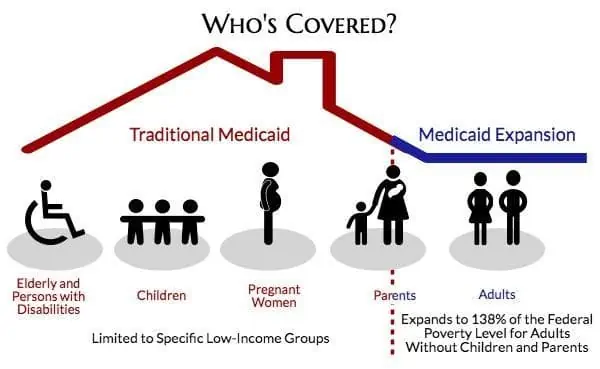 It is a free insurance coverage company that is funded by the states and federal government. It offers many advantages that other health insurance companies don't, and that's the main reason why so many Americans use it. Therefore, many people that don't have enough material resources to pay for their mental health therapies benefit from it.
Having Medicaid health insurance is a great thing, especially for counseling sessions that aren't affordable for everyone. Those groups of people who can't afford the full cost of the therapies receive partial discounts on the fee. However, BetterHelp does not support Medicaid or any other insurance currently.
The programs are excellent for family members, especially if they have mental health problems, disorders, and mental conditions. Also, it is preferable as insurance for children, more so for single parents to have their costs partially paid.
What Kind of BetterHelp Insurance Reimbursement There is?
Even though BetterHelp doesn't take Medicaid as an insurance option, there are other options on offer. As we said, this online counseling platform is affordable for most patients who require counseling sessions. With such professional and great therapists available, many users have seen improvements in their mental health in just a few sessions. So, in that case, you can pay for those few sessions, and there is no need to continue with the therapy if you and your counselor see visible results.
One great advantage is the BetterHelp insurance coverage which is a help to those who need it. Vulnerable people with low incomes, one-parent children, and people with disabilities are eligible for this insurance. The patients who requested this help can get a discount of 20% to 50% of the total cost. Maybe it's not full insurance, but better to get something than nothing.
Due to the situation with the global pandemic of COVID-19, BetterHelp is giving all users a 50% off the first month. This option is really great and limited, so you better hurry up and grab your first insurance.
Most Frequent Concerns About BetterHelp Insurance Coverage
When it comes to mental health insurance, always try to understand which parts of the full cost it covers and what you have to pay by yourself. Sometimes people don't understand what the insurance plans cover, which results in disputes. So, to avoid any further misunderstandings, our recommendation is to contact your insurance company so they can explain it to you.
There are some common concerns about this topic which we are more than glad to clarify for you.
If you strictly want to use Medicaid as your insurance coverage, then research available counseling platforms that accept it. There are many counseling platforms you can find on Google or search nearby therapists who accept Medicaid as their option for insurance.
For those concerned, if BetterHelp takes Medicaid – don't worry! BetterHelp has it all sorted out. It has an ideal solution: financial aid, which can help patients reduce part of their monthly costs. To get this BetterHelp insurance coverage, you just have to state why you can't pay for the whole therapy. Fill in if you are having financial troubles currently, if you are a single parent or have low income, and BetterHelp will grant you this insurance.
The financial aid is a discount which patients receive based on the amount of their income. For example, Betterhelp can lessen the monthly cost of $340 to even $260 for the most affected people. For those with lower earnings, the platform grants bigger discounts.
You should not concern yourself if you have Medicaid insurance because BetterHelp doesn't support it. We assure you BetterHelp is affordable, especially if you qualify for financial aid, which the patient has to reapply for after three months.
Final Words
It may be complicated to find the perfect BetterHelp insurance reimbursement along with the best counselor, but with good research, anything can be achieved.
Here you can find all important concerns commonly asked by people who search for online counseling and money reimbursement at BetterHelp. We truly hope that we have given you detailed and useful information to help you find the best BetterHelp insurance.
Latest posts by John S. - Editor in Chief
(see all)