In the past two years, bad news has predominated the world. Pandemics, economic collapse, unemployment, addiction, and loneliness have been experienced by billions of individuals worldwide.
Many people have expressed concern about the effect on their mental health, including increased anxiety, depression, and worsening psychological health in general. 
The way of how we assist those who are suffering from mental illnesses also changed.
As everything becomes more and more digital, the counseling landscape also changed and adapted. Nowadays, people looking for counseling do not have to visit a clinic.
Online psychological therapies are more widely available than before and allow patients to receive treatment in a setting that is more comfortable than a therapist's office visit.
Hopefully, the rise of online therapies will help eradicate the stigma circling around mental illnesses.
Read on as we elaborate on the top advantages of online therapy services – and making the most of them.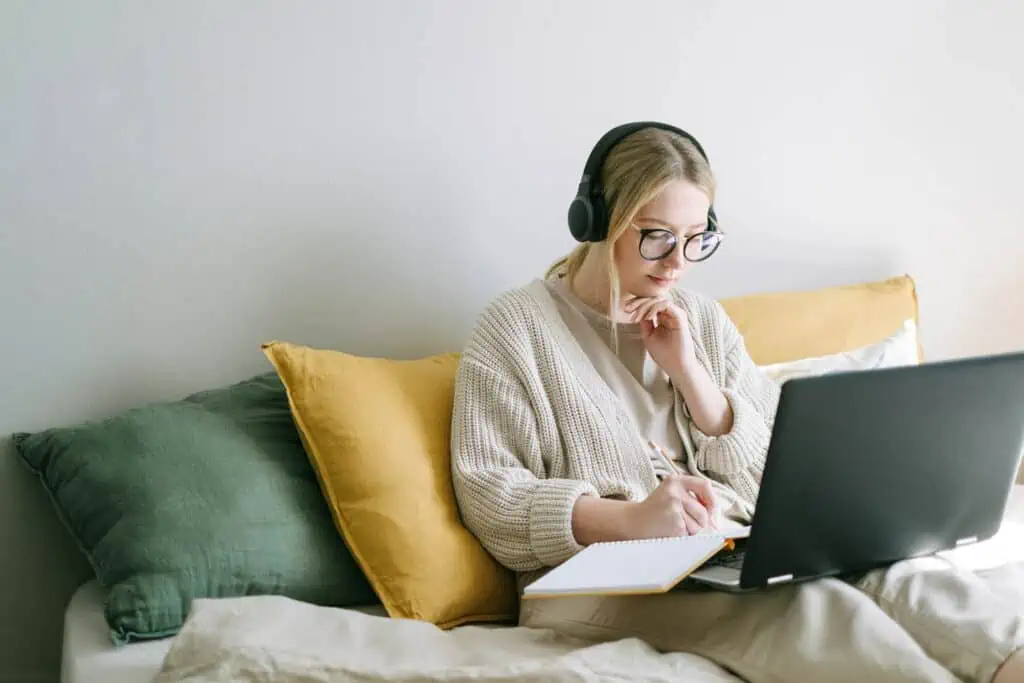 Access and Convenience:
Most people nowadays lead hectic lifestyles with little or no free time due to a busy schedule and managing other daily tasks. This leaves them with little or no time to visit a therapist.
One of the pros of the online platforms for counselling is that it provides access to individuals who have obstacles to going to in-office visits. 
For instance, suppose you reside in a rural and remote location.
Alternatively, you may lack appropriate transportation in rural areas and rely on friends and relatives to get around.
In such a case, online therapy can also be beneficial to individuals who are disabled and housebound. Regardless of mobility limitations, the physical disability, online therapy is beneficial thanks to technological advancement. 
Additionally, this form of online therapy offers clients and mental health professionals  the change to talk and plan their therapy journey during an ideal meetup time.
This also enables you to access your online therapy session and therapy from home, your car, or wherever you feel comfortable with, unlike doing regular in-office visits. 
Privacy 
With the ongoing peer pressure and stigma circulating the topic of seeking therapy, many feel timid and restricted when it comes to meeting up with their counsellor and discussing their mental health issues. 
With the online counseling option, you can schedule your sessions from the comfort of your own home while not worrying whether you will bump into someone you know. On top of it, many find it more confident when they talk on a call than face to face.
Affordability 
Unlike traditional therapy, online therapy eliminates indirect costs, like renting an office space. As a result, the therapists can offer and provide more economical and reasonable choices and payments. This is useful especially to the vulnerable people that do not have health insurance. 
Make sure you also check with your insurance company to look into the coverage. 
Keep in mind that one of the advantages of online therapy is that you do not have to travel which means you get to save up more. 
Advantages of Online Career Counselling 
Counselling refers to a variety of services that address several key aspects of a person's life, including their mental, physical, and emotional well-being – and their professional performance.
Some of the leading advantages of online career counselling include: 
Personal and professional guidance 
More affordable than in-office therapies 
Easy to book and access anywhere and anytime 
Numerous assessment tools available at hand 
Greater reliability in terms of acquiring quality counselling
Available 24/7 and on individual request 
Provided feedback for top-quality online therapy services
Industry experts and professionals are there to guide you through every step 
Is Online Therapy as Effective as Traditional Therapy? 
An often debated concern regarding the advantages of providing therapy services online is the therapist's inability to physically observe the facial expressions of the patient and their body language, thus being unable to make an in-depth inside analysis.
Whilst online therapy cannot cover all conditions, especially those that require in person therapy, it makes an excellent choice starting therapy for treating conditions such as depression, anxiety, and panic disorder.
Whilst the engagement during traditional and online therapies is equal, the only notable distinction is that online therapies might be shorter than traditional sessions. 
Things to Consider before Deciding on Online Therapy:
Before choosing a therapist or the right online therapy session for you, you first need to do thorough research.
In doing so, ensure the therapist you choose is licensed and reputable. Then, always consider the payment method at hand and whether it is safe. 
The therapist you choose needs to be licensed therapist experienced in treating the mental health conditions conditions (like eating disorders) that you want your mental health treatment services to address.
Of course, should you suffer from a more severe mental illness, online therapy might not be the best course of treatment for you, and it might be best that you first consult with a doctor.
How long does online treatment last?
There is no one-size-fits-all solution for this. In truth, the question could refer to two distinct things:
The duration of an online live therapy session

The length of therapy
When it comes to video sessions, the experiences differ slightly from platform to platform and from therapist to therapist within particular platforms. 
As an example, consider BetterHelp, our top choice. BetterHelp allows you and your therapist to decide on the ideal frequency of online sessions, with the expectation that you will have at least one per week. 
When you and your therapist choose to have more frequent live sessions, they will almost certainly be shorter in length than a single, lengthier weekly appointment. 
A single weekly video session lasts approximately an hour.
When it comes to how long a person should continue to use online therapy platforms, it all depends on your circumstances and aspirations. 
Some clients benefit from problem-solving and short-term employment. Others may require more time. Inquire with your online platform or therapist about their plans for the duration of your treatment. 
How can I tell if the therapy is working
When evaluating whether therapy is working for you or if you should explore alternative options, it's important to consider the following indicators:
Comfort and Trust: Feeling comfortable discussing your feelings and thoughts with your therapist is crucial. A trusting therapeutic relationship built on open communication is essential for progress.

Appropriate Boundaries: A skilled therapist maintains professional boundaries, focusing on your well-being without crossing the line into personal relationships or giving direct advice. They should guide and support you in making your own decisions.

Clear Goals: Understanding your therapy goals and seeing progress towards achieving them is a positive sign. It shows that you and your therapist are working together to address your specific needs.

Active Listening: Your online therapist should actively listen to your concerns, validate your experiences, and provide empathy. Feeling heard and understood is vital in therapy.

Improved Functioning: Pay attention to how you're functioning in daily life. Positive changes in your ability to cope with challenges, manage emotions, and engage in healthy behaviors indicate therapy's effectiveness.

Enhanced Self-esteem: Therapy can help improve your self-esteem and self-worth over time. Feeling more confident, accepting yourself, and having a more positive self-perception are positive outcomes of therapy.
The Verdict
Online therapy is an excellent resource for anyone interested in improving and learning more about their mental health. From adopting healthy behaviors to acquiring coping, management, and self-improvement skills – online therapy serves your best interests. 
In a fast-paced society such as today's, minding your mental welfare is of paramount relevance. 
Be it to release stress, eradicate anxiety, or manage any related related common mental health , online therapy is the best imminent solution, bound to keep you safe and sound – mind, body, and spirit
The effectiveness of internet-aided treatment (OTD) can be seen in a lot of studies. Recent studies published in the Journal of Anxiety Disorders showed online CBT was equally effective in impacting on the patient than face-to-face CBT.
Effectiveness may vary based on individual needs, therapeutic approach, and the quality of the therapeutic relationship. Some individuals still prefer face-to-face therapy for a more personal experience. It is advisable to consult with a mental health professional to determine the best approach for individual circumstances.
You need internet-connection and an electronic device like a computer, phone, or tablet with a microphone and video access to meet with your therapist online. Some e therapy clients also prefer using headphones during their e therapy sessions.
Beyond technical equipment, it's crucial to find a space free from distractions, where you'll be fully comfortable opening up about personal and challenging subjects in a live therapy session.
Latest posts by Johan Müller
(see all)